To help reflect on the year that was, GamesHub has asked contributors, Australian game developers, and friends of the site to talk about some of their favourite games or gaming-related highlights of 2021. They've included developers like Unpacking's Wren Brier, games researcher Brendan Keogh, and producer Meredith Hall. Now, regular GamesHub contributor Chris Button is sharing his highlights.
Chris has penned a stack of news, reviews, interviews, and features for GamesHub in 2021. Among them are must-reads on the development of Australian video games like The making of Unpacking: From bullet-hell to domestic heaven, Behind the high-risk development of The Forgotten City, and Simon Boxer's personal Ring of Pain: The long road to games success.
You can follow Chris on Twitter: @BibbyBhoy.
---
Playing multiplayer games in-person again, and eating shit
After a tumultuous 2020 and much of 2021 filled with uncertainty, it was a delight to finally get back to doing normal things, like going over to friends' houses and playing video games. Mario Party Superstars' release was perfectly timed to test friendships after nearly two years of virtual catch-ups. Playing games in the same room rules, even when your mate shares a clip of you eating shit on Twitter.
For the record, I went on to win after Donkey Kong's early mishap.
Returnal's Hyperion epic organ-playing boss fight
Returnal is an epic game, one that captivated me with its frenetic fights and dazzling bullet-hell visuals. In between moments of time-looping mystique, one encounter stood out above the rest – slight spoilers to follow. As you ascend a spire towards Hyperion, Returnal's fourth boss, you hear a menacing blend of synth and organ music echoing from the peak, progressively growing louder as you close in.
At its crescendo, you discover Hyperion is some plant-like monstrosity playing an actual manifestation of an organ that doubles as a deadly weapon. The buildup of the music is goosebump-inducing stuff, preceding an epic boss fight, with the soundtrack's intensity compounding throughout the battle. It's incredible stuff in a game filled with moments of grandeur.
A bloody good year for Aussie games
When I read through this year's AGDA nominees, I thought to myself that it was possibly the best year for Australian-made games I've witnessed since covering the medium several years ago. Unpacking, The Forgotten City, Ring of Pain, art of rally, The Artful Escape – with every game mentioned was another several that either just missed out or have released since (Heavenly Bodies, Len's Island, and Grow: Song of the Evertree come to mind). Phantom Abyss is progressing nicely through Early Access, Sp!ng is a great experience designed for mobile, and I haven't even played the much-lauded WEBBED yet.
Gee whiz, Aussie games are good stuff. And there's plenty to look forward to next year as well.
Descending into Hitman 3's Berlin nightclub
Almost the inverse to Returnal's Hyperion moment, Hitman 3's descent into a grimy Berlin nightclub was another 'wow-factor' moment that highlighted the best of IO Interactive's World of Assassination Trilogy while also twisting the formula in a refreshing way. Instead of the usual setup of Agent 47 having the advantage, Hitman 3's Berlin level sees you on the back foot, hunted by multiple agents hellbent on taking you down.
As you approach the unassuming industrial location converted into a nightclub, dance music pulsates louder and louder, until it punches you in the chest with a forceful light and sound display, adding to the situation's urgency. The whole mission is a great concept and a thrilling location, which is part of why Hitman 3 is the trilogy's highlight.
Psi-King's Sensorium – Psychonauts 2's breathtaking mental world
Psychonauts 2 rocketed into my all-timer list earlier in the year. It has so much going for it: a beautifully empathetic story with themes of mental wellbeing, likeable and relatable characters, plus some of the best 3D-platforming worlds I've ever seen. My favourite of these worlds was the Psi-King's Sensorium, a psychedelic audiovisual filled with mind-blowing vistas, colours galore, and clever level design. Without giving too much away, it culminates in a very cool musical moment and one of the most touching narrative arcs in Psychonauts 2.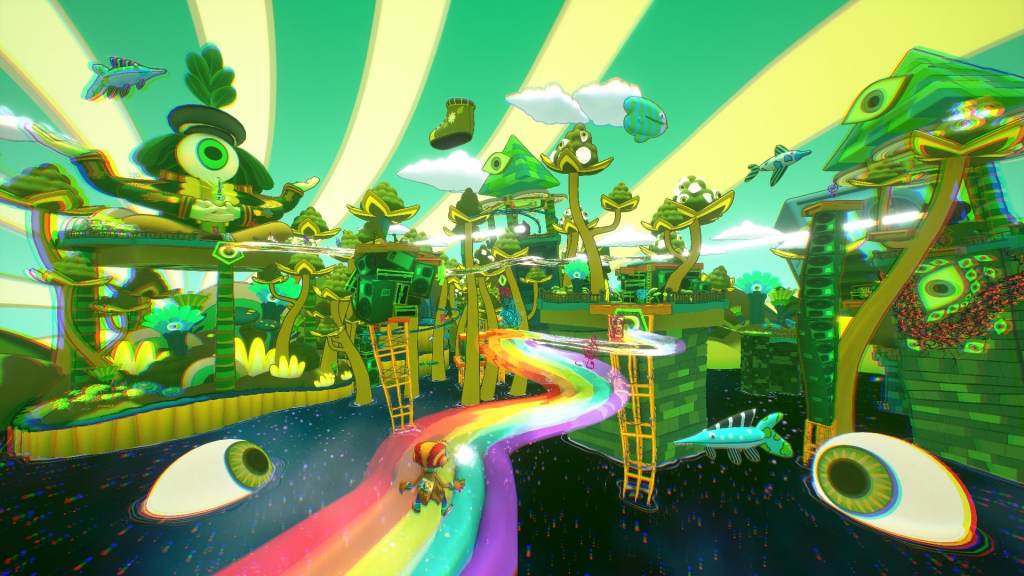 ---
For more of GamesHub's Best of 2021 content, have a look at our picks for Best PlayStation Games of 2021, Best Xbox Games of 2021, Best PC Games of 2021, Best Nintendo Games of 2021, Best Mobile Games of 2021, Best Australian Games of 2021, our overall Best Games of 2021, and our Game of the Year for 2021.
Our spotlight on personal highlights so far includes Ring of Pain's Simon Boxer, Unpacking's Wren Brier, ACMI curator Jini Maxwell, games researcher Brendan Keogh, the 2021 Wordplay mentorship participants, producer and consultant Meredith Hall, critic David Wildgoose, and Chris Button.