When starting the process of whittling down the list of potential candidates for Game of the Year, our team submits blind, ranked lists of games. These are assigned a number of points according to their rank, and we use that as a broad starting point for our discussions. The game that sat at the very top of that initial list (and stayed there) was Unpacking.
Developed by Witch Beam Games (Assault Android Cactus), Unpacking is a very special game about the life of one individual, explored through the act of unpacking moving boxes and putting their possessions away during various stages of their life.
It takes on a remarkably unique approach to narrative that proves to be very effective as the high and lows of the protagonist's life reveal themselves. We loved it when it was first released in November 2021, and it's stuck with all of us ever since.
A finely crafted, one-of-a-kind game, Unpacking is GamesHub's Game of the Year for 2021.
Congratulations to the team at Witch Beam: Wren Brier (Creative Director), Tim Dawson (Technical Director), Jeff van Dyck (Audio Director), Angus Doolan (Pixel Artist), Michelle Whitehead (Pixel Artist) and Angela van Dyck (Audio Assistant).
Below you'll find a few of our personal endorsements of the game. Go play it!
---
Personal Endorsments
When you see people talking about the virtues of Unpacking, you'll hear about the clever ways it manages to tell a story, full of emotional twists and turns, through the act of unpacking boxes and putting away a person's possessions. If you've played it, you'll likely relate. If you haven't, believe me – it really is that strong.
The high degree of thought and surgically-precise design decisions employed to create the game's understated, powerful moments is masterful.
Read: The making of Unpacking: From bullet-hell to domestic heaven
But something should be said for just how well-executed the actual motions of unpacking in Unpacking are, too — the utilitarian but attractive pixel art, the phenomenal sound design, and all the subtle touches that make this abstracted version of unpacking feel so real (despite the abstraction), and so good to do (despite the mundanity).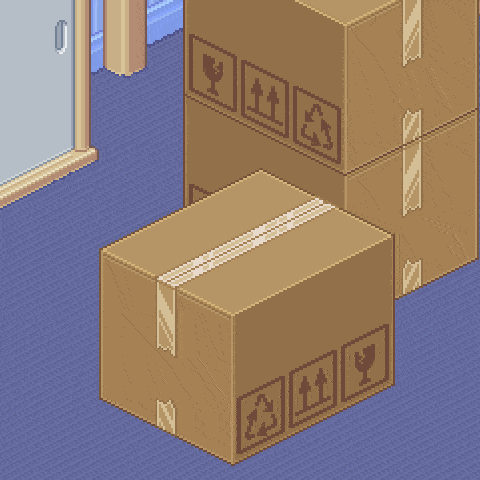 The rustle of paper, the clink of the drinking glasses, the sloshing of the hot water bottle, and the satisfying thuds when you place all those objects. The sight of perfectly-lined sock drawers or neatly stacked plates is a great joy. When the demo for Unpacking became available long ago, I played it repeatedly. It spoke to my neat and tidy nature. It gave me great satisfaction. It put me in a zen state.
Most significantly though, I feel like it's one of the most relatable video games in recent memory, and there's a lot of power in that. Broader narrative aside, it's wonderful how Unpacking can tickle those personal emotional centres in your brain by simply letting you pull something from a box. It might be a DVD or a GameCube game with art that's just evocative enough to make you recall the time you brought those things with you in a move.
The act of having way too much stuff to fit neatly in the space you're given might be reminiscent of similar stress in your own life. The opportunity to organise a fresh set of kitchen or bathroom drawers is a chance for your own kind of domestic creative style and expression.
There is nothing else out there quite like Unpacking. And even without a point of comparison, Unpacking so clearly excels in every part of its design. It's simply one of the most cohesive, delightful, heartwarming, and memorable games of 2021. – Edmond Tran
---
Unpacking is a treat of a game that explores a dense narrative with no traditional storytelling tools to speak of. Rather than focusing on the 'telling', Unpacking is all about the 'show' as you literally unpack the life of a mysterious figure.
Each object has been carefully thought of, as has its placement in the game's world. There's a layer of care here that makes the game sing, and it's why Unpacking is one of the most unique games of 2021.
It's a relaxing game, it's a wholesome game, and at times it depicts sadness in ways that are rarely explored in traditional media. It's a game that understands the connected nature of human existence, and how 'things' can come to define people in strange and personal ways.
As a look at the modern human experience, Unpacking is brilliant in every way. – Leah J. Williams
---
Possibly the game I enjoyed most consistently from start to end in 2021, Unpacking is a masterclass in narrative design. It's not a game that seeks to challenge you – unless you have very specific ideas about where household items belong – instead, it understands that everyone plays in their own way.
It turns out you can say a lot with very few words by showing someone's possessions at various stages of their lives.
What I loved about Unpacking, even more than the satisfaction of putting things away tidily (what a fantasy!), was how it inherently let you put a bit of yourself into the story. Some objects required specific placement, but others gave you the freedom to show the character's priorities. Like myself, the character had neglected exercise for a while, so the yoga mat went under the bed, but the video game and Blu-Ray collections were displayed prominently.
Everything, from the gameplay loop of opening boxes and discovering its contents, to the beautiful pixel art, and the lovely small flourishes – be it the satisfying box-disappearance animation or the ridiculously detailed foley – is an absolute joy.
It's no wonder Witch Beam's Unpacking is GamesHub's 2021 Game of the Year, capping off a stellar 12 months for Australian-made games. – Chris Button
Unpacking is available on PC, Xbox, and Nintendo Switch.
---
For more of GamesHub's Best of 2021 content, have a look at our picks for Best PlayStation Games of 2021, Best Xbox Games of 2021, Best PC Games of 2021, Best Nintendo Games of 2021, Best Mobile Games of 2021, Best Australian Games of 2021, our overall Best Games of 2021, and our Game of the Year for 2021.
Our spotlight on personal highlights includes Ring of Pain's Simon Boxer, Unpacking's Wren Brier, ACMI curator Jini Maxwell, games researcher Brendan Keogh, the 2021 Wordplay mentorship participants, producer and consultant Meredith Hall, GamesHub content lead Leah Williams, critic David Wildgoose, contributor Chris Button, and Nicholas Kennedy, host/content creator Jess McDonell, SUPERJUMP Editor-In-Chief James Burns, and GamesHub Managing Editor Edmond Tran.