A triumphant journey of transformation, The Artful Escape is a joyous musical odyssey of self-discovery that sweeps you along with a breathless enthusiasm and leaves you wide-eyed and grinning from ear to ear. It's the story of someone coming to terms with who they are and realising it's okay to dream about being someone else. Mostly, though, it's about how folk music is trash.
Francis Vendetti grew up in the idyllic bohemian town of Calypso, the kind of twee artist village where Main St hosts a record store called Vinyl Countdown and indulgences like the shop promising Maps of Imaginary Countries somehow thrive. His uncle, Johnson Vendetti, was a famous folk singer and Calypso is currently overflowing with tourists eager to mark the anniversary of Johnson's most celebrated album. Tomorrow night, Francis is expected to close the festival with a live tribute to his uncle's work, but he's riven with doubt. Everyone's always comparing him to his uncle, like some towering shadow he cannot escape. Does he even want to be a folk singer? Maybe he just wants to… shred?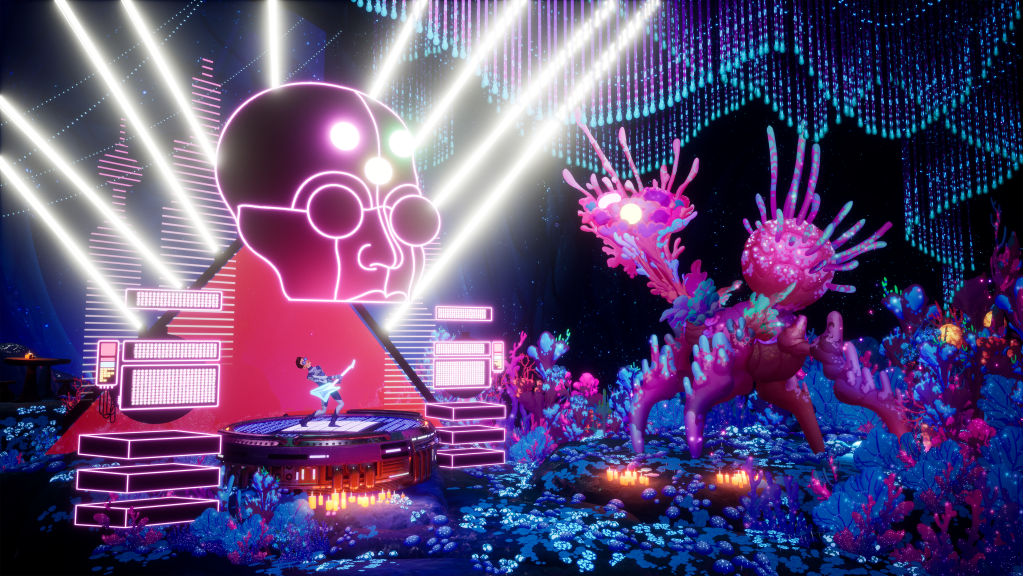 Though The Artful Escape begins in Calypso, most of Francis' journey takes place in the Cosmic Extraordinary, a fantastical realm where timid, insecure teens are able to express themselves without fear via the medium of wailing guitar solos and celestial-spanning riffs. Liberated by the licks, as it were, Francis quits fretting over his future and summons the courage to reinvent himself – in my case, as the Incomparable Riffslinger, a dazzling, androgynous Rock God with a gold mullet and an amp stack to the heavens, but you're free to tailor his persona to your own tastes.
At heart, this is a platformer, but one that is rarely interested in challenging you to perform perfect leaps, preferring instead to focus on making you look impossibly stylish. Much of the time you're merely running left to right, holding a button to "shred" and prompting Francis' guitar to blaze neon, sparking to life the wondrously psychedelic environments he passes and adding an interstellar accompaniment to the prog-metal soundtrack. Precision only really comes into play during the spectacular Guitar Hero-esque stage encounters that double as boss battles and require you to match chord sequences. But even these aren't demanding; the five-button sequences are short and you only have to match their order, not the timing, leaving you with plenty of time to enjoy the wild performance. Better yet, you are given some room to improvise the timing and offer your own interpretation of each sequence of power chords.
Read: Australian Game Developer Award finalists announced for 2021, nominees include The Artful Escape
At its peak, The Artful Escape is a sensory overload. Double jump then hit "shred," and Francis soars through the air, back arched in rhapsody, head tossed back, his arms windmilling with abandon. Onwards he flies, through purple forests and over green waterfalls and down gleaming vaporwave ski-jumps, through fever-dream landscapes populated by aliens and machines reanimated by the awesome power of rock. It's quite the sight and sound to behold. Occasionally, it does stumble, but only in the rare moments it tries to add complexity to the platforming; shortcomings are exposed by fiddly jump-pads, in particular, and the euphoric feeling it's worked so hard to create is undermined by such breaks in the flow.
Still, as the world of Double Fine's Brutal Legend felt like a heavy metal album cover come to life, The Artful Escape similarly celebrates the glorious sleeve art of prog and psychedelia by way of a Manchester dance party in 1987. As Francis transforms the landscape, so he transforms himself, casting aside the dour, workmanlike constraints of folk music and embracing the enduring capacity of laser-lit stadium rock to create a galaxy-spanning, mind-altering maximalist sensation. Saying nothing but meaning everything. It's nonsense, of course, But in the moment, nothing has ever felt more profound.
4 Stars: ★★★★
THE ARTFUL ESCAPE
Platforms: PC, Xbox, iOS
Developer: Beethoven and Dinosaur
Publisher: Annapurna Interactive
Release Date: 9 September 2021
The PC version of The Artful Escape was provided and played for the purposes of this review.