To help reflect on the year that was, GamesHub has asked contributors, Australian game developers, and friends of the site to talk about some of their favourite games or gaming-related highlights of 2021. They've included developers like Unpacking's Wren Brier, games researcher Brendan Keogh, and producer Meredith Hall. Regular GamesHub contributor Nicholas Kennedy is sharing his highlights next.
Nicholas has written a bunch of great reviews and articles for GamesHub in 2021, including a great recent piece on The Making of Heavenly Bodies. He also penned another great behind-the-scenes piece on The making of Mini Motorways and the futility of urban development, as well as some fantatic reviews for Death's Door and Battlefield 2042.
You can follow Nicholas on Twitter: @NickKennedy
---
Inscryption
In a perfect world, my introduction to Inscryption ought to have come alongside balaclava-clad dudes bundling me into a van and depositing me into a windowless room, handcuffed to a table with a keyboard and lone CRT monitor.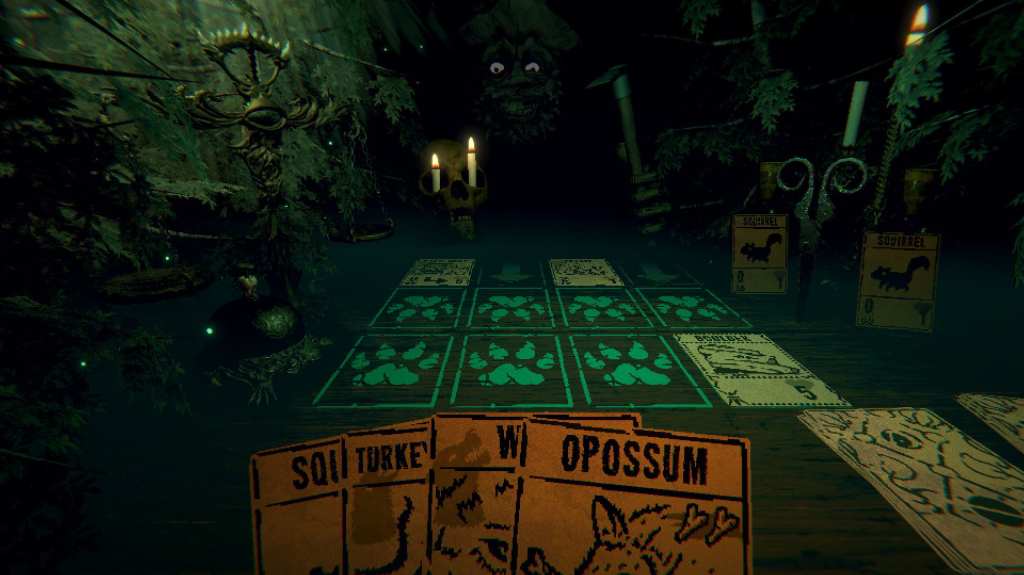 Instead, it almost feels like the 'don't ask questions, just play it' discussion that surrounded the game's release still failed to meet Inscryption's dedication to a constantly transforming atmosphere and storytelling; that sort of hush-hush tends to roll around annually for whatever game has employed a puzzle box-like structure.
Inscyption has transcended any expectations I have when playing a game blind for the foreseeable future, and for that, I adore it.
JETT: The Far Shore
For many, JETT: The Far Shore failed to meet the mythical, untouchable status of Superbrothers' decade-old and equally influential game Sword & Sworcery EP. JETT was too dense, poorly paced, with an ending that failed to tie together many of the game's seemingly dangling strings.
JETT was never supposed to achieve the things implied by it's perception as a post-No Man's Sky sci-fi epic, instead opting to deliver an intimate, personal yet cosmic experience backed up by astoundingly good musical direction and a control scheme that rewarded mastery, blending myriad ideas into a deeply affecting story of a people and a purpose as much as any one individual.
Climate change, religious pursuit, scientific influence and the possibility of oblivion are all tied together during JETT, and it creates one of the most distinct, unique narrative experiences of 2021.
Mundaun
Mundaun feels like a beloved cultural relic. An obscure arthouse film from some lesser-known European heritage, yet one that still manages to frighten you to your core. It manages to be both full of life and ideas, yet old and unnerving in its mountainous blend of legend, folk mythology, and history.
Beyond its gorgeous hand-drawn, sketchbook art-style, Mundaun is almost more surprising in just how open its Swiss alpine location is; even providing you with a bouncy farm vehicle to bumble about the region in.
The game's willingness to push back against the 'all you can do is run' directive of the last ten years of horror games is perhaps its greatest strength; welcoming you into it's strange and lovingly crafted world rather than tasking you with escaping it as quickly as possible, perfectly walking a tightrope between genuine fear and a curious, whimsical fairy-tale atmosphere.
It's also rife with some of the best visual moments in a game I've seen all year; spying your mysterious watcher through the reflection of a lake, a dimly lit conversation with a beheaded goat, a painter capturing a house aflame. Mundaun is a beautiful work of art, and one of the best horror games of the year.
NUTS
I'm a sucker for real-time reflections in a game. It's not rational, but if I walk up to a mirror and see my full character model staring back at me, my opinion of a game will sky-rocket immediately.
NUTS' real-time research camera mechanic: tracking the exploits of increasingly mischievous squirrels captured by cameras you place around the environment — a sort of visual diegesis — pushes on this exact part of my brain, and is probably my favourite gameplay loop of the year.
The spartan little trailer you conduct all your research from is full of dials and knobs with a pinboard for any relevant photos or documents, and it's possible that NUTS' greatest success is realised by making footage of bushes and trees with nothing happening actually interesting.
To its credit, NUTS knows how to avoid wearing out its welcome, and keeps things fresh over its efficient runtime with constantly striking colour palettes, and an ever-increasing number of cameras.
This kind of nature-based voyeurism; catching a flash of fur, glimpses of a tail, or analysing the forest to determine 'what would this squirrel do?' means the thread at the heart of NUTS is always a joy to pull on, and the moments where you feel outsmarted by rodents all the more hilarious and confounding. I could have tracked these squirrels for hours beyond the game's conclusion.
---
For more of GamesHub's Best of 2021 content, have a look at our picks for Best PlayStation Games of 2021, Best Xbox Games of 2021, Best PC Games of 2021, Best Nintendo Games of 2021, Best Mobile Games of 2021, Best Australian Games of 2021, our overall Best Games of 2021, and our Game of the Year for 2021.
Our spotlight on personal highlights includes Ring of Pain's Simon Boxer, Unpacking's Wren Brier, ACMI curator Jini Maxwell, games researcher Brendan Keogh, the 2021 Wordplay mentorship participants, producer and consultant Meredith Hall, GamesHub content lead Leah Williams, critic David Wildgoose, contributor Chris Button, and Nicholas Kennedy, host/content creator Jess McDonell, SUPERJUMP Editor-In-Chief James Burns, and GamesHub Managing Editor Edmond Tran.