Fellow Traveller has officially revealed the full schedule and panel lineup for LudoNarraCon 2023, the digital festival celebrating the best of narrative storytelling in games. This year, creative talents set to present include: Ron Gilbert (Return to Monkey Island), Sam Barlow (Immortality) and Andrew Shouldice (Tunic) who will take part in panel talks, alongside a host of other brilliant developers.
To kick off the online showcase, developers and actors from As Dusk Falls, Immortality and A Plague Tale: Requiem will discuss the process of bringing a narrative game to life. Natalie Watson and Sam Barlow of Half Mermaid, Sébastian Renard of Asobo Studio, and Caroline Marchal of Interior/Night, will interview game actors Manon Gage, Charlotte McBurney, and Ryan Nolan to illuminate this process.
Elsewhere, in the 'Beyond Representation' panel, Saqina Latif (Persona Theory), Dimas Novan D. (Mojiken) and Sasha Ariana (Toge Productions and Pikselnesia) will discuss the unique Southeast Asian approach to storytelling in games, seen in gorgeous, sometimes confronting adventures like Kabaret, A Space For The Unbound, Afterlove EP, and What Comes After.
Read: 'Kabaret' is a slow dance with the devil within us
Other talks will focus on marginalised identities in gaming, the importance of creating compelling relationships in games, the rise of social gaming, and how atmosphere is built in single player experiences.
Here's the full schedule, courtesy of Fellow Traveller: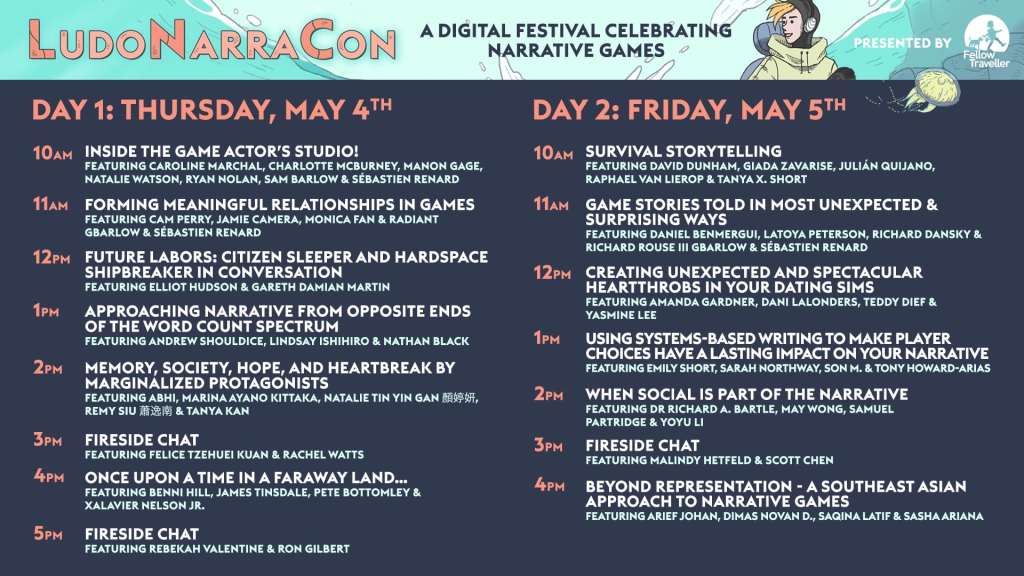 LudoNarraCon 2023: Day One Schedule
10:00 am PT – Inside the Game Actor's Studio
11:00 am PT – Forming Meaningful Relationships in Games
12:00 pm PT – Future Labours: Citizen Sleeper and Hardspace Shipbreaker in Conversation
1:00 pm PT – Approaching Narrative from Opposite Ends of the Word Count Spectrum
2:00 pm PT – Memory, Society, Scope, and Heartbreak by Marginalised Protagonists
3:00 pm PT – Fireside Chat with Felice Tzehuei Kuan & Rachel Watts
4:00 pm PT – Once Upon a Time in a Faraway Land…
5:00 pm PT – Fireside Chat with Ron Gilbert & Rebekah Valentine
---
LudoNarraCon 2023: Day Two Schedule
10:00 am PT – Survival Storytelling
11:00 am PT – Game Stories Told in Most Unexpected & Surprising Ways
12:00 am PT – Creating Unexpected and Spectacular Hearthrobs in Your Dating Sims
1:00 pm PT – Using Systems-Based Writing To Make Player Choices Have a Lasting Impact on Your Narrative
2:00 pm PT – When Social is Part of the Narrative
3:00pm PT – Fireside Chat feat. Malindy Hetfeld & Scott Chen
4:00 pm PT – Beyond Representation: A Southeast Asian Approach to Narrative Games
---
LudoNarraCon 2023 will take place digitally via Steam from 4-8 May 2023.