In 2021, Film Victoria appointed two new faces to its Games and Digital Content team to oversee the organisation's distribution of grants for the development and production of games projects in the state of Victoria: Paul Callaghan and Lise Leitner.
Callaghan comes from a notable background in the Victorian games scene, having been a developer, and also having directed the Freeplay Festival from 2009 to 2012. He's also worked as an educator and creative producer, working on play projects in various formats for prestigious institutions such as BAFTA, ACMI, the ABC, and the British Council, among others.
Leitner also comes from a development background, having contributed to games like Slay the Spire and MMORPG Tycoon 2 as a writer, on top of working in cultural institutions like The Wheeler Centre, which works to support writers and creators.
With Leitner and Callaghan on board, Film Victoria looks to continue supporting the Victorian development scene in what is sure to be a pivotal year for the Australian games industry. The upcoming federal tax rebate, as well as the increased initiatives from states all around the country, is likely to accelerate the growth of studios and the quantity of games projects Australia produces.
GamesHub put forth some questions to Callaghan and Leitner to get their perspective on the organisation, how they hope to assist with the future of the industry, and some guidance for those looking to apply for Film Victoria's development grants.
---
In regards to local games and the local industry, what have been some of your highlights of the past year?
Paul Callaghan: Coming back to Victoria from overseas, and starting at Film Victoria this past year is definitely one of them, it's been great to see such a clear level of confidence and diversity in the games being made in the state. Projects like The Forgotten City, Heavenly Bodies, Dap and Ring of Pain have had a lot of play, and from further afield, I loved Unpacking and Exo One as well.
Another highlight is the diversity reflected in the exciting slate of projects in development that we announced ahead of Melbourne International Games Week, alongside the Victorian Screen Incentive that attracts some of the world's biggest games to be made in Victoria, and Film Victoria's inaugural Games Development Intern, David Parkin.
Read: Beauty, Grace and Outer Space: The Making of Heavenly Bodies
Lise Leitner: The biggest highlight for me has been the impressive variety of games coming out of Victoria and Australia more broadly. I've enjoyed tending to my plants in Kinder World, solving crimes in Eastern Market Murder, and getting a glimpse of the airborne hospital in the Wayward Strand demo. Each and every one of these games tells a unique and engaging story that I enjoyed losing myself in. They all showcase the amazing variety of games in Australia and the fantastic community of creatives who are making them.
It's also great to see more new and upcoming games containing diverse characters, stories, and voices. Australian highlights for me in 2021 included Unpacking and Video World, and I can't wait to see more of Future Folklore by Guck and Chorus from Summerfall Studios in the future.
For me personally, it's been a wonderful experience transitioning from working on a game to working at Film Victoria and looking at the games industry through a different lens. Supporting the games industry in such an exciting spot like Victoria is an absolute privilege, and I can't wait to continue our work.
How do you perceive Film Vic's role in the local game development industry?
Paul: Film Victoria has been supporting games for around 25 years, and, our commitment to and partnership with the local industry continues to be incredibly strong.
Through providing strategic leadership and support, we occupy a unique position in being able to take a really broad sector view through all of our programs, through the experience of our team and the insights across the industry to see trends both globally and locally and then develop support programs and initiatives to ensure that Victoria continues to be an exciting place to create games.
Lise: Seeing the slate of projects that Film Victoria has supported in the past speaks to its role as a nurturing and supportive organisation within the local industry itself, and within the broader global landscape.
As Paul mentioned, Film Victoria occupies a unique position; this will allow us to build on Film Victoria's existing successes by continuing to support exciting projects from both budding and veteran game developers, while also providing that strategic leadership, developing more support frameworks for the industry, and creating more avenues for people into the industry as well as career advancement and skills development through internships, placement programs, and more.
Overall, I believe our role is to nurture and support makers in the industry whilst continuing to drive industry success. We endeavour to make the industry as accessible as possible for folks from diverse backgrounds and amplify the fantastic work that's being done, both locally and internationally.
What kind of projects typically catch your eye for development funding? Are there any upcoming projects you're particularly excited about?
Paul: There's no one kind of project really, it's more a question of does the idea, does the team, does the project, achieve what it sets out to achieve? That can be an experimental mechanic, or a specific location, or a story or a theme, but at its core – even if it's something I might not always play – you're asking those questions, and seeing whether the people making the project are asking those questions too.
And luckily, projects that come to Film Victoria are assessed by a panel of industry peers, so they'll bring different approaches and experience in understanding a project.
Lise: It really varies from project to project, but what always stands out to me is a game developer who has a clear vision for the game they're creating, is aware of their core audience, and knows what message they want the game to convey.
As with other creative media, a game is primarily about communicating something to your audience in a meaningful manner, no matter whether you choose to do this through puzzling, story, stealth, or exploring. If that message is conveyed well and developers have a clear idea of the impact they want to make with their game, I'm interested to know more, even if the game's genre is one I wouldn't naturally gravitate towards myself.
Often, the team behind an application is just as interesting as the project itself. Learning more about how applicants got into the games industry and what drives them is always fascinating to learn, and this information helps show where a game developer's passion for a project originates. I think that Paper House Studio, who are tracking their energy consumption as they're developing Wood & Weather – a game about climate change – is a great example of this.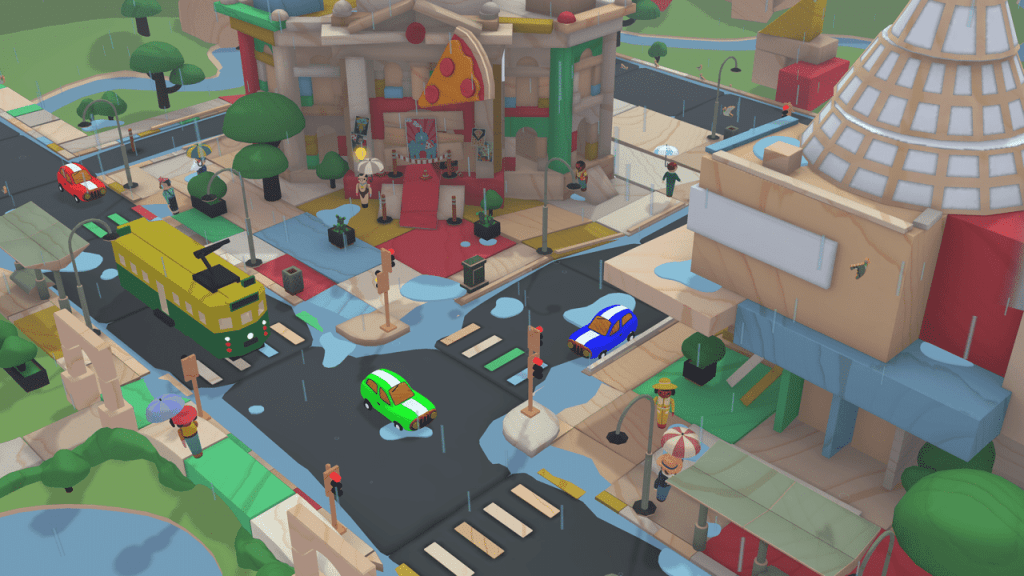 Read: Aussie developer Paper House will track its environmental impact going forward
What are your hopes for the local game development scene over the next few years?
Paul: Let's go bigger. Let's say 10, 20, 30 years, taking me into the late(r) stages of my career, and early-stage people into the middle of theirs, and a whole new set of new people coming into the world of making games. How do we imagine that future and what it would look like?
And how do we work together to build those foundations – for people, for projects, for studios, for creative and cultural infrastructure, for organisations – now that will sustain all of those people, that's the goal.
Lise: Victoria is already a great place to make games, and after the pandemic, it's clear the gamedev community is not just creative, but also resilient. My hope is that we can harness this creative energy in the sector to improve the existing structures and to support developers of all stages to create the ambitious games they want to make.
Whether it's equipping individual and emerging creatives, studios, and art collectives with more tools to improve or grow their work environment, providing avenues to access investment from domestic and international publishers, or helping Victorian developers gain greater visibility for their games on a global scale, we want to help developers create meaningful projects that are set up for commercial, cultural and critical success.
Read: Behind the high-risk development of The Forgotten City
What would you say to a developer who might think their games project isn't 'good enough' to apply for Film Victoria assistance?
Paul: You can come and talk to us as a first step. We're always available to talk through your project, your goals, and the aims of our project funding. If a project might benefit from some additional consideration or work, we'll try to point people at other resources or opportunities, or provide actionable feedback.
I'd also say that if someone thinks their project isn't 'good enough', to really interrogate critically what that might mean for them, to seek out peers they can trust to give them feedback, and to think about what 'good enough' would look like for the game as it moves through development to release.
These are questions we'll ask, and our panel will ask, and ultimately what your audience will ask as well.
Lise: 'Good enough' is subjective, and absolutely differs from project to project. My advice would be to get a strong sense of what you want your game to be, and how you're going to get there. Know your game's strengths and limitations and give yourself enough time to pressure test your ideas and discuss them with peers before coming in for funding.
Ideally, an application really tells the story of where your game is currently at, where you want to take it, and how Film Victoria's funding can help you get there. Having a clear game plan is key: think about who your audience is, what the development roadmap is for your game, and what impact you want it to have on your player base.
All this helps the panel to understand why and how you're planning on delivering a successful project.
---
Victorian practitioners interested in funding can view grants, terms, and deadlines on the Film Victoria website.