In typical Nintendo fashion, the company announced a Nintendo Direct showcase at the tail end of the cavalcade of video game events in June 2023, kicked off by Summer Game Fest 2023. With 24 hours notice, the company remarked that there would be a 40-minute presentation, featuring new details of the upcoming Pikmin 4, as well as 'information focussed mainly on Nintendo Switch titles launching this year'. In retrospect, it was certainly keeping its cards close to its chest.
Headlining the pack of new game announcements was a brand new 2D Super Mario game, called Super Mario Bros. Wonder. A long-awaited remake of Super Mario RPG was also announced, as was a new Warioware game. The company also teased a brand new game starring Princess Peach, and plenty of third-party games announced Nintendo Switch versions, too. Here's a summary of everything the company announced during the showcase.
Nintendo Direct June 2023 – All the announcements
---
The Nintendo Direct opened with a look at the new expansion content for Pokemon Scarlet and Violet, called The Hidden Treasure of Area Zero.
A gameplay trailer suggested it would comprise two parts. The first, entitled 'Part 1: The Teal Mask' showed trainers going up against a new antagonist called Carmine, as well as a look at several other new supporting characters, as well as a Japanese night market festival-themed area, and several intriguing-looking Pokemon. It's due in Fall 2023 [Northern Hemisphere].
It then cut to Part 2: The Indigo Disk, set on what appeared to be an academic institution situated in the middle of the ocean that also houses its own kind of Safari Zone, featuring four different biomes and battle areas. Also, a glimpse at a new unknown Pokemon was teased. It's due in Winter 2023 [Northern Hemisphere].
---
Sonic Superstars
The previously-announced Sonic Superstars was given a brief showcase, detailing some of the new abilities available in this 2D throwback, as well as shining a spotlight on its four-player co-op functionality. It's launching in Autumn 2023 [Northern Hemisphere]
---
Palia
A new farming simulator called Palia was shown, featuring farming, hunting, and crafting in a magical world. It's going to be free-to-play, and will launch at the end of 2023.
---
Persona 5 Tactica
A brief showcase for the previously announced tactics game based on Persona 5 was then shown, detailing some of its gameplay mechanics, such as the familiar all-out attacks and persona fusing. It launches 17 November 2023.
---
Mythforce
The previously-announced Mythforce, a first-person dungeon-crawling roguelike inspired by the 1980s Saturday morning cartoon aesthetic was next. It launches sometime in 2023.
---
Splatoon 3
The next Splatfest event for Splatoon 3 was then detailed, which was confirmed to be a battle between ice-cream flavours: Vanilla, Strawberry, and Mint Choc-Chip. (The correct answer is Mint Choc-Chip, but you'll have to battle it out to assert that dominance).
---
Detective Pikachu Returns
A sequel to the amusing Detective Pikachu game, on which the Ryan Reynolds film was based, was announced. It once again features the gruffly-voiced Detective Pikachu, who still loves coffee, as well as Mewtwo.
It's being released on 6 October 2023.
---
Super Mario RPG Remake
In a surprise announcement, a remake of the excellent Super Nintendo RPG from Nintendo and Squaresoft (now Square Enix), Super Mario RPG, was finally announced.
It'll be a full 3D remake of the adventure that sees Mario team up with friends, foes, and new characters alike, to take part in exciting turn-based battles.
It's a defining game that was long thought to have been tied up in rights issues, due to the co-development with Squaresoft, and the original characters it contributed to the title.
This remake arrives on 17 November 2023.
---
Untitled Princess Peach Game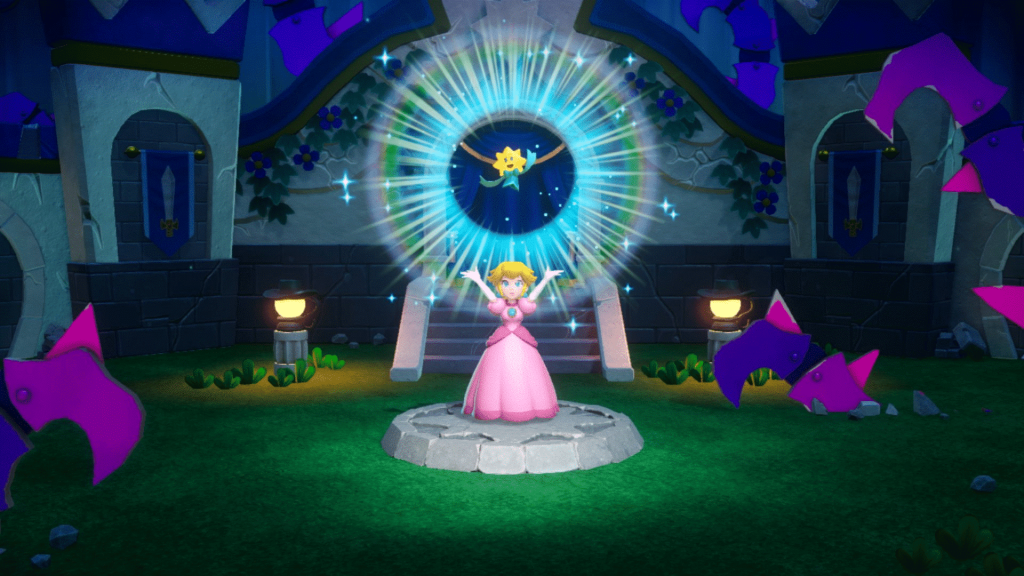 A new game starring Princess Peach was then announced, seemingly taking the form of a hybrid 2D/3D game. It involves Peach adopting powers when she steps on a platform, seemingly to do with her outfits, in a magical girl way. A brief clip was shown, but no more details were shared. It's arriving in 2024.
---
Luigi's Mansion 2: Dark Moon remaster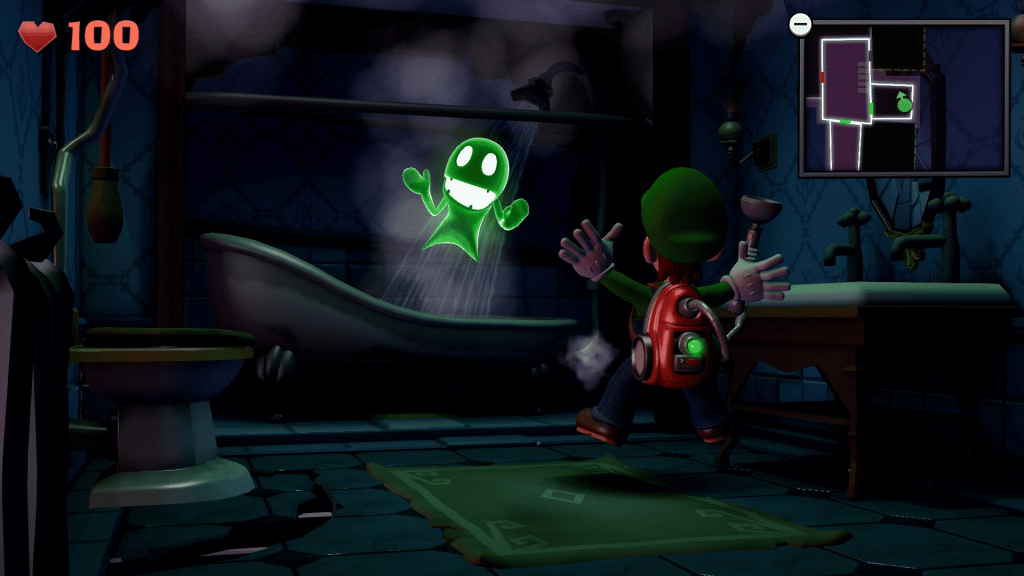 It was then announced that Nintendo would be working to bring the Luigi's Mansion 2, originally released on the Nintendo 3DS, to the Nintendo Switch with remastered graphics. It's also arriving in 2024.
---
Batman: Arkham Trilogy
A collection of the much-loved Batman: Arkham games was announced for Switch, which will include all three main games – Arkham Asylum, Arkham City, and Arkham Knight – as well as all of its DLC.
It's arriving in Autumn 2023 [Northern Hemisphere]
---
Gloomhaven
The digital adaptation of the popular board game Gloomhaven was also announced for Nintendo Switch.
---
Just Dance: 2024 Edition
Surprise! There's another Just Dance gaming arriving this year. A few of the game's main songs were announced.
---
Silent Hope
A new action RPG from XSEED was announced, featuring seven heroes and real-time dungeon-crawling action. It'll involve collecting material during your forays underground, and building up your basecamp when you return. There was some emphasis on the narrative, too, which takes place in a world where no-one can talk.
It's arriving on 3 October 2023.
---
Fae Farm
The previously-announced cosy life simulator/dungeon crawler Fae Farm got a fresh new trailer in the Nintendo Direct. It features four-player co-op, and will release on 8 September 2023.
---
Hot Wheels Unleashed 2: Turbo Charged
A brief look at the upcoming Hot Wheels racing game was then shown. It's arriving on 19 October 2023.
---
Manic Mechanics
A fun-looking party game where you repair vehicles in hazardous environments was then revealed, somewhat in the vein of titles like Overcooked and Moving Out. It's called Manic Mechanics and it launches on 13 July 2023.
---
Mario + Rabbids Sparks of Hope DLC: The Last Spark Hunter
A brief look at 'The Last Spark Hunter' DLC for the excellent tactics game featuring Mario and Ubisoft's Rabbids was then shown. It's available now.
Read: Mario + Rabbids Sparks of Hope review – Shiny and glorious
---
Dragon Quest Monsters: The Dark Prince
A look at a new Dragon Quest spinoff game was then shown, a title in the Monsters series where you collect and train the series' iconic monsters for turn-based battles, in a Pokemon or Persona-like fashion. It looks to even recreate the open-world aspects of recent Pokemon games.
It's launching on 1 December 2023.
---
Pikmin 4
An extended look at Pikmin 4 was then shown, detailing a lot more about the flow of the game, and recounting its mechanics for newcomers. While the series has always been critically lauded, it's never reached the success of Nintendo's other flagship franchises.
In this sequel, you'll once again recruit Pikmin to help you navigate the world, and utilise them to perform tasks for you in your ultimate goal to repair your spaceship – though you'll have a loveable dog this time, too.
A multiplayer mode returns for Pikmin 4 (one of the most underrated parts of previous titles, if you ask me), and the game will feature night-time missions for the first time, with more dangerous enemies, and a new kind of Pikmin: Glow Pikmin.
Additionally, Nintendo announced that HD remasters of Pikmin and Pikmin 2 would be released digitally on the Nintendo eShop following the presentation.
---
Metal Gear Solid: Master Collection Vol. 1
Metal Gear Solid 1, Metal Gear Solid 2, and Metal Gear Solid 3 are coming to Nintendo Switch in a new collection, which also comes packaged with the original MSX and NES Metal Gear games.
There'll also be additional content, such as the motion comic that was released for the game. Each title will also be made available separately on the Nintendo eShop. It's certainly not the first time all these games have been packaged together, but bringing them to a new platform will hopefully introduce them to a new generation.
They're arriving on 24 October 2023.
---
Vampire Survivors
The excellent idle-action game that sparked a new genre is finally coming to Nintendo Switch, after finding great success on PC, Xbox, and mobile. It will also now feature a four-player co-op mode.
It's arriving on 17 August 2023.
---
Headbangers Rhythm Royale
A new battle-royale rhythm game is coming from Team 17, and it involves… pigeons. It's a multiplayer game seemingly in the vein of Fall Guys, but with its own unique twist.
It's arriving on 31 October 2023.
---
Penny's Big Breakaway
A new throwback 3D platformer from the team behind Sonic Mania was then unveiled, featuring some fun-looking traversal and a Sega Saturn-inspired art style. It looks delightful, and it's launching in early 2024.
---
Mario Kart 8 Deluxe: Booster Course Pack Wave 5
Squeaky Sprint was revealed as one of the 'original' tracks coming to Mario Kart 8 Deluxe in the future, alongside a few new characters: Petey Pirahna, Wiggler, and Kamek. They're coming in Summer 2023 [Northern Hemispere]
---
Star Ocean: The Second Story R HD-2D
One of the excellent Star Ocean games, originally released on PlayStation 1, is getting a remake. It features a 2D/3D art style, choices that impact the overall game, and an exciting active turn-based battle system that felt absolutely revolutionary when the game first released.
It's arriving on 2 November 2023.
---
Warioware: Move It!
A brand new WarioWare game is on the way, featuring motion-controlled micro-games. A variety of its games were shown, and it appears each requires you to physically pose in hilarious and awkward ways. As expected, it looks like an absolute blast.
It's launching on 3 November 2023.
---
Nintendo Live! 2023
A brief rundown of the Nintendo Live physical event in Seattle was then detailed. It features family events, tournaments, and more, and it's happening during PAX West, from 1-4 November 2023.
---
The Legend of Zelda: Tears of the Kingdom – New Amiibo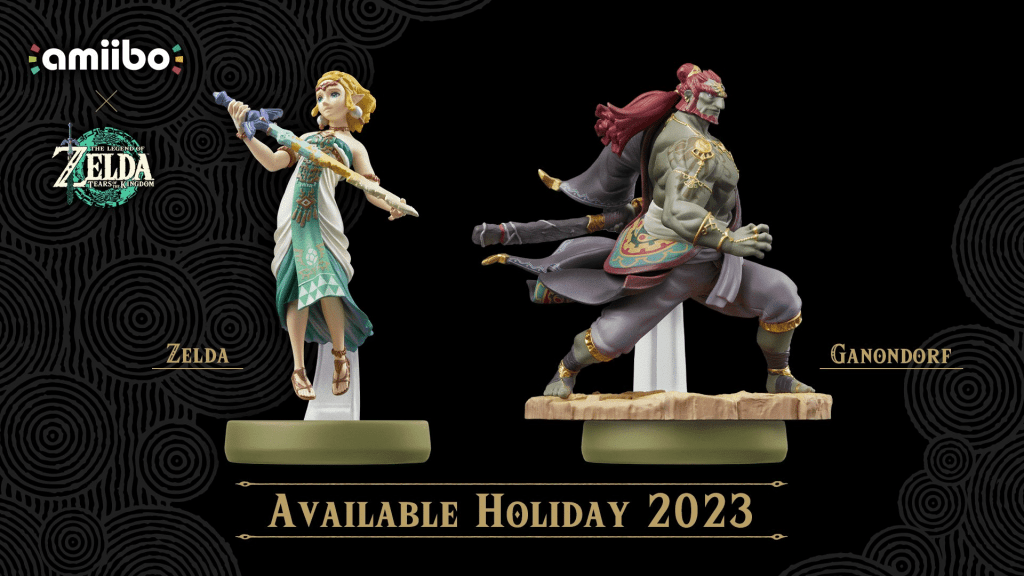 Nintendo leadership thanked people for playing the latest Zelda game, and announced new Amiibo figures of Zelda and Ganondorf, as they appear in Tears of the Kingdom, will be arriving soon.
---
Super Mario Bros. Wonder
A brand new 2D Mario game, featuring a delightful new 3D art style, was then announced. It's called Super Mario Bros Wonder.
In the trailer, we see Mario run and jump through several picturesque environments, and pick up a new kind of flower-based power-up that sends him into a weird dimension. Called a 'Wonder Flower', it seems like it will have unique properties, based on each stage. We see Mario stretch into a very long version of himself, for example, and into a wrecking ball.
Peach, Luigi, Toad, and Daisy are also shown as playable characters, and there will be cooperative play for four players. The trailer ended on a stinger, with Mario turning into a goofy-looking elephant. It looks ridiculous.
Super Mario Bros Wonder arrives on 20 October 2023.
This article was originally published on 22 June 2023, and has been updated since its original publication.