A Fall Guys Creative Mode, which allows players to create their own custom levels and challenges, is set to debut alongside the game's fourth season on 10 May 2023. Ahead of the launch, GamesHub was able to get a fresh look at the new addition, via a developer showcase and preview build that highlighted just how much chaos is on the way for everybody's favourite jumping jelly beans.
They say that power corrupts. In Creative Mode, expect that adage to ring very true, as players compete to up the ante, and spawn courses that'll have you clawing at the walls in frustration. Even if you make the levels yourself, you won't escape the terror that awaits. In our media preview session, one developer couldn't actually complete their own dastardly tower of trauma. No shame, but watching them fall over, and over, and over inspired a certain sense of dread about what's to come.
That said, Creative Mode does feel like the perfect fit for Fall Guys, which is heading towards a trough after launching in 2020 and spending a couple of years in the sun. While constant updates have injected new challenges into the game, many players have dropped off since launch, whether that be due to the novelty wearing off, or perhaps no longer being forced to stay inside due to pandemic-induced lockdowns.
Kickstarting new content drops with plenty of user-developed levels and Mediatonic curation is a great way to keep the game exciting, and adds a layer of intrigue for budding level designers, and anyone looking to chart new bean-filled realms.
Read: Fall Guys goes free-to-play, two years after launch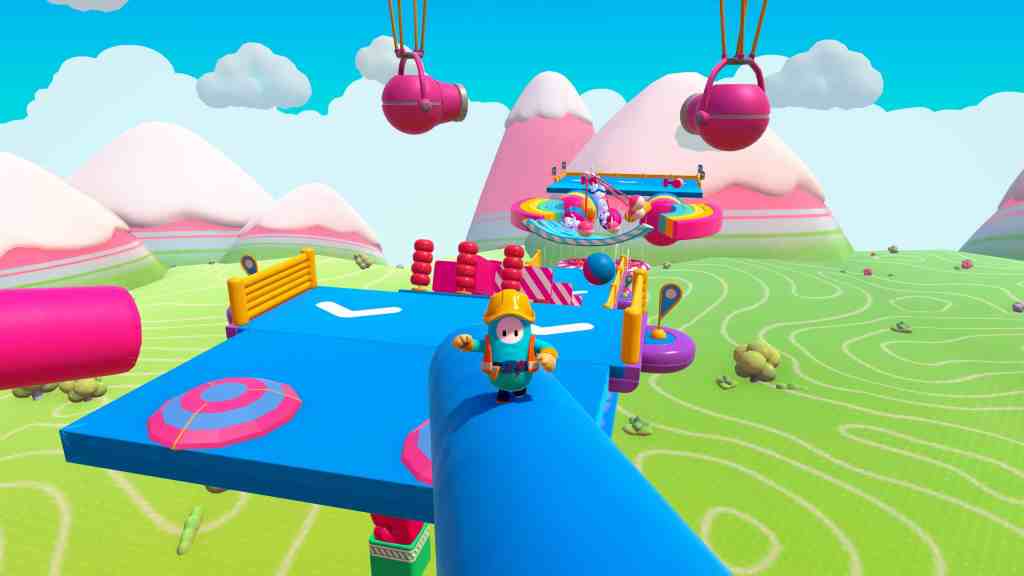 Fall Guys Season 4 kicks off a new era
When Fall Guys Season 4 launches in May, the game's menu system will get a dramatic refresh that adds in the new Creative Mode, alongside options to jump into curated player or developer-created Rounds. A spotlight showcase on the main menu hub will feature a rotating list of the most popular and impressive custom levels, each of which can be played in smaller groups of 1-4 players.
You can choose to spend your time romping through these levels, facing a variety of high-tension levels, or you'll be able to hop into the game's custom level creator to put your own spin on jellybean hell.
So far, there's just one level type available in the Fall Guys Creative Mode – Race. What this entails is a starting line, a finish line, and everything you can imagine between these two goal posts. As the creator of a level, you have a number of tools at your disposal to complicate your romp across an open plain, including annoyances like cannons, swinging hammers, pockmarked ground, elevated or tilted platforms, slime platforms, bouncy obstacles, fans, and twirling barriers.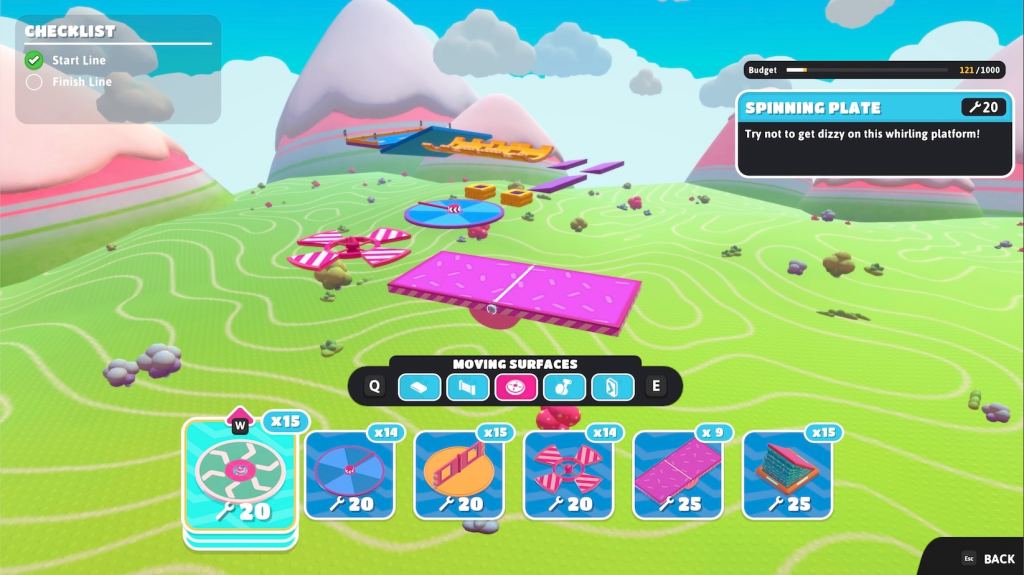 While you do have an object 'budget' that prevents you going absolutely ham on obstacles, this allowance is fairly generous, and lets you to pick and place a vast array of multi-modal items.
For example, say you're looking to get some elevation in your creation. With the game's lock and flip system, you can grab a set item and adjust its direction, height, and tilt any way you like, as you force your jelly bean to run up surfaces, effectively time jumps, avoid swinging items, and struggle across a distant finish line, high up in the sky – or down low. You can even place multiple finish lines for greater chaos, spreading out each stage to change up the competition.
The actual process of creation is very snappy, because you can change anything you need on the fly. As you build out stages and adjust elevation for platforms, your bean can be placed in any part of the level for quick testing – which is particularly helpful for determining jump heights and the tangibility of a win.
Because you can place platforms anywhere, you'll occasionally have to judge how far a bean can jump. If it's too long and you can't complete the level in test mode, which acts as a validation that your level is possible before it's uploaded, you'll need to place new items or adjust platforms to make up the distance.
The only real requirement for levels is that you can cross the finish line. It's up to everyone else to figure out just how it's possible once your level is uploaded to the Fall Guys cloud.
To be clear: the level only has to be completed once by its creator. So if you make a freakish jump by chance, or manage to pull off a skin-of-your-teeth victory, the game will let you publish the level, unleashing your beast on the unsuspecting hordes.
Prepare for death and glory
Between raging towers filled with push-back buttons, cloud-assisted jumps and plenty of tilting ramps, there'll likely be something in Fall Guys Season 4 that sparks your imagination.
Whether you're looking to horrify players with a gauntlet of running and jumping, or you're looking for something a bit more fun, Creative Mode looks hearty enough to let you realise your great and terrible goals. As a lapsed player, it certainly looks like a welcome draw that should attract an eager and imaginative new crowd to the game.
Fall Guys Season 4 and its Creative Mode addendum launches on 10 May 2023.