New data from Australian games industry body IGEA, in partnership with sales and data reporting organisations GSD and Newzoo, has revealed that Australian consumer spending on video games has not slowed down at all since experiencing a huge boost during initial year of the COVID-19 pandemic. IGEA reports that in 2021, Australians spent almost AUD $4 billion on video games across digital games, physical games from traditional storefronts, and mobile games.
Here's a breakdown of the spend, courtesy of IGEA: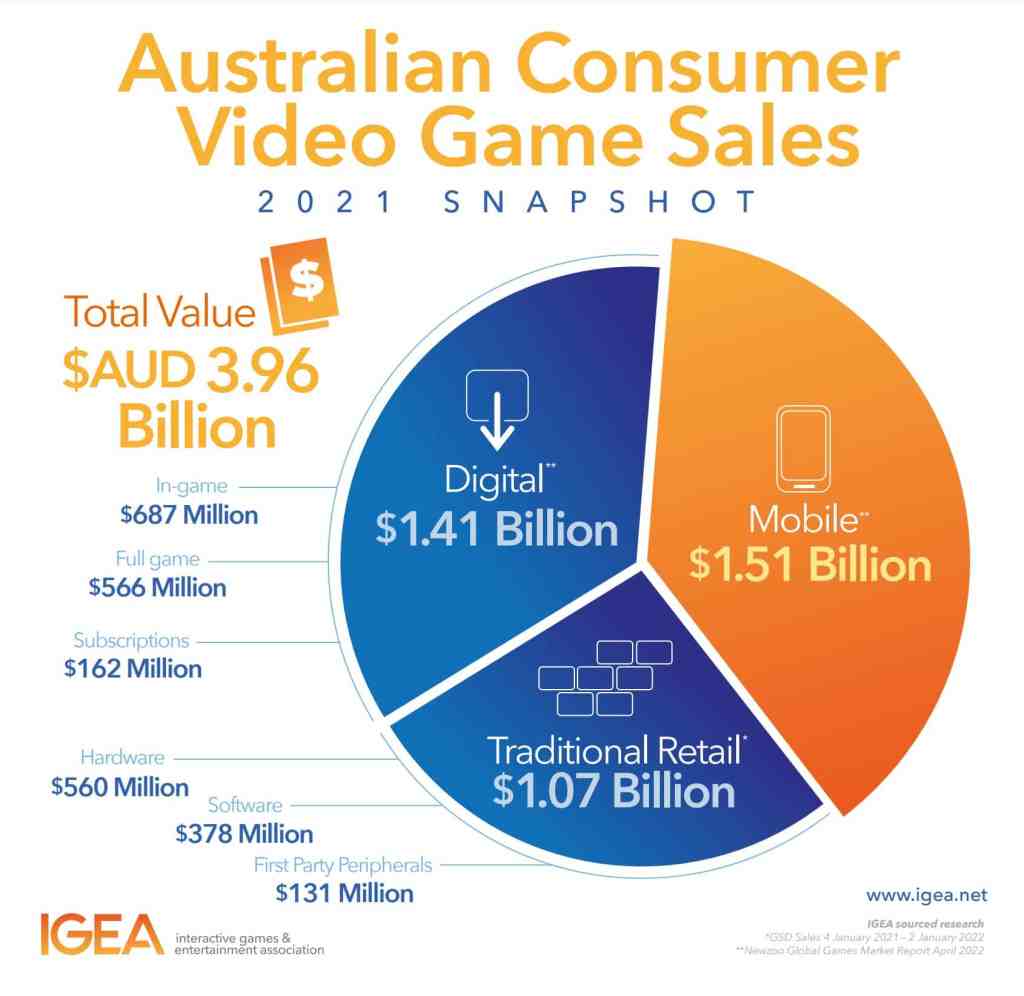 Digital Games
Digital Games racked up AUD $1.41 billion in total sales during 2021, but it's interesting to see the split of where that money went:
AUD $566 million was spent on full games
AUD $162 million was spent on subscription services, such as Xbox Game Pass, PlayStation Plus, Nintendo Switch Online and others
AUD $687 million was spent on in-game purchases. This includes things like game add-ons, cosmetic items, virtual currencies, and other post-launch microtransactions.
It's fascinating to see that despite the increased uptake on subscription services, and the way publishers like Sony and Xbox are pushing them as a long-term source of revenue, the amount made from them overall pales in comparison to the raw numbers of simply selling full games.
Similarly, it's intriguing to see such a huge dollar figure attached to Australian spending on microtransactions. While it represents the amount of support Australians are throwing behind countless free-to-play games like Fortnite, which relies on microtransactions, it also represents spending on popular chance-based games like FIFA Ultimate Team, which skirts a grey area in its gambling-like design.
Traditional Retail
Australian spending at traditional physical video game sales at brick and mortar (and presumably online) storefronts totalled AUD $1.07 billion in 2021, sitting well behind digital sales. The rise of digital is a trend we've seen coming for a while, but the amount of physical sales still remains healthy, thanks to the sale of consoles and accessories.
Here's how the breakdown works out:
AUD $560 million on hardware, such as consoles: PlayStation 5, Xbox Series S/X, Nintendo Switch, etc.
AUD $378 million on game software
AUD $131 million on first-party peripherals, such as official controllers and accessories licensed by Sony, Microsoft, and Nintendo. It does not seem to include console peripherals made by any other manufacturer.
Mobile Games
Perhaps the most interesting fact from this data is that mobile games generated AUD $1.51 billion in sales – more than the other two segments. While mobile game sales don't eclipse console gaming as a whole, it does speak to a fast-growing trend of mobile game adoption.
Once considered a platform merely for 'casual games', the increasing power of modern smartphones has ushered in a new wave of high-quality video games that mimic the experience you get on home consoles – only they're on a device that's always with you. Games like Fortnite, Call of Duty: Mobile, PUBG Mobile, League of Legends Wild Rift, and literally countless other games have grown massive playerbases.
Another thing to note is that most mobile games, especially the most lucrative ones, are free-to-play. We suspect that a majority of this AUD $1.51 billion figure is likely coming from conscious efforts from users to engage with in-game microtransactions for cosmetics, seasonal content, digital currency, and other things.
---
Additional observations and data
In a press release, GSD Senior Analyst and ANZ Territory Manager Aidan Sakiris shared that the top performing titles at retail were led by family-friendly games released prior to 2021. He claimed that the best performing physical game titles for 2021 were Mario Kart 8 Deluxe, Minecraft Switch Edition, and Animal Crossing: New Horizons.
It's unsurprising to see these games on top – this falls directly in line with Nintendo's financial reporting for 2021, which saw those titles continue to reach record sales – especially Mario Kart 8 Deluxe, which had a slew of new tracks announced for 2022.
Sarkis also shared that hardware sales remained the only Australian video game category which saw year-on-year spending growth, in spite of continuing stock shortages for PlayStation 5 and Xbox Series X consoles due to the worldwide chip shortage.
The PlayStation 5 was the best-selling console in terms of value sold (which is understandable, given its high retail price), and the Nintendo Switch was the best-selling console sold in terms of unit numbers.
Tom Wijman, Head of Market Analysis & Forecasting at Newzoo, added that digital PC game sales grew by 11.5% year-on-year, a figure that was considerably above the global average.
---
As Australians continue to foster their relationship with video games – a relationship that was established and continued throughout the COVID pandemic for many – it's hard to imagine this figure declining at all in the coming year, despite multiple major game delays resulting in big blockbusters getting pushed to 2023.
The data suggests that back catalog games, as well as digital and mobile microtransactions, are where most of the money is going – and the options there will only get better and more varied as time goes on. When you consider the supply chains for new-generation gaming consoles and PC hardware are currently at their most crippled, it's easy to imagine a massive boom once those issues are eventually (and hopefully) resolved.
We're looking forward to seeing IGEA's next report in 2023.