Certain Affinity
Senior UI Game Designer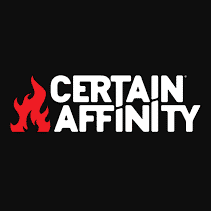 Would you like to work on some of the greatest franchises in gaming history? What about working on our new original IP? Certain Affinity is the largest independent developer in Texas, based out of Austin, and we have a growing presence in Toronto, Canada. Our culture reflects the values and the vibrant nature of the cities we call home. This includes a commitment to evolution, diversity, excellence, and work-life balance. We are also excited to be the latest recipient of the Canadian Studio of the Year award. We're best known for co-developing numerous AAA FPS games, though now we are creating compelling new games of our own. We're always on the lookout for amazing talent to join our team.
Are you a designer that understands how important the UI is to a game's brand and player experience? Do you notice – and appreciate – when a game's style is consistent throughout its UI? Does it really bother you when the texture resolution of UI elements is not pixel-accurate, or when its screens have terrible composition? Do you love seeing beautifully designed icons?
Certain Affinity is looking for a UI Artist to help us build the best games for our co-dev partners and our internal IP teams! Be part of a multi-product UI/UX team designing gorgeous player interfaces across PC, Console, VR, and Mobile platforms.
Responsibilities
Design and develop icons, widgets, full-screen menu layouts, and immersive overlays and HUDS
Work closely with UX/UI Leads and creative directors to ensure all usability and experiential goals are achieved while yielding a visual design that's harmonious with the game's overall style
Work with the Engineering team to export and integrate engine-ready assets and ensure the artistic vision is maintained in-game
Participate in critiques and revise work based on feedback from team members and product stakeholders
Requirements
2+ years of professional game experience in UI or interaction design.
Experience with Unreal (creating UI in blueprints or creating optimized art for the Unreal Platform)
Willingness to mentor and guide fellow UI designers, in order to strengthen and grow the UI/UX Department
A portfolio showcasing design work. It should include at least two projects related to UI or interaction design
A deep passion for games
Visual design skills that showcase a keen eye for composition, layout, and interaction considerations
Ability to create animated motion comps and develop interactive prototypes of your designs
A keen eye for setting typography and working with fonts
Ability to create iconography in different styles that read well at multiple scales
Ability to work within, expand, create and document style guides
Demonstrate player-empathy and advocacy and have a passion for accessibility
Good visual and written communication skills and the ability to deliver and receive constructive criticism
Expert proficiency with Photoshop, Illustrator, and other industry tools
Familiarity with producing multi-resolution source assets
Ability to manage time and priorities across multiple projects in an efficient manner
A desire to work in a diverse and inclusive environment
Extra Credit
Proficiency with Figma, XD, InVision, or other UX and prototyping tools
Experience with 3D packages and concepts, including materials and node graphs
Skilled at developing logos, branding, and identity guidelines
Concept, illustration, or fine traditional fine art skills
Experience with Unreal's UMG/Slate framework
Experience with LUA, JavaScript, HTML/CSS, or other scripting or programming languages
Certain Affinity is authorized to do business in many, but not all, of the states in the US and the Canadian provinces. If you are not located in or able to work from a state where Certain Affinity is registered, you will not be eligible for employment. Please speak with your recruiter to learn more about where we are registered. Certain Affinity or its partners or affiliates run background checks on candidates or employees with the written authorization from the candidates or employees. These may be done for the purposes of offering employment or determining eligibility to work on a specific project. Multiple searches may be required.