Video games are currently the second-most popular entertainment medium among Australian households, second only to streaming film and television, according to research from the Interactive Games and Entertainment Association's (IGEA) Digital Australia 2022 (DA22) report.
Alongside The Nielsen Company and Queensland-based Bond University, IGEA captured data from over 1,200 Australian households, including 3,152 individuals spanning all age demographics. The research revealed the sharp rise in popularity of video games during the pandemic throughout 2020 and 2021, overtaking free-to-air television for the first time in the biennial research series.
Read: Nintendo and 'Animal Crossing' Lead Surge Of Australian Videogame Market In 2020
Participants were asked to rank different types of media for helping 'getting through' lockdowns, with streaming film and television the most popular, followed by video games. The remaining top five media included free-to-air television, YouTube, followed by music.
8.6 million households encompassing more than 17 million people across Australia played video games in 2021, with 92% of households having at least one video game device. Interestingly, honing further into the data of how many devices people owned showed that 36% of video game-playing households had a single device capable of playing games, a rise from 28% two years ago. This perhaps indicates an increase in people who took up video games as a hobby for the first time during the pandemic.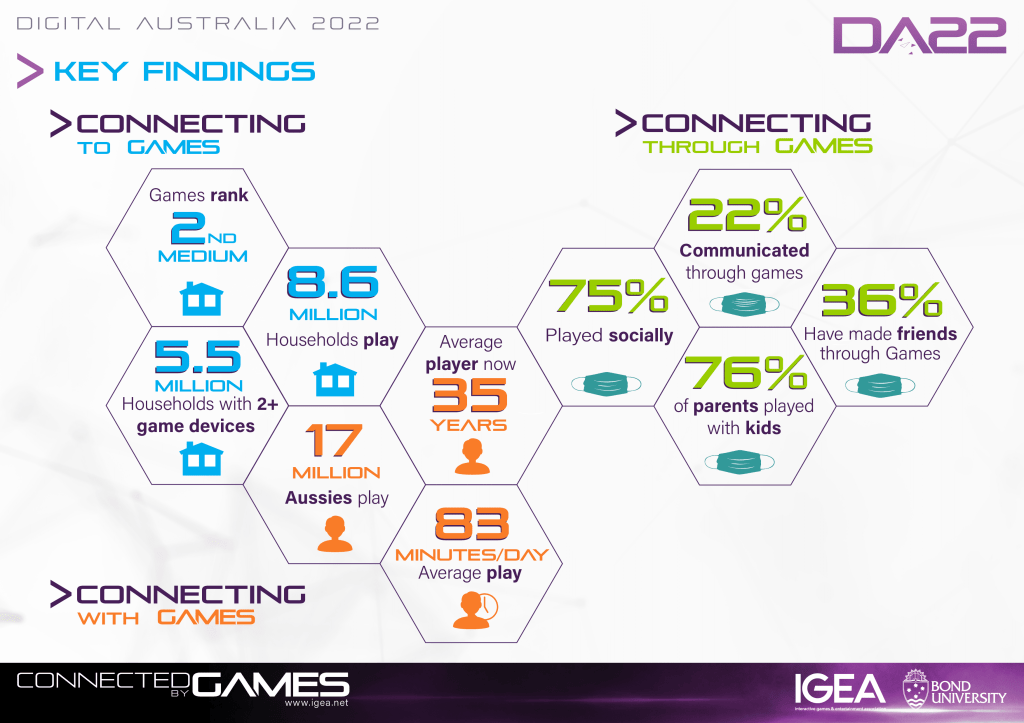 This trend is further reflected in the specific types of gaming devices Australian households own. Of the households playing video games, 68% own a dedicated games console such as the Nintendo Switch, PlayStation 5, or Xbox Series X, making console gaming the most popular in 2021. In IGEA's previous report, PC was the most popular way to play games, which has now dropped to third, also behind mobile devices.
One reason for the trend could be because consoles are more newcomer-friendly, being dedicated video game machines, while the market for PC gaming hardware has been heavily impacted during the pandemic. Also, following the rise of streaming platforms across different mediums, 48% of Australian gamers use a video game subscription service.
Read: New Xbox consoles, Minecraft, and Game Pass drive huge growth for Microsoft
One major aspect of video games' increased popularity during the pandemic is the ability to foster social connections. 75% of adults and children who play games did so to connect with others, responding they play socially occasionally or more frequently. According to IGEA CEO Ron Curry, the connectivity video games enable is a significant appeal.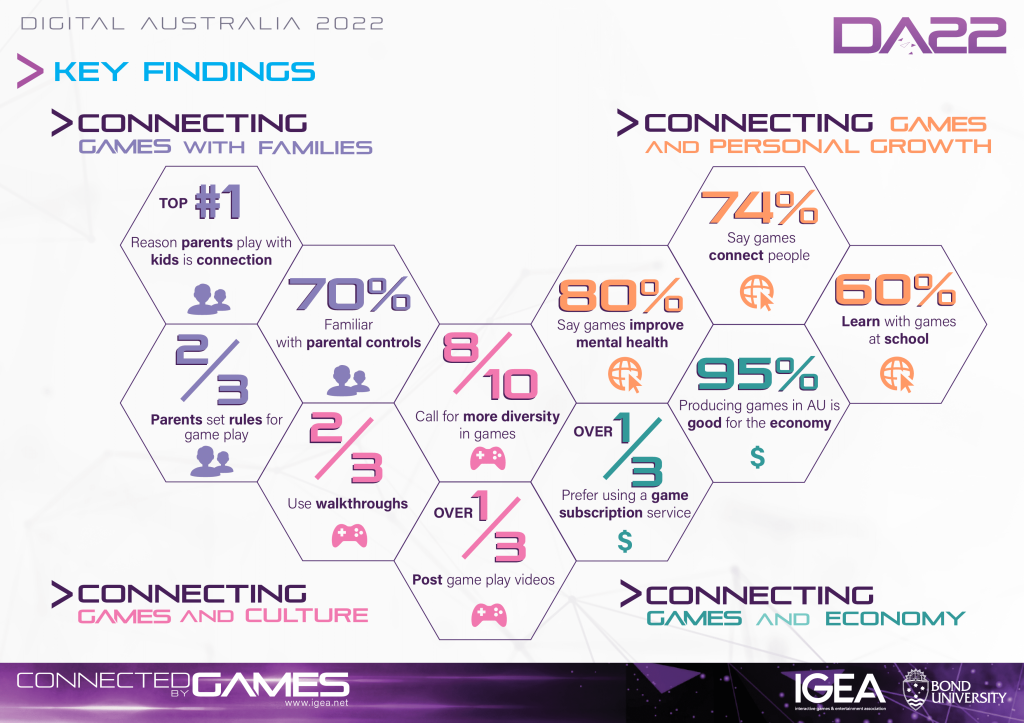 'More Australians are turning to video games for social activities and mental health, changing video games from a hobby into a larger cultural touchstone enabling families and friends to remain connected,' Curry said. 'We see people connected to gaming culture whether that be making games themselves, creating mods, watching streamers, or even attending concerts in-game. Australians love and enjoy games on so many levels and we are seeing the local game development industry evolve accordingly.'
DA22 also found the average Australian gamer is 35 years old, up from 34 two years ago, with 67% of all Australians who play video games aged 18 or older. 53% of Aussie gamers were men, 46% women, and the remainder non-binary, all of whom play video games for a collective average of 83 minutes a day.
There are plenty more interesting findings, including the role of video games in education, and how Australians engage with video game culture online available in the full DA22 report online.