In the wildest crossover of 2022 so far, Street Fighter characters will be pitted against dragons and undead monsters as they join the cast of Magic: The Gathering with a special themed deck celebrating the 35th anniversary of Street Fighter II. Eight characters, including Zangief, Ryu, Ken, Chun-Li and Dhalsim will get their own playable cards, each with unique abilities based on their attacks in the game.
Chun-Li, a Human Soldier in Magic, gets the special Multikicker ability, based on her lightning-fast technique. Dhalsim gets the Reach and Teleport abilities, as in the game. And of course, Ryu gets his Hadoken, and Ken gets his Shoryuken, which can be deployed against any number of advancing monsters.
Each card features a distinct, painterly style for that extra touch of drama and prestige. They really are good-looking pieces, and they'd be right at home alongside the Sorins and Lilianas of Magic.
Read: Tabletop gaming is adopting digital tools for a brighter future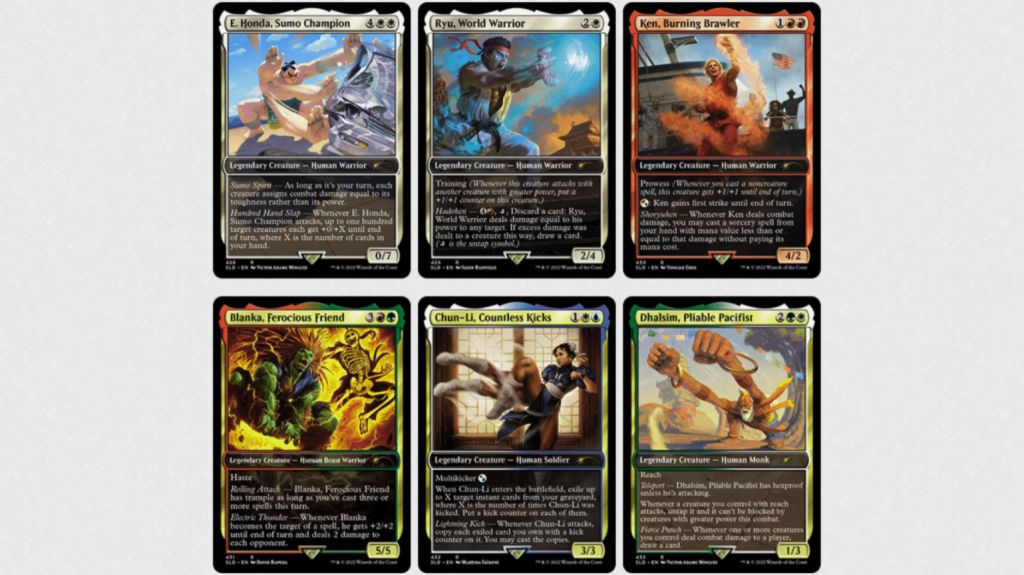 'Street Fighter and Magic: The Gathering come from very different genres, but we've both been bringing amazing characters, rich gameplay, and social connections to our fans for decades,' Mark Heggen, Product Architect at Wizards of the Coast said of the collaboration.
'We're lifelong fans of Street Fighter, and this partnership has been a dream come true.'
The limited time Magic: The Gathering x Street Fighter cards will be available as full sets of eight in either regular (non-foil) cards for US $39.99 (AU $55.50) or foil cards for US $49.99 (AU $69.40). The planned release is on 29 July 2022, but given the popularity and collectibility of the cards, they'll likely sell out well before then.
As special collector cards, they're not half bad. Every attack has been given a great deal of thought, and while the cost may prove to be a deterrent, the thought of getting to fire off a Hadoken at a dragon makes the entire package very tempting. You can find out more about the new set via the Magic: The Gathering online store.
If you're keen for more Street Fighter action, you may also want to tune into Capcom's new mystery countdown, which is set to end on Monday, 21 February. All current bets point to a new Street Fighter announcement, so stay tuned for more news.