There's always been a bit of a stigma with mobile games. But in 2022, it's hard to argue against the phenomenal success and massive player bases attached to particular mobile niches, including the first-person shooter genre. Take a look at Call of Duty Mobile, which has generated US $1.5 billion (AU $2 billion) in lifetime revenue, as of February 2022. Look at the runaway success of PUBG Mobile and Fortnite. It's this lucrative first-person shooter space that Ubisoft is looking to enter with the upcoming Rainbow Six Mobile.
The tactical competitive 5 vs. 5 multiplayer of Rainbow Six Siege is perhaps Ubisoft's greatest achievement. Not in terms of raw profitability and player numbers, but in the way it nurtured a floundering game to success.
After dipping into the cooperative player-versus-environment space with Rainbow Six Extraction, Rainbow Six Mobile is now effectively attempting to expand the competitive Siege audience by recreating the experience for smartphones – and creating a more approachable and accessible version of the game in the process.
In a brief video presentation, GamesHub got a glimpse of many of Siege's familiar mechanics translated to mobile: destructible environments, rappelling down buildings, and unique operator skills. But the meticulous, tactical nature of Siege couldn't have been achieved without some of the more recent leaps in common smartphone technology, as well as the ideas and innovations made by some of the aforementioned mobile shooters of the past few years.
'Our biggest design challenge was adapting the unique Rainbow Six Siege gameplay components to be as fluid and usable as possible on a mobile device,' said creative director Justin Swan. He cited things like 'big advancements in level of quality, to smaller things like auto-ADS when firing and advanced team communication,' as innovations that made the time feel right for this game.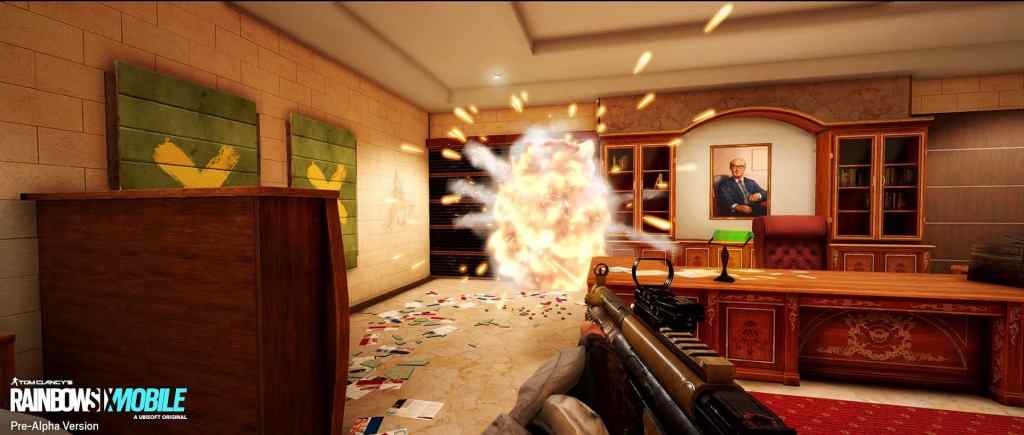 In reworking a number of Siege's core mechanics to cater to the more limiting control interface of mobile devices, the team wound up creating a slew of accessibility features that make the game far more welcoming. One of these is an auto-fire mode called 'Tactical Focus', seemingly designed to be used by players who want to focus on strategic positioning over reflexes.
Swan explained, 'A player can press and hold on the Aim Down Scope button, and after a second the edges of the screen will darken, the players movement speed will slow, audio will dim, If an enemy enters into your reticle while in this state, you will automatically take the shot.'
The game also features optional auto-sprinting and auto-vaulting functions, for those players who prefer to focus on aspects other than movement.
Another accessibility option is a kind of 'audio compass', created in response to data that revealed the majority of mobile gamers play their games on silent mode. 'It was important to still allow them to have the advantage of audio, even when they are not able to play sound,' said Swan.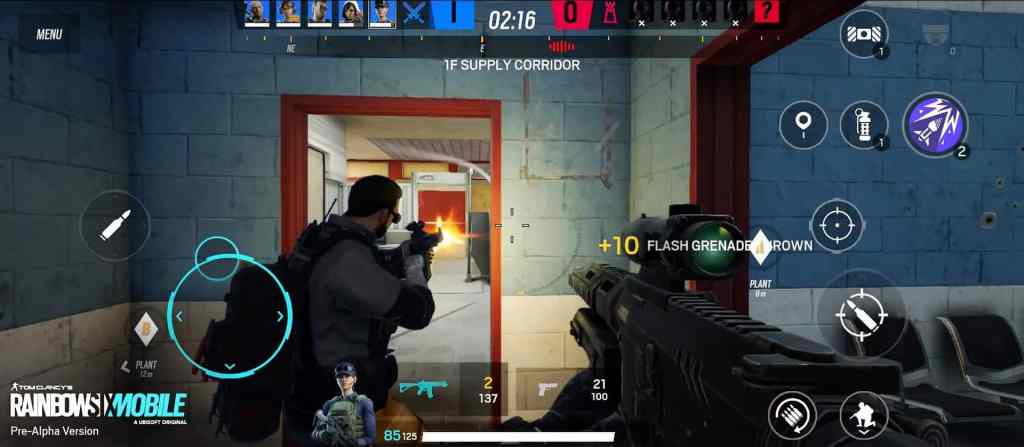 One of Siege's key techniques is the ability to lean your torso and eke out a shot around the corner, or through a small opening. A mechanic once only seen in PC games, Rainbow Six brought the functionality to consoles, and now it's coming to mobile with a 'Lean Slider'.
'Players can move the lean button along a slider to quickly swap between lean directions while still being able to fire at an incoming enemy,' explained Swan.
A large degree of control customisation to suit players of different levels of experience is also a key feature in Rainbow Six Mobile.
As Casey Hildebrand, a programmer on Rainbow Six Mobile explained: 'Ubisoft Winnipeg's HUD team has built an awesome HUD customization system that allows players to reposition, resize, and change the transparency of on-screen controls, change the behavior of gestures like double-taps, hide and show certain buttons, and even change the behavior of some controls to suit their playstyle. For example, the aim-down-sights button has several behavior modes that can allow players to use it to also peek around corners.'
If all of it works well in practice, Rainbow Six Mobile could serve as a lucrative new gateway for Ubisoft to onboard more curious players into Siege and the culture around it. Or, like Call of Duty Mobile, it might even look to surpass the original game it was born from.
Regardless of the result, watching how the mobile shooter audience responds to its unique pace of tactical shooting will be very interesting.
The development of Rainbow Six Mobile is being led by Ubisoft's Montreal studio, with several international Ubisoft studios contributing to the project: Winnipeg, Quebec, Halifax, Paris, Bucharest, Kyiv, Redlynx, Pune, Chengdu and Shanghai.
Pre-registration for the game will open soon.