Dumb Ways To Die was only meant to have a short life on the shelf. Developed in 2012 as a public service announcement for Metro Trains passengers in Melbourne, Australia, it was an animated video designed to highlight the inherent risks of acting dangerously around train lines.
Grim, cartoonish figures rocked horrific injuries in the campaign – burns, slices, holes, hives, and a lack of skin – while bopping along to a bouncing beat. It went viral upon launch, thanks to its memorable tune and dark comedy tone, and has since enjoyed an impressive longevity.
The campaign spawned a video game adaptation in 2013, developed by Julian Forest, Patrick Baron, and Samuel Baird, part of the team behind the original video. The Dumb Ways to Die game took cues from Nintendo's WarioWare series of minigame collections, and introduced a new level of interactivity to the viral brand. It was also successful enough to spawn several sequels, which weathered the years, and kept the brand alive.
In 2017, PlaySide Studios hopped aboard the Dumb Ways train to aid development on the first game adaptation and its sequel, and to develop a third game, Dumb Ways to Die 3: World Tour. Later, in 2021, the enduring popularity of the franchise led to PlaySide purchasing it outright.
A year on from this purchase, Dumb Ways to Die is a viral hit on TikTok, with millions of people around the world engaging with its content. As of March 2023, the DWTD TikTok account has 3.4 million followers, and 2 billion views generated from over 100,000 slices of user-created content.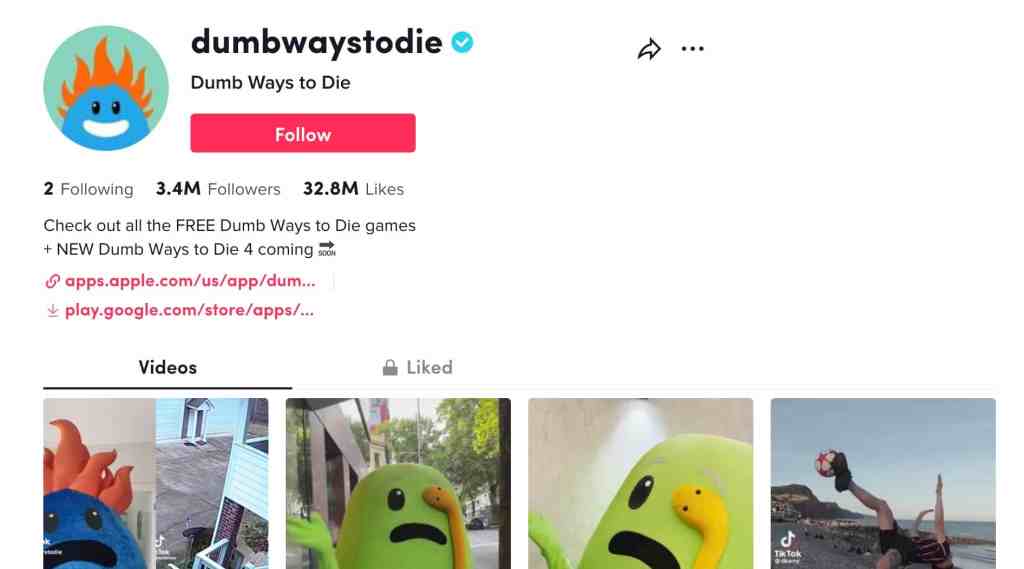 PlaySide attributes this success to solid foundations laid by its predecessors, and marketing tactics that have elevated Dumb Ways to Die on modern social media platforms – tactics that more game developers are now adopting.
Read: Lumi Interactive is working to create a Kinder World
'Dumb Ways has been around for over ten years now, and many fans who grew up with the original viral video have continued to engage with the brand on social media,' Ben Kelly, General Manager of Dumb Ways and TJ Munusamy, Executive Vice President at PlaySide Studios told GamesHub of their unexpected viral success.
'While we have laid solid foundations, and helped to nurture a brand that fans want to engage with, no amount of careful planning could have ever guaranteed the viral success or cultural impact that the brand has seen over the last couple of months.'
Dumb Ways to Die became TikTok viral largely thanks to a rogue fan cutting together a CapCut video featuring the Dumb Ways audio. This subsequently became a major trend, with everyone from loyalists to celebrities cutting together their own videos of silly or risky situations, which play out to the Dumb Ways theme.
PlaySide Studios purposefully leant into this newfound popularity, capitalising on widespread hype and the now-mainstream nature of the Dumb Ways Beans to boost the work of PlaySide, and the visibility of its suite of Dumb Ways games.
'As of late January, the trend had started gaining traction, but it wasn't until a fan uploaded a CapCut template shortly after, that things really began to take off. This template allowed fans to readily duplicate the format and leverage the iconic music on their own content,' Kelly and Munusamy said. 'The PlaySide team live and breathe TikTok, and were able to quickly identify the trend as it started to gain momentum.'
'We were prepared with a coordinated strategy across the entire business – with our leadership, mobile, marketing, and creative services teams quickly aligning and pivoting to respond to the viral success of the brand.'
PlaySide stressed that capitalising on this unique bubble of interest was essential for the studio. In light of the viral popularity of the TikTok trend, it began producing unique content to actively promote its mobile games suite, and the recognition of its characters.
Following the rise of the trend, studio resources were devoted to generating new content for a vast audience, and bespoke animations were produced to flesh out the Dumb Ways mythos. Custom content featuring Beans in real-life settings (read: dedicated social media managers in costumes) also allowed PlaySide to introduce its audience to Australia, using its Beans as a proxy.

In many ways, the studio wound up leveraging Dumb Ways to Die as an important Australian cultural artefact, and created a window for international tourism – all through the power of gory, bloody Beans.
'PlaySide Studios have always held the view that the Dumb Ways to Die brand was one with a real growth opportunity, and that could be nurtured further,' Kelly and Munusamy said. In future, this goal will be aided by the launch of the fourth instalment of the Dumb Ways to Die franchise, as well as BEAN LAND – a playable top-down action brawler that integrates NFTs.
PlaySide is also working on a Netflix mobile game, Dumb Ways to Survive, which will launch as part of the Netflix Games offering. According to Kelly and Munusamy, the idea for this spin-off was snapped up by Netflix in an instant, and while is early days in their relationship, they believe the company has 'some of the brightest minds in video games' aiding their efforts.
Read: Netflix to release 40+ games in 2023, on a monthly basis
The continued success of Dumb Ways To Die would likely not be possible without the use of TikTok, which has minted Dumb Ways as the current 6th most followed games brand on the platform. And to think – it all started more than a decade ago, with a catchy song about safety.
In 2012, TikTok was just a (brilliant) song by Kesha.
From these roots, PlaySide has fostered a viral empire, which has ultimately bolstered its games output and future direction. In the coming months, the studio will continue to work on multiple Dumb Ways spin-offs, including Dumb Ways to Survive and Dumb Ways To Die 4, while splitting focus on its wider games library – including the popular RTS game, Age of Darkness: Final Stand, and FPS game, World Boss.
The studio is also working on titles alongside 2K Games, Activision Blizzard, and Meta, and has even recently expanded its output with a new studio in the Gold Coast.
Read: PlaySide Studios talk AAA development strategy and forging alliances
Dumb Ways to Die is not the only egg in the company's basket – but its virality, and the subsequent capitalisation of the brand, has inspired greater ambition at one of Australia's premier game development studios. As it turns out, a dash of blood and guts makes an ideal recipe for success.
This article has been updated to clarify the timeline for the Dumb Ways to Die purchase, and PlaySide Studios' longterm involvement with the franchise.