There's been a lot of talk dedicated to The Last of Us in 2023, with the HBO adaptation of the critically acclaimed video game series by Naughty Dog setting several viewing records over the course of its run. Now that it's ended, a different PlayStation property, adapted into a very different kind of show, has stepped up: Twisted Metal.
IGN has revealed a poster for the show, ahead of a teaser trailer which will debut on 28 April 2023. [Update: The teaser trailer has now been released, see below] Based on PlayStation's long-dormant vehicle combat game of the same name, the action-comedy series will see a ten-episode run, airing on the NBC network Peacock in the US.
The trailer confirms the premiere date, previously reported by Eurogamer as 27 July 2023.
Twisted Metal will star Anthony Mackie (Falcon/Captain America [Sam Wilson] in the Marvel Cinematic Universe) and Stephanie Beatriz (Encanto, Brooklyn Nine-Nine). The show is written by the duo of Rhett Reese and Paul Wernick, who both co-wrote notable action-comedy films like Zombieland, and the Deadpool series.
Read: Every PlayStation game with a movie or TV adaptation in the works
Mackie will play 'a motor-mouthed outsider' in a post-apocalypse wasteland setting, who is 'offered a chance at a better life, but only if he can successfully deliver a mysterious package' according to an official synopsis.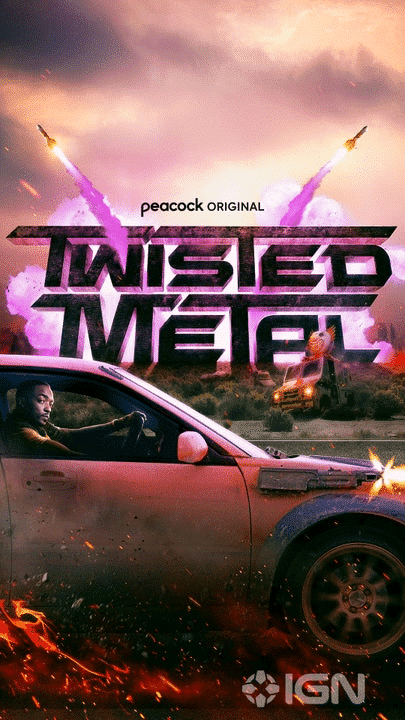 The mascot of the Twisted Metal games, the ice-cream truck-driving clown named Sweet Tooth, will be embodied by professional wrestler Samoa Joe, and voiced by comedian Will Arnett (BoJack Horseman, Arrested Development).
The rest of the supporting cast is similarly full of well-known actors and comics, including Thomas Haden Church (Hellboy, Sideways), Neve Cambell (The Craft, Party of Five), Mike Mitchell (Love, Killing It), and Chloe Fineman (Saturday Night Live, Big Mouth).
The last Twisted Metal game was released in 2012 for PlayStation 3.
PlayStation has several more film and television adaptations of its video game properties in the works following Twisted Metal, including God of War, Ghost of Tsushima, Gran Turismo, Gravity Rush, and additional seasons and sequels to The Last of Us and Uncharted.