Valve has revealed its upcoming lineup of game sales for early 2024, with an array of festivities and seasonal celebrations outlined for the period between January and April. While it might seem a tad too early to announce these dates, it's likely in aid of developers, who are encouraged to submit games for inclusion in these sales, based on each month's theme.
Realistically, it's also a great way to have gamers prepare their wallets – as many of Steam's biggest sales, particularly its seasonal events, provide worthy discounts on new releases and classics. It's not uncommon for sales to introduce cuts on entire game wishlists, as we've often discovered at GamesHub.
With that in mind, here are the major dates you'll need to prepare for in early 2024:
Capitalism and Economy Fest – 8-15 January
Pirates vs. Ninjas Fest – 22-29 January
Next Fest – 5-12 February
Remote Play Together – 12-19 February
Dinos vs. Robots Fest – 26 February – 4 March
Spring Sale – 12-21 March
Deckbuilders Fest – 25 March – 1 April
Read: Valve is now selling cheaper, refurbished Steam Decks
There are plenty of intriguing sales in the list – particularly the dual Pirates vs. Ninjas and Dinos vs. Robots offerings. We can think of a few games this may denote, including releases like Shadow Gambit: The Cursed Crew, Parkasaurus, Jurassic World Evolution, Sekiro, Ghostrunner, Sea of Thieves, and Titanfall. But of course, the inclusions will be up to publishers and developers.
February 2024 will also be an intriguing period, as Steam Next Fest typically includes an eye-catching arrow of game demos for download, with plenty of upcoming indie hits likely to be featured throughout the show. Make sure you're leaving time to check out as many demos as possible.
As for the biggest sale of the lot – the annual Spring Sale – we'll just have to see what new releases make the cut, and whether the best games of 2023 will be discounted by that March period. Regardless, there's plenty to look forward to as the annual Steam sales roll on.
You'll need to stay patient for these events but in the meantime, Steam has already kicked off its latest game sale and showcase, as Melbourne International Games Week (MIGW) 2023 is in the spotlight.
MIGW 2023: Major Steam festival launches
From now until 28 September 2023, a major celebration of games made in Victoria and wider Australia is ongoing via Steam, with around 70 discounted games, 40 demos for new and upcoming games, and a range of talks and panels from Australia's local game developers.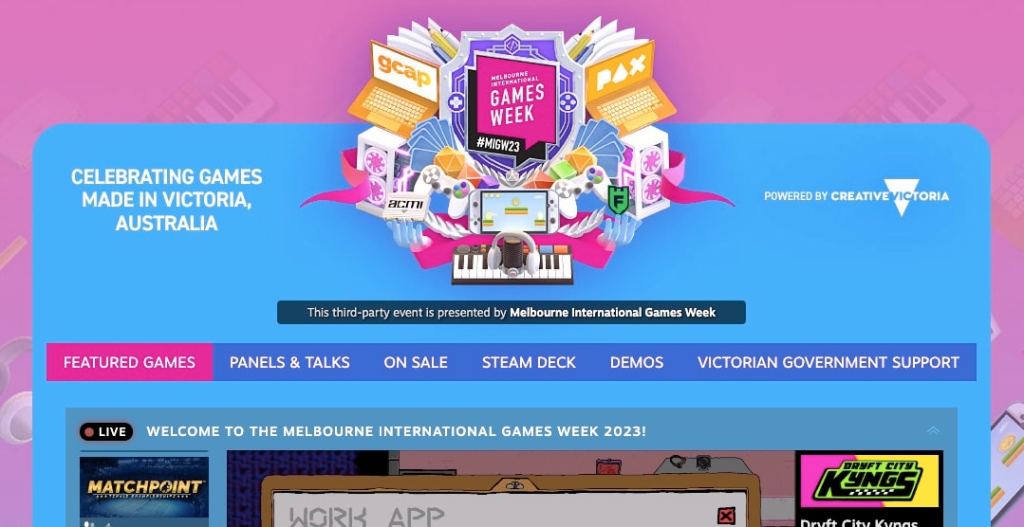 Read: What video game funding really means for local Australian developers
Games on sale include Wayward Strand, Moving Out 2, Mars First Logistics, Push Me Pull You, The Forgotten City, Untitled Goose Game, and more.
Head to Steam to learn more about the MIGW 2023 celebration, and every other sale arriving in early 2024.