Square Enix president Yosuke Matsuda has seemingly doubled down on his belief that 'play-to-earn' blockchain games will revolutionise the future, in a new interview with Yahoo Japan. It continues a long-running commentary from Matsuda, who kicked off 2022 by enthusing about how this technology could provide value for a 'rapidly expanding user base'.
'In the future, we would like to try our hand at providing "autonomous game content",' Matsuda said (translations via VGC). 'Until now, in most games, we provided the content as a finished product and the players played that content. However, there are a certain number of players in the world who want to contribute to making games more interesting, by creating new settings and ways of playing.'
'In the future, we want to utilise the power of these people to create games that will continue to evolve. If, instead of relying on goodwill, we can also provide incentives to those who contribute to development by utilising technologies such as blockchain, there is a possibility that innovative and interesting content can be created from the ideas of users.'
Matsuda has spoken in the past about 'play to contribute', a conceptual model of gameplay that allows users to create their own content, as in metaverse worlds like Decentraland. It appears he believes this model will allow companies to reward players who wish to be involved in active game development – like how modders create new content for games, including Skyrim.
The problem with monetising user-generated content
However, most discussions about 'play to contribute' focus solely on the money-making or value-adding of the concept without recognising that modders tend to work on their own basis, fueled by passion and the fun of a game. While these modders deserve to be rewarded – many of them are extremely talented, and put months into mod development – aggressive monetisation through the blockchain isn't the way to go.
It also crosses a very fine line between passion and exploitation, as it's unlikely 'play to contribute' creators will be fairly rewarded for their work in bulking out bare game worlds. If developers are asking for creators to make the 'fun' in the games they create, then shouldn't they be given all the same benefits of a paid employee?
Mods exist in a nebulous realm because their creators have freedom, and are choosing to create the content they enjoy on their terms. Institutionalising 'play to contribute' removes that passion and freedom, and makes the art of content creation a soulless, money-driven slog.
Read: Why are video game companies doubling down on NFTs?
'Play to contribute' is also seen as distinctly separate from 'play to have fun', which seems to defeat the very purpose of playing games. Games have always been about fun, and interpreting gameplay in any other way makes video games a shell of their former selves.
It's also why so many play-to-earn blockchain games are rapidly dropping users lately. While these games were briefly trendy, they needed to be built on the principle of fun before they could be monetised, to maintain user passion. Many play-to-earn games ignored this, and are now suffering – because without the benefit of novelty, their dull, grindy innards have been revealed for all to see.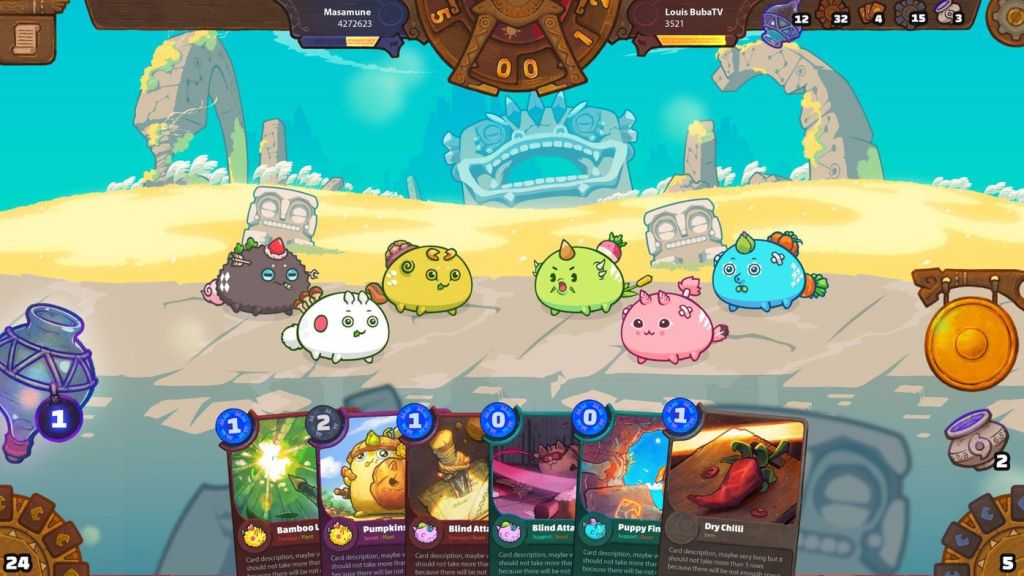 Read: Epic and Lego team up for the metaverse as daily users drop
While Matsuda believes he can revolutionise this concept and integrate play-to-earn blockchain gaming concepts for the future, the practicality and feasibility of this technology remains to be seen. As long as play-to-earn games continue as they have been, it's likely even a Square Enix-led project will eventually experience the same, steady decline in interest.
As the novelty of play-to-earn and blockchain gaming wears off, we're already seeing major playerbase dips. While Matsuda remains passionate, it may be too late to make any real change to the blockchain gaming genre. The bubble has burst – and many players have already rejected blockchain games as a whole.
Matsuda's declaration follows an unfortunate raft of poor decisions from Square Enix, which recently admitted its blockbuster Avengers adaptation, a live service game developed by Crystal Dynamics, was an ambitious failure. In addition, the company's most recent live service game, Babylon's Fall, recently sunk to less than 10 concurrent players on PC despite only launching in late February 2022.
It remains to seen whether investing in blockchain gaming will help Square Enix regain the social capital and prestige it has lost over the last few years. As backlash around blockchain and play-to-earn gaming continues, expect to hear more of the company's upcoming plans.