A new premium format 1/6th action figure from Hot Toys Collectibles has delivered the best look yet at the black suit from the upcoming Marvel's Spider-Man 2, with new high-res shots revealing design details, and previously unseen appendages.
In recent years, Hot Toys has developed a reputation for delivering high-quality, accurate figures with intricate detail – and the latest Spider-Man collectible appears to be no exception. The figure, which is soon to be available for pre-order via the Sideshow website depicts Spider-Man (Peter Parker) with the slimy Venom symbiote attached.
When in this form, it appears Venom will form a more traditional suit for Spider-Man with oozing, leather-like seams. This suit is layered on top of the classic red-and-blue Spider-Man suit, as depicting in shots of the figure, which reveal Venom's armour peeling back.
Read: Marvel's Spider-Man 2: Everything revealed at SDCC 2023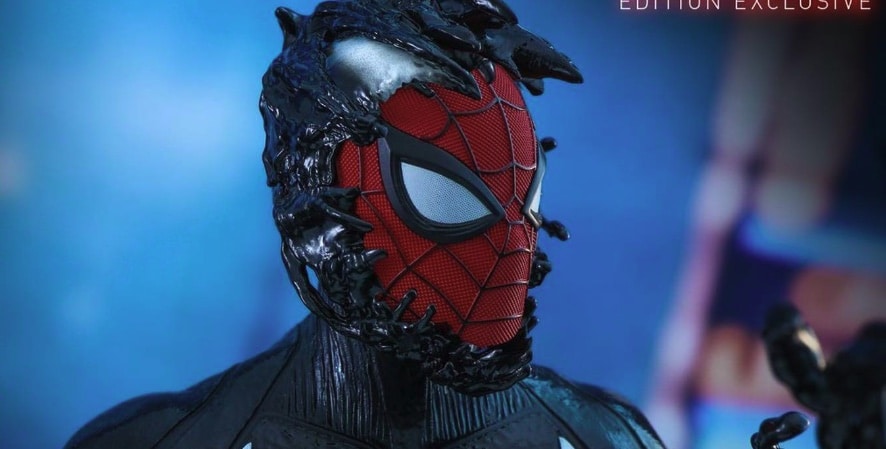 The accessories included with the figure also reveal new tidbits about the black suit. For one thing, it will allow Spider-Man to glide via black webbing beneath his arms – much like in the original comics. This gliding ability was recently revealed in a gameplay trailer.
Also revealed in the latest product shots is that Spider-Man will have access to giant, mechanical arms while in his black suit. These appear to resemble the mechanical arms from his classic 'Civil War / Iron Spider' suit – designed and delivered by Tony Stark – with a neat twist.
These new, metallic arms appear to be ripped from some sort of machinery, with Venom's tendrils controlling them. While it's not currently clear how they attach or detach from Spider-Man's body, it looks like they'll play a key part in the game – at least, while Spider-Man is under the influence of the symbiote.
Some of these early reveals have been hinted at in the official Hot Toys description for the figure:
'This solid black suit enhances Peter's power with unique abilities, but at the same time it has a clear physiological effect on Peter, altering his look, making him more aggressive, even against his friends like Miles … A Special Edition available in selected markets exclusively includes an additional masked head in transformation to recreate the thrilling scene.'
The 'thrilling scene' referenced likely hints at the origins of Spider-Man's black suit, and his initial transformation sequence – which has yet to be revealed in official game trailers.
For now, this is the most in-depth look at the new suit in Marvel's Spider-Man 2 – and while it's a very early glimpse at what's to come, there are plenty of details here that hint at an exciting future. We'll learn more about this suit and how it functions when Marvel's Spider-Man 2 launches for PlayStation 5 on 20 October 2023.
MARVEL'S SPIDER-MAN 2 – PS5 Launch Edition
Buy Now
GamesHub has affiliate partnerships. These do not influence editorial content. GamesHub may earn a small percentage of commission for products purchased via affiliate links.
09/24/2023 08:23 am GMT