Marvel's Spider-Man 2 got its very own featured panel at San Diego Comic-Con (SDCC) 2023, with developers from Insomniac Games joining the voice acting cast of the game to discuss newly-revealed plot points and character relationships. At the conclusion of this panel, a number of surprises were revealed, including a brand new game story trailer, and a special edition PS5 console featuring Venom and Spider-Man.
Here's a rundown of everything major featured during the Marvel's Spider-Man 2 SDCC 2023 panel.
---
Table of Contents
---
Marvel's Spider-Man 2: New story trailer
A number of major reveals for Marvel's Spider-Man 2 arrived with the game's official story trailer. It revealed a first look at Harry Osborn, who will be introduced as Peter Parker's best friend, and has apparently recovered from a mysterious illness. As fans of the original game will remember, Osborn appeared at the very end of Marvel's Spider-Man in a stasis chamber.
Per the latest trailer, it appears Osborn will reappear in Parker's life, which subsequently falls into chaos as he encounters the Venom symbiote and adopts more violent tendencies in his vigilante work, worrying his friends. Eventually, this chaos leads to the full appearance of Venom, who will serve as a primary villain, alongside Kraven the Hunter.
Also revealed in the trailer are the refreshed appearances of Peter Parker and Miles Morales, who have both been lightly redesigned for the game. Parker retains his newer 'remastered' looks from the next gen version of Marvel's Spider-Man, and fellow Spider-Man, Miles Morales, has now grown out his hair.
Mary Jane appears to take a more hands-on role in this adventure, with this story trailer hinting at her new position as a journalist working under J. Jonah Jameson at the Daily Bugle.
---
New Marvel's Spider-Man 2 PS5 console revealed
During SDCC 2023, Insomniac Games also revealed a brand new limited edition Marvel's Spider-Man 2 console and controller set, with these decorated black and red, representing the fight between the Venom symbiote and Peter Parker. These bundles will include a voucher for a digital copy of Marvel's Spider-Man 2 Standard Edition.
'We were thrilled to debut these stunning designs to our fans today because of how they capture the look and feel of Marvel's Spider-Man 2,' Andrea Perez, Senior Vice President of Brand, Product & Services Marketing at SIE said of the new console.
'The threat of Venom and the symbiote will be one of the most formidable challenges that our two Spider-Men will face in Marvel's Spider-Man 2. This is why we wanted to reflect the intensity of the symbiote and its capacity for transformation and power with a takeover design for the PS5 console and DualSense wireless controller.'
Those who already own a PS5 console can also purchase standalone Console Covers, and the standalone Spider-Man 2 DualSense Wireless Controller.
Preorders for the console bundle, covers, and controllers begin on 28 July 2023, worldwide via all major game retailers. An exact price was not mentioned in the announcement.
---
Marvel's Spider-Man 2: Every other major SDCC 2023 reveal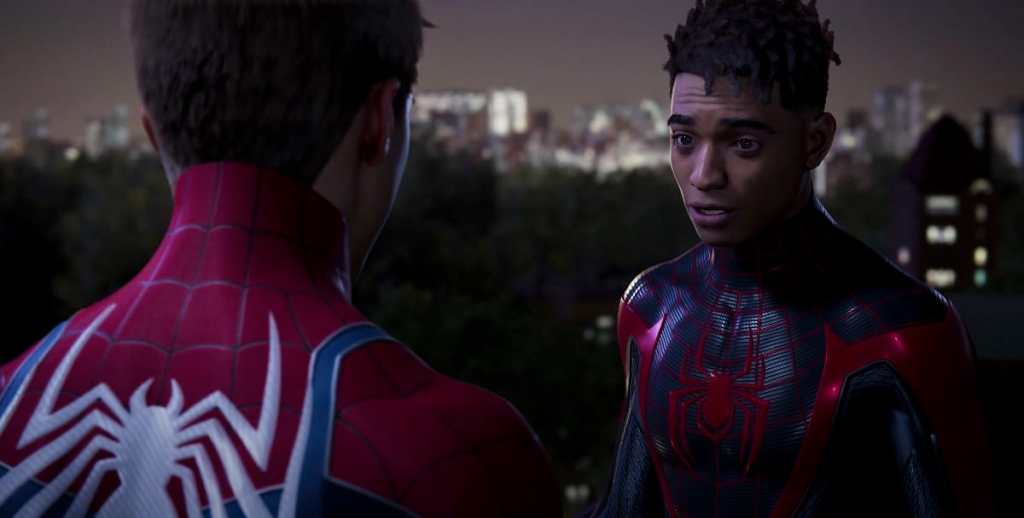 A number of other surprise reveals were shared at SDCC 2023 beyond the new trailer and console announcement, with discussions between the cast, and a number of concept art stills revealing more about the world of the upcoming game.
Per reporting from DiscussingFilm and IGN, Venom actor Tony Todd spoke of his excitement to voice Venom during the SDCC panel, calling it one of his most exciting voice acting roles to date. He described the character as having a sense of 'joyous' destruction and 'deliciousness' to his actions.
Also revealed during panel were the following tidbits:
Miles Morales will encounter Mr. Negative in the game.
Morales will also be in the process of applying to college during the events of the game.
You'll be able to explore Aunt May's house and the local neighbourhood.
J. Jonah Jameson has returned to claim the top job at the Daily Bugle.
The story will pick up 9-10 months after the events of Spider-Man: Miles Morales.
Coney Island will feature in Marvel's Spider-Man 2.
Kraven the Hunter kicks off the plot of the game.
---
These details wrapped up the Marvel's Spider-Man 2 panel at SDCC 2023, paving the way for what could be one of the biggest games of the year. Marvel's Spider-Man 2 launches for PlayStation 5 on 20 October 2023.
MARVEL'S SPIDER-MAN 2 – PS5 Launch Edition
Buy Now
GamesHub has affiliate partnerships. These do not influence editorial content. GamesHub may earn a small percentage of commission for products purchased via affiliate links.
09/22/2023 08:08 am GMT