Horizon Forbidden West is a game all about lush environments, and the impact of man-made technologies on the world of tomorrow. Environmentalism is at the core of its story, and its tale of climate change disaster is one we should all heed. To better share this message and connect with players, Sony has launched a new, green initiative for players who immerse themselves in the game.
Everyone who achieves the 'Reached the Daunt' trophy by 25 March 2022 will have a tree planted in their honour, at one of three US reforestation locations: Douglas County Forest in Wisconsin, Torreya State Park in Florida, and Sheep Fire Private Lands in California.
Douglas County Forest is currently suffering from the impacts of major deforestation which threatens communities and habitats, Sheep Fire Private Lands aims to grow to support a newly returned grey wolf population, and Torreya State Park has similarly faced deforestation and a number of recent, devastating natural disasters. Each area is in need of extensive rehabilitation to support growth in future.
It's estimated around 288,000 trees will be needed to complete the projects – but given the massive player base Horizon Forbidden West is likely to garner, this is certainly an achievable goal.
Read: Horizon Forbidden West review – a breathtaking journey
The 'Reached the Daunt' trophy is an early game reward given to players who exit the game's tutorial and set off on Aloy's grand quest to rescue the world from further ecological harm. Even if players spend just two hours running through the game's world, it's likely they'll unlock this trophy.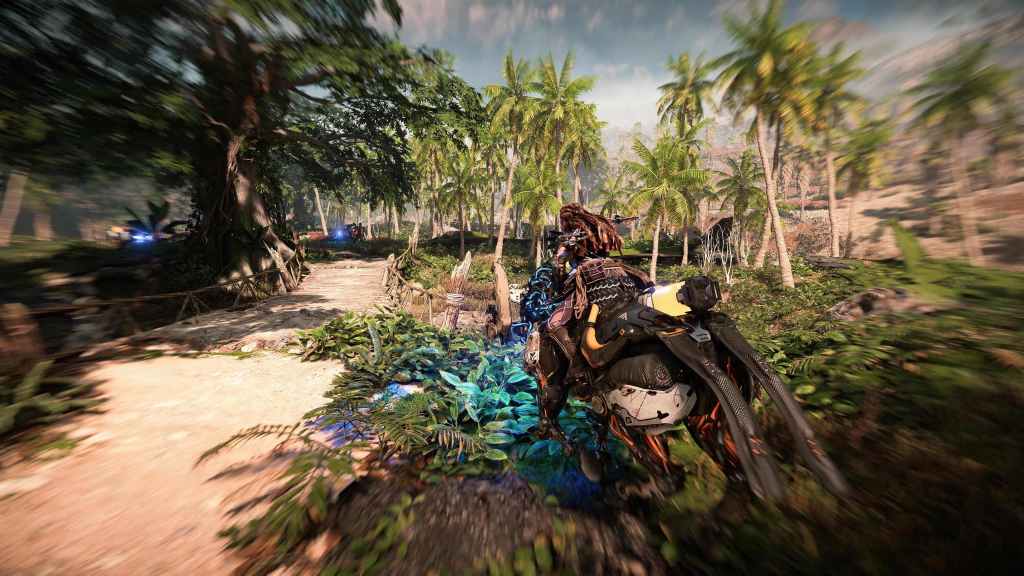 Sony is also taking part in other global initiatives to support the global ecosystem around the launch of the game. In the UK, it's partnering with the Eden Project to light up biomes in Cornwall that raise awareness of the critical danger facing wildflower habitats in the country. In addition, a separate tree-planting project is also taking place in France.
Each project will help improve the environment around the world, and raise awareness of the key messages at the heart of Horizon Forbidden West: that our world is precious, and we should protect it.
However, it's important to keep in mind that the planting of hundreds of thousands of trees won't be nearly enough to offset the carbon emissions produced by the number of PlayStation 5 consoles that will likely be used to play Horizon Forbidden West over the next month, let alone in the long term.
Additionally, of the energy Sony uses as a company worldwide, only 5% is renewable, though it's pledged to increase that slightly, at 15% by 2025 in their latest sustainability report, with a goal to be 100% carbon neutral by 2050.
Read: Playing for the Planet and environmental impact collectives. Will they actually help?
When Horizon Forbidden West launches on 18 February 2022, players can feel good that their first two hours of playtime is going to a worthy cause, but there's always more that can be done to help save the future of our planet, like Aloy.