The digital and physical worlds have had a contentious relationship over the past two years as the coronavirus pandemic has forced everyone – including event organisers – to redesign the ways they live. For many, it's meant missing out on in-person events and experiences like visiting art galleries, museums and concerts. But that's slowly changing, as pop-up 'metaverses' and digital galleries allow people to experience art in fresh new ways.
Fortnite has become an unlikely ally in this fight, with its multiplayer hub transforming into a pandemic-era interconnected world where players can share experiences and view installations they may miss out on in the real world.
The game's latest exhibit, courtesy of artist KAWS and London's Serpentine, is a great example of how the digital world can bridge the gap while in-person experiences are still on rocky, uncertain ground.
From now until 26 January at 2 a.m. AEDT, players will be able to discover a digital recreation of artist KAWS' NEW FICTION global art project, built inside the world of Fortnite.
Read: God, give me a body: How virtual events and museums can be better
The physical version of the art installation opened on January 18 at London's Serpentine North Gallery – and while players may not be able to visit in person, the digital version means nobody will really miss out.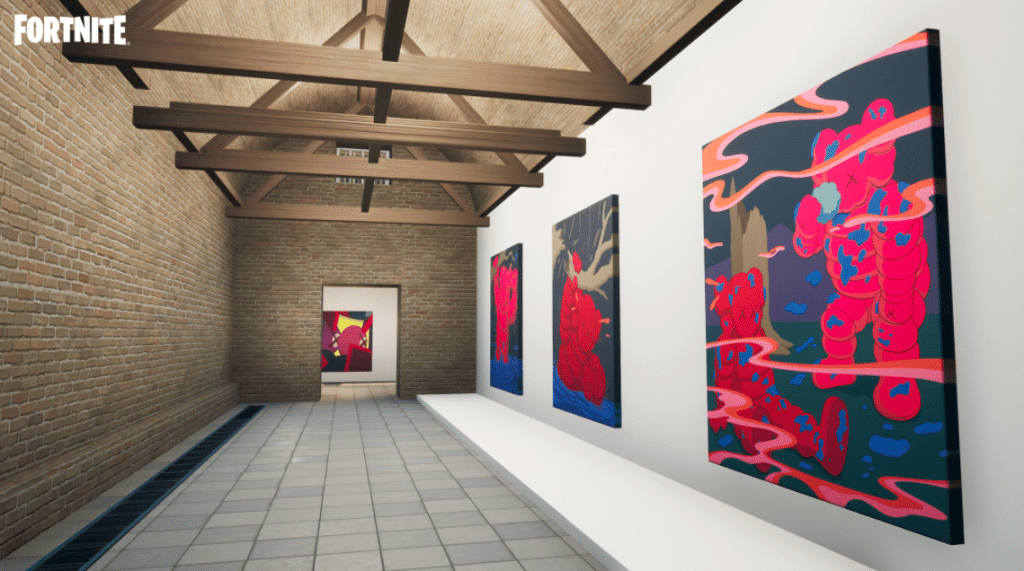 'This is an incredibly exciting project for me. I always like exploring new mediums for my art,' KAWS said of the project. 'The collaboration with Fortnite means everything is coming together in a complex exhibition that takes place in parallel realities.'
Players will be able to wander a virtual recreation of the entire exhibit, decorated by digital representations of KAWS' artworks and sculptures. While it's not quite the same as the 'real' thing, it's as close as many players are likely to get right now – and a very interesting application of an innovative digital gallery space.
In a time when real-life connection is hard to come by, these digital spaces can be essential for reconnecting with art, culture, fashion, and music.
Read: The Sims 4: Modern Menswear could be the future of fashion
No digital experience will ever perfectly replicate the feeling of seeing art or hearing music in real life, but in lieu of the real thing, it's a pretty cool substitute.
Tones And I is the next Fortnite Soundwave Series artist
In addition to spotlighting the work of KAWS, Fortnite will also be showcasing the music of Australian artist Tones And I this week. From Saturday, 22 January at 10 a.m. AEDT, the latest Soundwave Series showcase will kick off, bringing 72 hours of tunes from Tones And I's debut album Welcome to the Madhouse.
'The Madhouse experience in Fortnite is sick and I can't wait for you all to see it,' Tones And I said of the endeavour.
Players will be able to access it via the Soundwave Series hub, or with the following the Island code: 4161-9206-0181. From Thursday, players will also be able to download the new artist-inspired 'Cloudy Day' Lobby Track and 'Dance Monkey' Emote.
Read: The Radiohead KID A MNESIA Exhibition for PS5 is an uncanny experience
As the coronavirus pandemic continues to delay the return of safe, in-person events, you can expect to see more digital experiences like these in future.