As the popularity of card and board games has grown, the size and scope of these experiences has also seemingly expanded. Between Gloomhaven, Frosthaven, Mage Knight and Twilight Imperium, board games are now absolutely massive – to the point where carting them around is nearly impossible. When it comes to travelling, you can forget these big boxes entirely. But while board games are getting bigger and more visually impressive, there is still a strong contingent of smaller travel-sized, pocket adventures that enable easy gameplay on the road.
You don't need epic miniatures, item tokens, cardboard boxes, and plentiful decks to have a delightful tabletop adventure. Sometimes, all you need is a slim hand of cards, portable tokens, and a handy carrying box.
If you're somebody who likes to entertain yourself with card and board games on the road, read on for a list of our favourite travel-sized card and board games. There's plenty of fun waiting in bite-sized adventures, even with a little bit more imagination needed.
Our Top Picks
---
Onirim
Onirim is 1-2 player card game with a spectacular sense of style, contained within a miniature portable box. In each round of gameplay, you are a 'Dreamwalker' lost in a mysterious labyrinth haunted by nightmares. To get out, you'll need to discover eight special 'Door' cards by collecting and playing a range of cards, all found along your journey.
Onirim is a special game, largely thanks to its surreal and childlike art style, which really brings to life the plight of your nightmares. It's not strictly a 'horror' game, but the atmosphere it fosters between card plays is wonderful, and works well in solo or co-op gameplay mode. The game's second edition, which is the version you'll largely find on the market now, contains a range of miniature expansions, each of which provide new opportunities to explore the darkness, and expand the frontiers of your dreams.
---
Streets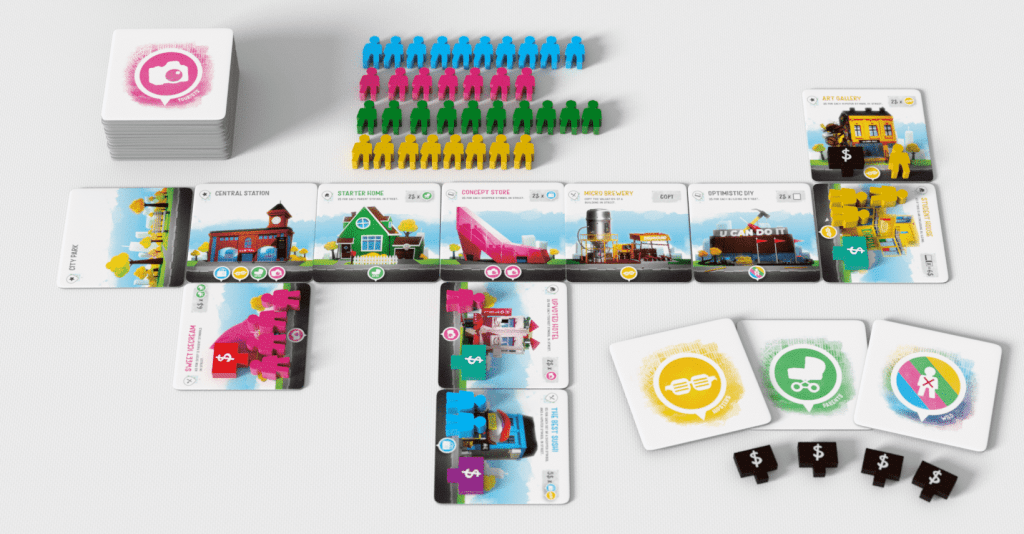 Streets is a city-building game where players work together to foster a thriving city by laying tiles, managing income and profit, and ensuring a range of citizen needs are met. While it's a game with a thick deck of cards and multiple 'meeple' movers, everything included fits inside a neat rectangular box, perfect for stacking in luggage, or carrying in a handbag. The game's portability also extends to its playing field, with each miniature city coming to life on a relatively small tabletop surface.
If you're pressed for space, it's a great option. Plus, its size makes it very cute. While that may convince you the game is simple, it is actually fairly complex, and requires plenty of strategy to master. You'll need to spend your time with the game making clever decisions about where to build, and how exactly you can defeat your rivals and foster the most exciting and attractive city street.
---
Gloom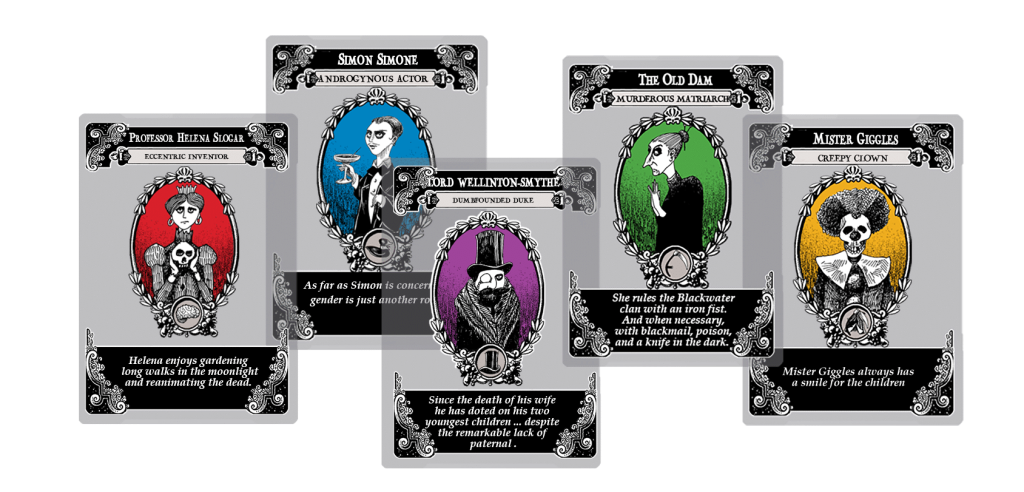 Gloom is one of the most compact travel-sized card games on this list. The entire base game takes up a 2cm x 15cm x 10cm space – which is barely anything at all. Pop it into your handbag or backpack, and you can take it anywhere you go. With pretty endless replayability, easy-to-learn gameplay, and rapid-fire rounds, you can also get a lot out of Gloom, despite its size.
In the game, you control one of several gothic families with their own weird quirks. In a typical game, you might be charged with their protection – but in Gloom, your job is actually to make your family very, very sad, and then kill them when they're at their lowest point. At the end of the game, the person with the gloomiest family wins. While a little bizarre and incredibly morbid, Gloom is a game with a killer hook, and it takes a well-earned place as one of the best 'small' tabletop experiences around.
---
One Deck Dungeon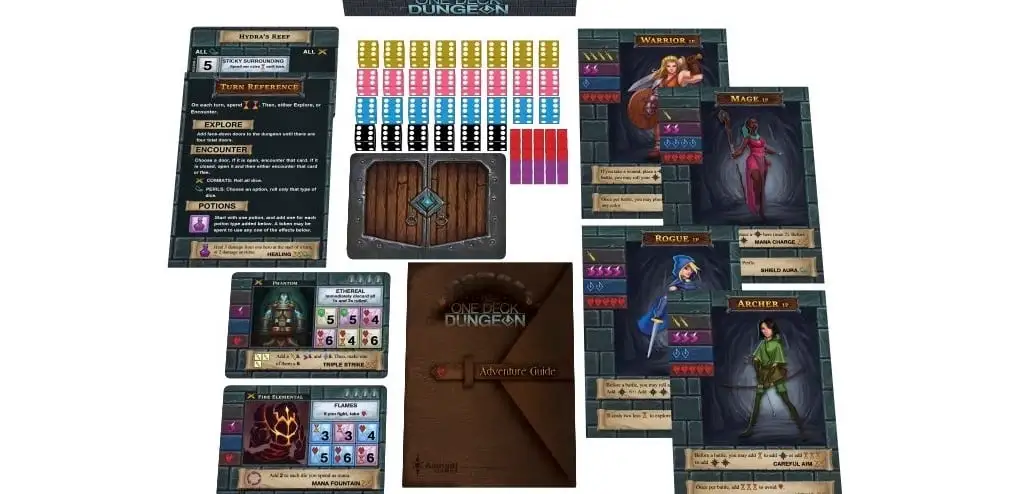 One Deck Dungeon miniaturises a fully-fledged dungeon-crawling adventure game into a deck of cards and dice rolling between 1-2 players. With minimal rules, it's easy to get going. Once you open the box, a quick setup will have you swiftly exploring a dungeon, encountering strange beasts, and taking on encounter-based combat.
Fight and win, and you'll be able to claim goodies from monsters – experience points, items, and skills – which may then be used in later stages of the dungeon. Eventually, your chosen hero will ascend the ranks and grow powerful enough to take on a rampaging dungeon boss, with this journey depicted in dramatic card flips. One Deck Dungeon is a fairly simple take on modern dungeon crawling, but its simplicity makes it fun, easy to play, and very portable.
---
Cartaventura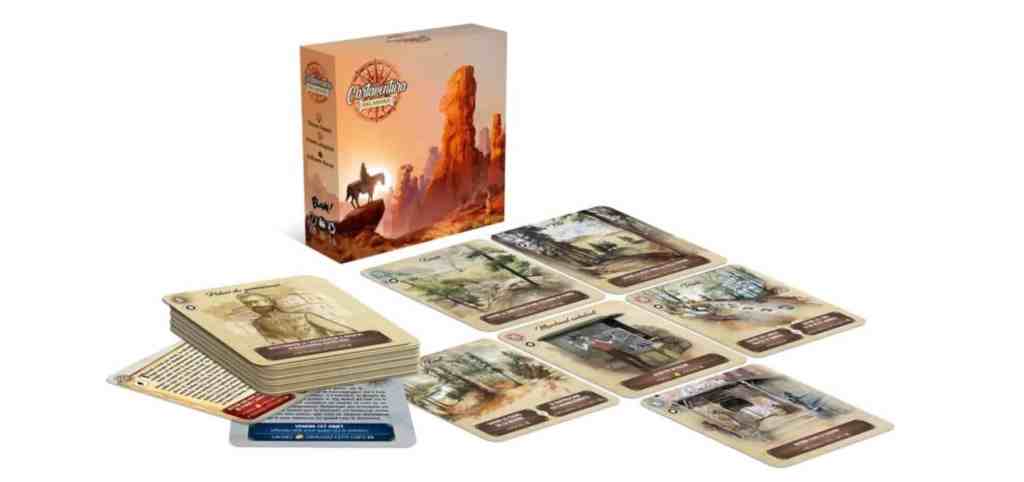 The Cartaventura franchise contains a number of pocket-sized adventures for 1-6 players, with each themed deck charting a new course for adventure. From Lhasa in Tibet to Hollywood, Cartaventura decks largely begin the same way: players are given explorer roles, and then tasked with making decisions about where to tread by selecting a direction, and laying new cards down. As play continues, a map will form, and players will need to make harder exploration-based choices in choose-your-own-adventure-style play.
There are multiple endings and scenarios to be found in each deck, with player decisions guiding the journey along the way. This means you can play every Cartaventura game multiple times, working out new pathways as you pick your way through beautifully-illustrated landscapes. With a tiny box and easy gameplay, it's a great companion for real-life travel.
---
Coup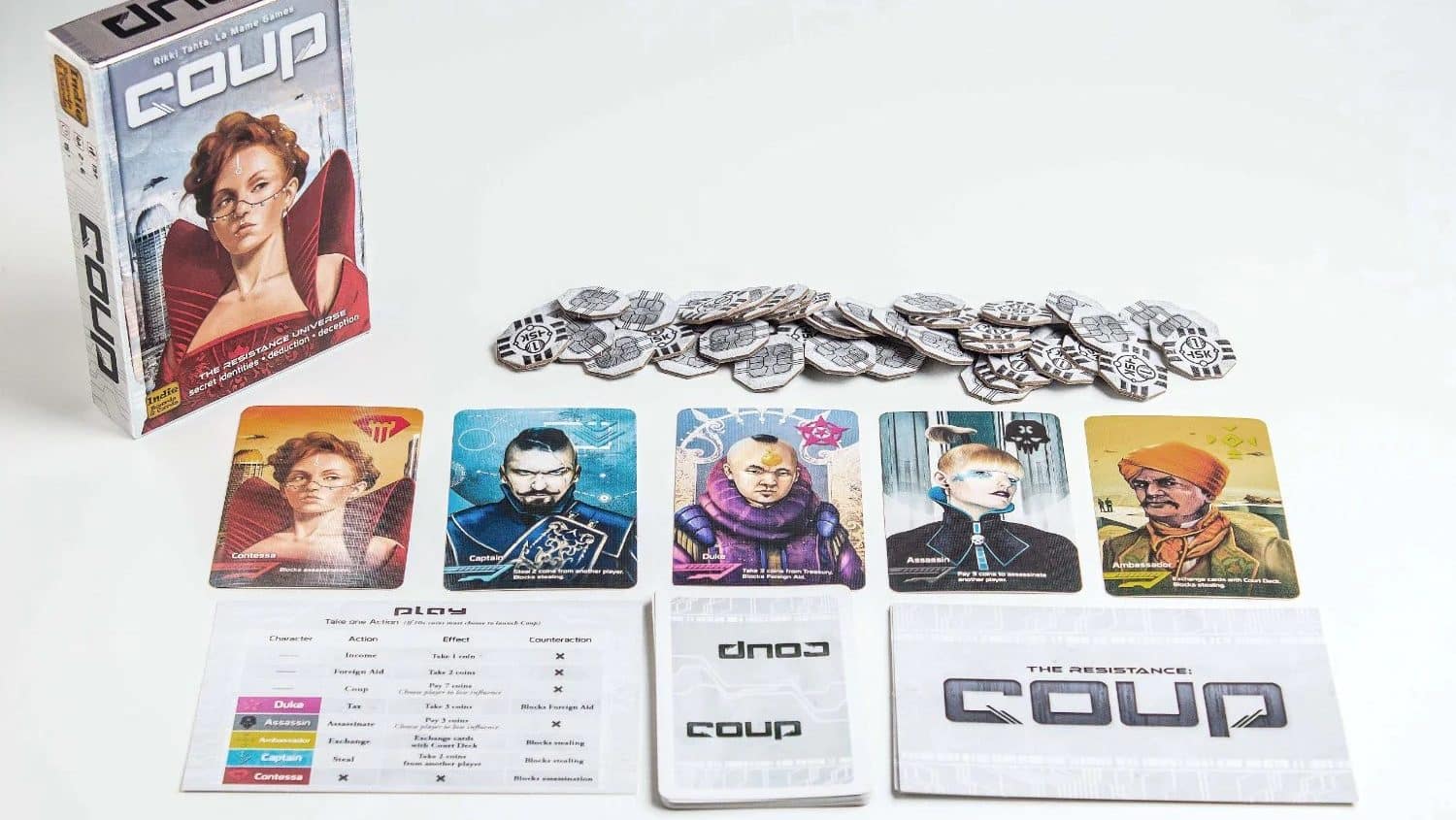 Coup is a unique social deduction game for 2-6 players, all about gathering influence in a strange, futuristic society. Each player has access to the abilities of special characters in gameplay, with some characters having nifty influence-gathering skills – but there is a catch. No other player knows which characters you have, so you can also lie about your skill base and try to get away with stealing more influence, before somebody calls you out.
If an opponent challenges you and you're lying, you'll lose influence. If they challenge you and you're not lying, your opponent loses influence. Essentially, you're trying to determine who exactly your opponents are, what abilities they have, and all the while, ensuring you're the one with the most influence at the table. While Coup seems complex at first, its lying mechanic is ultimately very easy to understand. Once you master it, you'll be able to spend your time watching for social tics and interrogating your closest pals. With only a handful of small cards and tokens, Coup inspires so much playful drama.
---
Boss Monster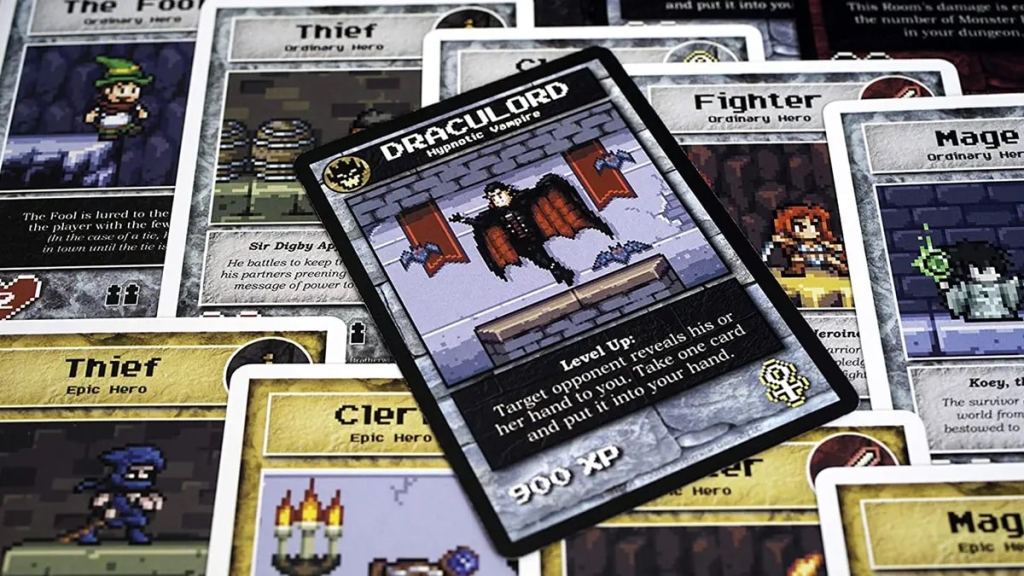 Boss Monster is a gorgeous card-based dungeon crawling game where you play as the titular 'boss monster', attempting to defeat heroes by building out the most deadly dungeon. The box for this game is designed to emulate old NES game boxes, so it's particularly small – but really, all you need to carry with you is the central Boss Monster card deck, which determines every play in the game.
While the action is pretty cool – you're basically sending a lone hero through a harrowing gamut of epic enemy battles – it's all contained very well on gorgeous cards rocking neat pixel artwork, and descriptive flavour text. With a unique hook and multiple enemy types, each round of Boss Monsters also feels fresh and exciting – so you can play it repeatedly with no two games turning out the same. There's so many ways to kill your chosen hero, with each tiny card serving a dangerous (and satisfying) purpose.
If you're looking for more video game-inspired card games after you're done with Boss Monster, you can also check out the Pokemon-like monster collecting of Aethermon: Collect, an Australian-developed, pick-and-catch game. This pocket-sized game serves as an introduction to the wider world of Aethermon, which was recently spotlighted at PAX Australia 2022.
---
Sushi Go Party!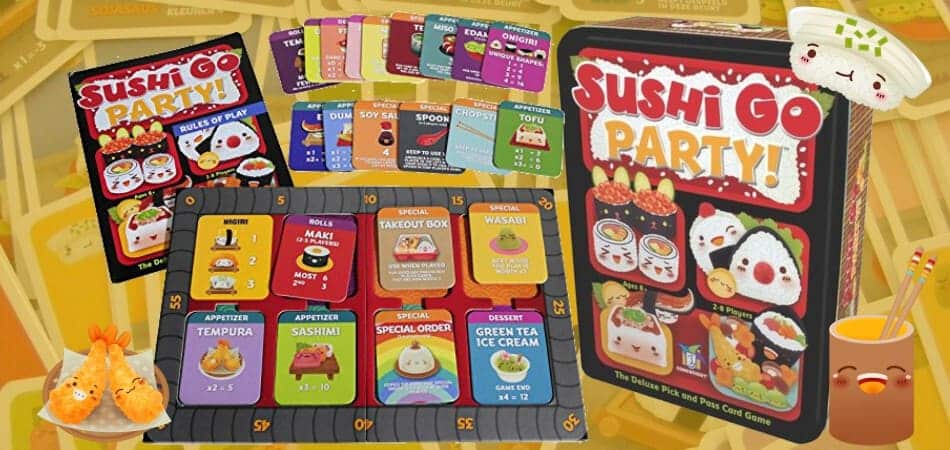 Sushi Go Party! is a card-based party game for 2-6 players where sushi is the most important meal in the world. On each turn, players will work towards gathering an array of special sushi which can form high-point combos (and look very cute), with this frantic scramble for the most points taking place on a small conveyer belt-style board.
Not only is Sushi Go Party! one of the cutest board games on this list, it's also very compact, with the action playing out on tiny cards and a miniaturised, foldable board. It barely takes up any room, but it packs in a whole lot of cuteness and fun into its metallic tin. While near-guaranteed to make you crave sushi, this is one travel-sized board game that is as moreish and desirable as its subject matter.
If you're looking for yet another food-themed pocket card game, we'd also recommend checking out the Australian-developed Boba Master from Quokka Games. In this game, you'll collect adorable cards to fulfil orders for boba tea.
---
Campy Creatures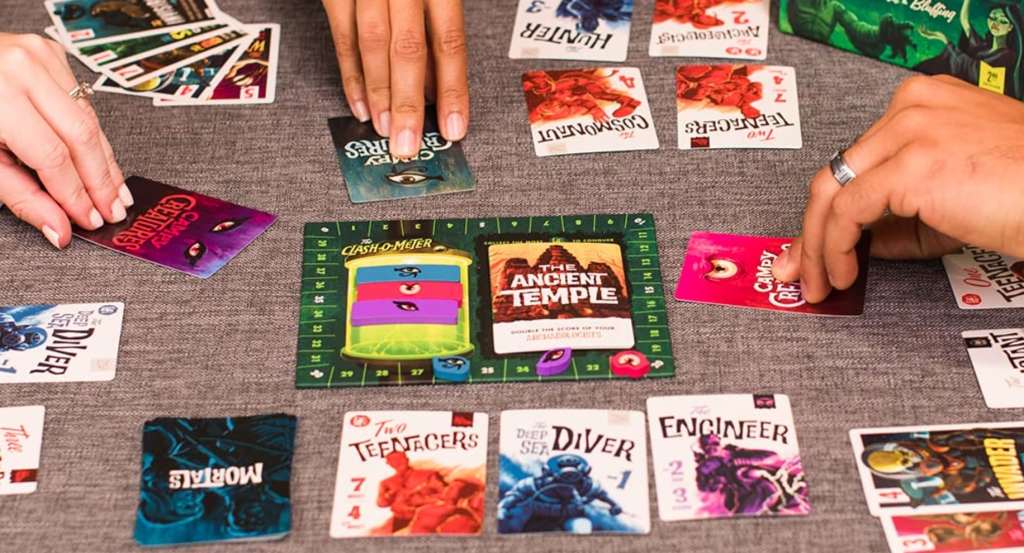 Campy Creatures is a card-based deduction-action game where 2-5 players will compete to control monsters, and capture the most humans in a deadly game of cat-and-mouse. While there are many board games featuring classic monsters like the beings of Campy Creatures, the core twist here is that you're playing the villainous role, working to deploy monsters in gruesome human-hunting activity (although it should be noted that the game is very light-hearted).
Players will compete to gather the most humans for their evil scientist leader, with the monsters of your fellow players standing in your way. While you're able to make action-charged plays to nab the humans, you'll also need to engage in some level of social deduction by guessing which creatures your opponents are using, and thwarting them using their weaknesses. It's a unique twist on Werewolf-style gameplay, with colourful art and a campy theme helping to spice up rounds.
---
Tiny Epic Dungeons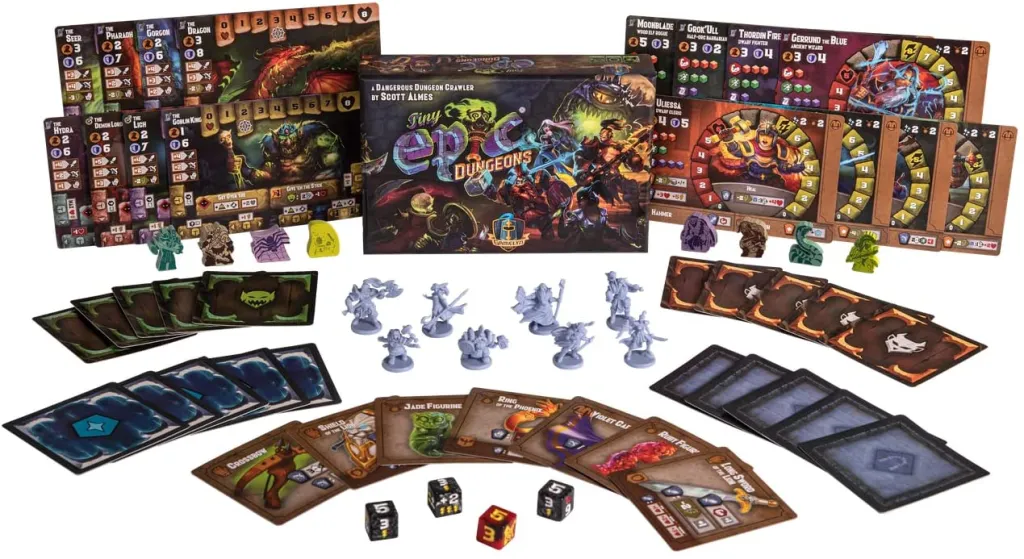 Tiny Epic Dungeons is a solo or co-op dungeon-crawling board game experience filled with tiny miniatures, tiny dice, and tiny cards. It essentially translates the action of a much larger board game into a very small box for portability (and a little bit of cuteness). In this adventure, you'll play through two distinct acts: The Dungeon, and the Dungeon Boss. You can guess what the separation is like.
As you travel through The Dungeon, you'll gather items and abilities, and face off with an array of creatures. Then, once you're powerful enough, you'll be able to tackle a Dungeon Boss using every tool in your arsenal. While similar to other games on this list, like One Deck Dungeon, this game manages a unique tone with colourful stylised artwork, and hearty adventuring and attacking mechanics. There's also plenty of cards packed into its tiny game box, so that journeys can be completely unique every time you draw a new item or dungeon tile.
---
Once Upon a Time: The Storytelling Card Game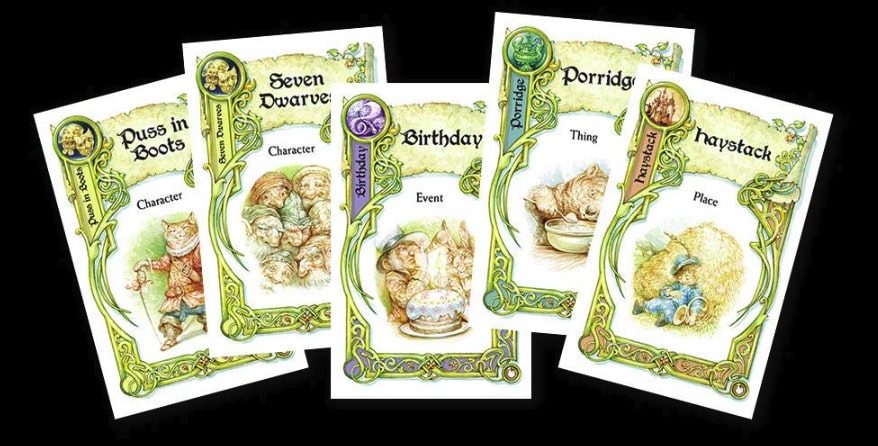 For something a wee bit different, consider Once Upon a Time: The Storytelling Card Game. This pocket-sized adventure game is all about telling stories with your friends, as multiple players will work together to weave a fantasy plot through multiple twists, and an eventual ending. One player takes the role of a Storyteller, who begins a tale with an ending in mind – and every other player will attempt to wrest control from the Storyteller by coming up with their own plot.
While more a fight with imagination than a traditional card or board game, Once Upon a Time adopts simple, fun mechanics that tabletop players will likely be familiar with. In active play, the game is a bit like Dungeons & Dragons – but if everyone was attempting to be the Dungeon Master at once. If you don't mind a bit of chaos, this card-based adventure can be an incredibly fun blast.
---
If you're looking for more card and board games adventures to explore, check out our other guides:
GamesHub has affiliate partnerships. These do not influence editorial content. GamesHub may earn a small percentage of commission for products purchased via affiliate links.