Quokka Games, based out of Brisbane and Canberra in Australia, has carved out its own niche as a purveyor of cosy 'slice-of-life' style card and board games over the last few years. Inspired by pandemic-era living circumstances, and the fun of everyday life, developers Anderson and Jonathon Cheung have made in their mission to 'share happiness with the world' by creating welcoming, accessible, and colourful games for everyone.
Boba Master, a game currently seeking funding on Kickstarter, is the latest project from Quokka Games, and one that aims to connect people via a love of bubble tea – as well as fun, competitive gameplay. In this card-based game, up to 10 players compete against each other to become the first Boba Master to concoct two different bubble teas (chosen from a stack of adorable, smiley-faced cards).
The real twist is that players can't deploy cards from their own deck – they must memorise which cards other players have in their hand (revealed upon every draw) and then play these cards to suit their own purposes.
Bubble tea creation requires players to nab a series of Tool Cards, which can advance the process to the next step. Action Cards can also aid progress, allowing players to enact a special move that gives them an advantage in the boba race.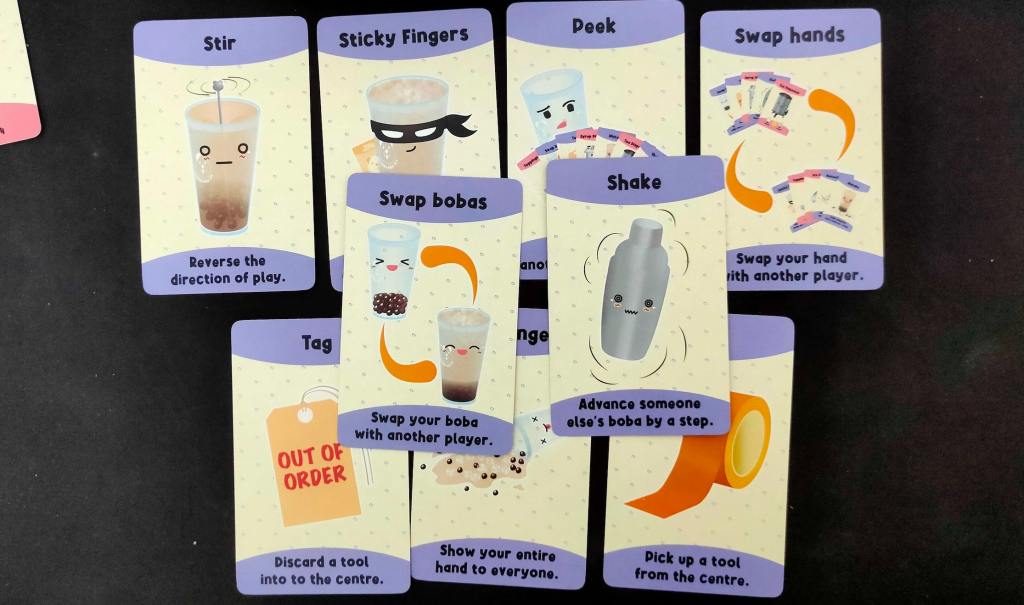 According to the Quokka Games team, it was this 'yoinking' mechanic that first inspired the creation of Boba Master. It's also the core gameplay twist that keeps the action fast, frantic and totally chaotic, with the right group of players.
'Wouldn't it be fun to have a game where you couldn't play cards from your own hand, but only the cards from other people's hands? From there, the game just sort of fell into place,' the Quokka Games team told GamesHub of the Boba Master creation process. 'The theme started off with potatoes and making potato chips, but because we had Yum Cha in the pipeline, we figured why not use this opportunity to showcase more of our culture, and reskinned it to our favourite drinks instead.'
Read: How the pandemic has brutally reshaped the board games industry
According to Quokka Games, theft became central to Boba Master after positive feedback from one of their friends, who was playing through a previous game. From an inkling of an idea, to prototyping between the Cheung brothers, it evolved to define gameplay and eventually, caused well-received 'chaos' in playtests.
In our time with the game, that chaos was certainly on show. While traditionally, card games require you to analyse your own hand and play cards as you desire, the quirk in Boba Master means you must think carefully about each card draw, and watch like a hawk as other players plan out their perfect bubble tea. The Tool Cards included also have potentially chaotic impact – as they can shake up your plans, or even lead to dramatic card pinching as players stride towards victory.
Thankfully, every card is illustrated in an entirely wholesome, adorable art style, making losses sting a little bit less. It's hard to be angry when you've got a bubble tea cup in your hand, giving you the UwU face.
Despite the chaos involved, Quokka Games hopes keen players will respond positively to Boba Master and its unique quirks. Many of the company's games are designed to be happy experiences that gather people together – and this shines through in the art style, quickness, and 'ordinary' theme of Boba Master.
'We have found that everyday concepts are the most relatable,' Quokka Games told GamesHub. 'As a result, we have definitely embraced this, and aim to continue gamifying anything that seems a little tedious in real life, and make it an enjoyable and fun experience as a game.'
What is most important to Quokka Games is giving everyone a chance to enjoy tabletop gaming, in whatever form it may take. Simplicity is key – as it creates a 'gateway' for any player to enter.
'Simple to us means easy to set up anywhere. The small form factor means light and portable, so you bring it with you all the time. Easy to learn means anyone can pick it up and play, we don't want to scare away anyone from having a good time,' the Quokka team said.
Read: The 10 best board games for beginners
'We like to think we're creating gateway games for people that don't normally play board games. There's a hint of strategy that some veterans have found which lets them enjoy our games on a different level, too. [Being] joyful is the most important one for us, the entire reason we exist. We love seeing the smile on people's faces when they're having a blast, it also means we can educate people while they're having a good time.'
Boba Master is no exception to these goals. While the game is hinged on competitive play, it also aims to teach players lessons – and to invite them into the world and life of the Quokka Bros.
'Just like any author will tell you, "write about the things or people you know in your own life", so we have adopted this approach and applied it to the games we make,' the team said. 'Being Australian-born Chinese, we realised that we can use our games as a medium to share and represent our Eastern culture in the West.'
Beyond being a fun experiment, the creation of Boba Master was a chance for Anderson and Jonathan Cheung to embrace their roots, and put their learned language into practice. Growing up, their parents took them to Chinese school on weekends, allowing them to learn more about their culture and traditions – and to share them with friends.
To that end, Boba Master – like Yum Cha before it – features dual languages on its bubble tea cards, teaching audiences about the Traditional Chinese names for each drink.
'We hope that we can resonate with people who have similar backgrounds and welcome others through this little portal to view our world and culture via our games … we saw this as the perfect opportunity to teach our own friends and family how to pronounce and read traditional Chinese.'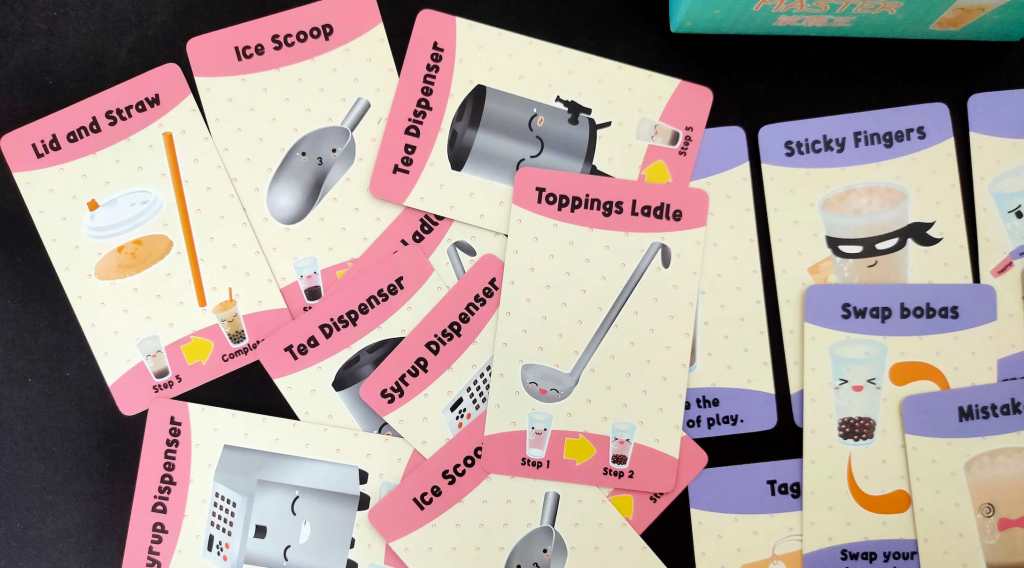 This inclusion means that while you're frantically stealing cards and attempting to froth your bubble tea to perfection, you're also subtly learning more – about the Quokka Bros, and about traditional Chinese culture.
By pouring so much of their own experiences into this game, the team has created a snappy slice-of-life card game that balances friendly competition with a warm sense of personality, and a hint of playful education.
Like other games created by the Quokka team, Boba Master is a wholesome creation – wonderfully cute, very bubbly, and perfect for a quiet afternoon with friends. While it does get chaotic at times, its simple design and beginner-friendly gameplay makes it pure joy.
Boba Master is currently live on Kickstarter. It has already surpassed its funding goal, with 28 days left to complete its campaign.