Based in Adelaide, Emily Brown is completing her third year of university in the Bachelor of Creative Industries at the University of South Australia, majoring in Game Design and Production and minoring in Animation and Visual Effects as well as Cultural Studies.
Despite having little exposure to game design as an option in school, a work experience stint at the Adelaide campus of AIE in Year 10 lit her up and sent her on a path that led to UniSA. Throughout her three years of study, Emily has made multiple small games solo, as well as in small teams, 3D modelled props and character models (both from existing games as well as original designs), and built 3D environments used for games and films.
During this time, she's been nominated in the UniSA Film and Television Awards 2022 and has had two assignments used as examples for new students. Her particular interest is in 3D modelling character and prop assets for use in video games, building 3D environments within Unreal Engine, and she says she loves researching every topic within video game design, ranging from the uses and evolution of video game music to the visual designs of playable and non-playable characters and more.
We asked Emily about her pathways and her experience of study so far, and her advice for other students – like actually turning up for classes, even if you're the only one in the room!
---
GamesHub: What led you to considering game design as a career?
Emily Brown: I didn't have any experience really until I decided to try out the work experience at AIE in Year 10. My high school didn't have a wide variety in terms of subjects, due to it being a very small school, only having about 30 students in my graduating year.
I did have one class on making a video game, but it was extremely basic. We didn't learn much about the basics of game design which is why I wouldn't call that class a game design class so much. We made a roll-a-ball game where you moved the ball around a platform into the end zone, but I don't think the class was a very good starting point.
I was also the only girl in the class, which is still somewhat common. So, I would say the first major exposure to game design in general was AIE, but it was a great first step to show me this is something I wanted to peruse more, and since then I have been able to narrow down to exactly what I want to do, which is 3D modelling and environment building during my three years at UniSA.
Why did you choose this course? Were there others on your list?
At the time of finishing high school, there were few options that offered Game Design courses and UniSA was one of the very few options, especially in Adelaide. When I investigated the bachelor's more, I thought that the ability to choose different majors and minors would allow me to do exactly what I wanted and the fact that each major was partnered with a company that would allow for internships in final year would also help me to get into the industry I wanted easier.
Read: Big Ant opens new studio in South Australia
How long have you wanted to study Games Design and Production, and what drew you to it?
I have wanted to study video game design since high school and the work experience with AIE, which was closer to a two-week intensive class. I then was allowed to complete a certificate III with AIE in year 11 – they usually only take year 12's, but this showed me that it was something that I was really interested in pursuing. I have always had a strong interest in video games, especially the visual style and design aspect and this eventually led to me researching if this was an area I could actually work in, which turns out, it is!
What has been the best thing about the Game Design and Production course so far?
I have been able to study exactly what I am interested in, building on my knowledge, and working on projects that I enjoy with students and teachers who share my passions. I have had so many opportunities since starting this bachelor, including meeting industry experts, gaining confidence to attend gaming conventions such as PAX Aus in Melbourne to meet industry professionals, studying under RSP (Rising Sun Pictures) as part of one of my classes, learning 3D modelling from one of the leading visual effects companies in Adelaide, and the opportunity to travel to Japan to study anime, gaming and music, which was an absolute dream.
I have also been able to build and improve on work that I have been working on over the course of the three years. One example of this is my character 'Theodore the Chubby Penguin' who has gone through about four iterations of character designs, but he has slowly gotten better and better, the more I have learnt and developed my style with the support of my teachers and peers.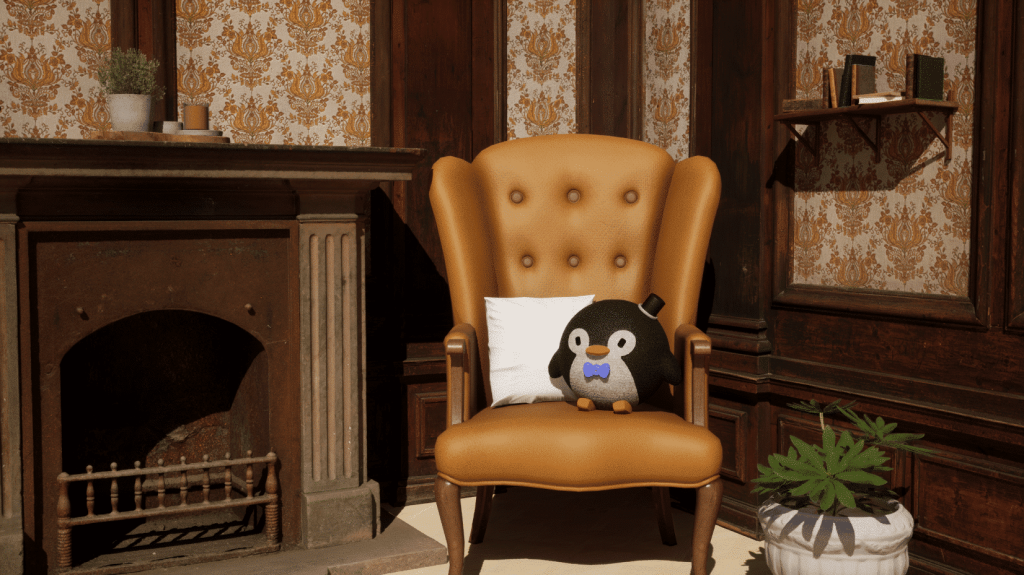 And the most difficult or challenging part of the course?
Something that is extremely well-known within the industry is both the long hours and burnout. I have struggled with both, wanting to work extremely hard on all my work, putting in all my effort to create something I am happy with, but also then pushing myself to work for long hours, eventually leading to being burnt out by the end of semesters. This is a habit that I am trying to break as I know how unhealthy this is.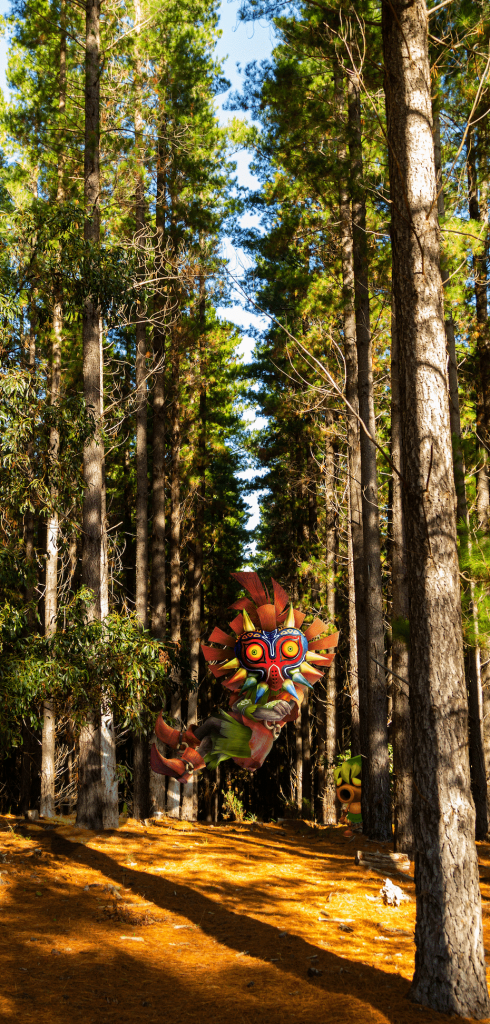 Do you work outside of your studies, and if so, what do you do?
At the moment, I currently have two part-time jobs. I work for a team that completes layout changes within Coles stores, moving products in store, which is just like playing a large game of Tetris. I also work at my old high school, assisting the music director with concert band practice, with both setup, but also playing in the concert band. I was one of the first students in the concert band, which started in 2019, when I was year 11, and since then I have continued to help both the director in concert band and drama musicals in the live band as well as assist the students of the band.
Has your ambition for what you want to specialise in changed in any way since starting your course? If so, how?
Thanks to completing my Cert III [at AIE] I got to try a little of everything within the creation pipeline. This showed me that I really enjoyed 3D modelling and the visual design of making games. This has now evolved into wanting to specialise in 3D modelling specifically, but I also really enjoy building out detailed environments within Unreal Engine 5, which I have luckily gotten to try and have been nominated for an award for at UniSA, being one of three students in a class of 80 nominated.
If you were not studying this, what would you be doing instead?
Honestly, I have no idea what I would be doing instead of game design. Since I also enjoy music and basketball outside video games these could have been something I could have done instead, but I do not know if I would have enjoyed it as much as game design and I do not think I would have excelled as much in these industries.
Can you give us one tip about Games Design and Production that you wish someone had told you?
Keep working hard and attending class, even if nobody else is there, even if you are the only one. Keep working hard towards what you want to do, but also learn when you need to take a break. Listen to everyone and keep learning as this is what will help you achieve your goals. I have had times where I was the only student in class, but this has allowed me to gain detailed help on my assignments, improve on my work, and continued to build on my skills that have become useful outside of game design too.
Ideally, five years from now, what would you be doing?
I would love to be working on something I enjoy, whether that is here in Adelaide or elsewhere. I would eventually love to go back to Japan and eventually work there within its games industry, I can't tell you if in five years I will be ready for it but I would love to go back again. Either way, I would love to be working on a game, major or indie, working towards releasing an amazing game.
Who are 3 artists/filmmakers/game designers whose work inspires you?
The first group I thought of was Team Cherry. They are a small indie game team based in Adelaide, the developers of Hollow Knight. It was incredible to see how a small team based in Adelaide could produce a game that has become so popular and famous.
Two other indie developers I am inspired by are Toby Fox, the developer of Undertale and Deltarune, as well as Erik Barone, also known as Concerned Ape, the developer of Stardew Valley.
Both developers either worked alone or with a small amount of people and I love their games; they are complex and have incredible storylines, beautiful art styles and musical soundtracks. I do also play larger games, but I love how amazing games like these can also be made by one person or small teams, especially in Adelaide where video game development is still a small industry.
How do you feel about the label 'Artist'?
I think for me it is a hard label to set. I would rather say I am a game designer, 3D modeller and 3D environmental artist. I also associate 'artists' with mostly 2D art, which is not my strongest skill, but I wouldn't argue if someone did call me an artist. I do enjoy making things that are visually interesting or beautiful, so if that is what an artist is, then I guess I am one. Again I don't really care all that much. If anything, the overall title of 'game designer' is also fine, mostly focusing on visual elements of the game design pipeline.
Walk us through some of the work you've shared with us.
Below are the two scenes that were the pieces of work nominated for the Film and Television Award 2022. The assignment was combining Assignment 1 and 2 into a final showreel, in video format, of fly-throughs of both scenes. I have provided still images from parts of the scenes.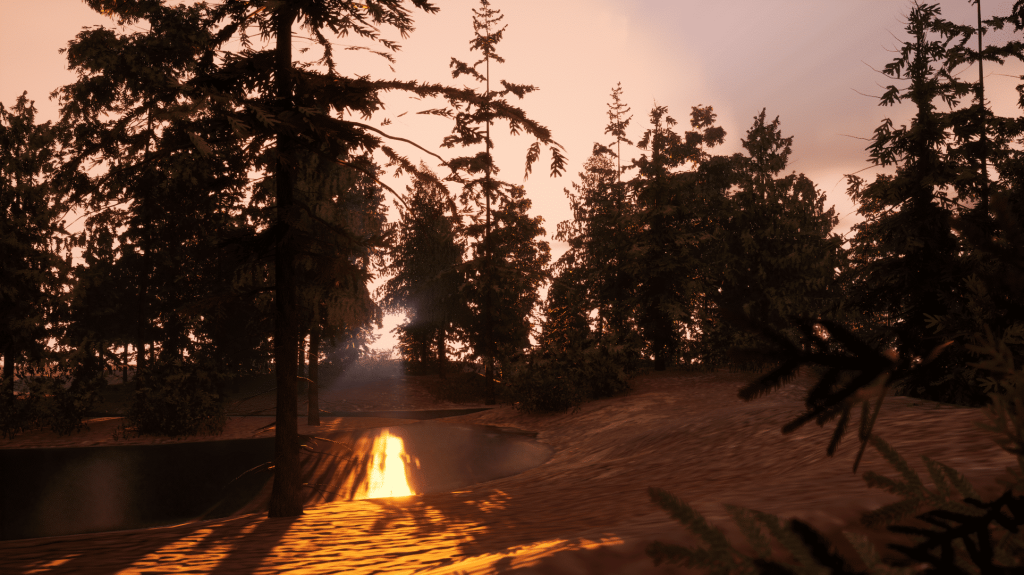 Pictured below, The Master Sword is one of the first models I made in Uni. It isn't perfect, but it is a model I am quite happy with and just needs some adjustments to make it better. I have placed both within 3D scenes that I built using online assets (so they aren't my models) which are all from the Unreal Store or Quixel Bridge.
The forest scene (below) is a forest environment I made recently as part of a horror game I made with a team of five called Frontier X.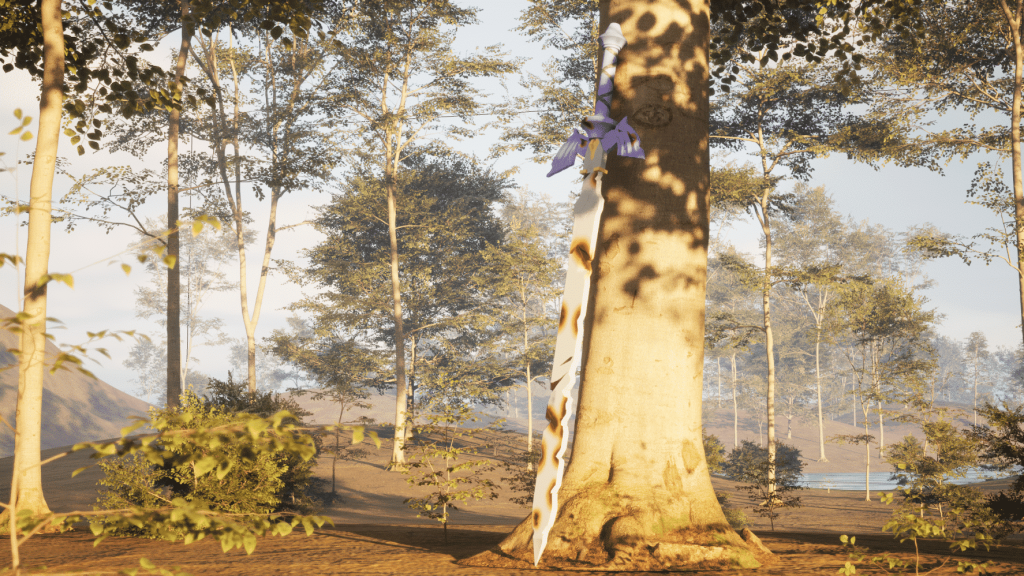 What advice would you give someone else looking to get into this type of course?
I suggest looking around at what opportunities are available to you, whether that is through courses such as UniSA's Game Design and Production courses, or through conventions and events where you can meet new people, as the games industry is one where knowing people and having connections is important. Within the industry, people are happy to talk about games and their experiences as that is what they are passionate about, so be confident and don't be nervous to ask them about it.
To see more work by Emily Brown, visit her ArtStation account.