What's the best flavour of Arnott's Shapes? If you said anything other than Chicken Crimpy, know that you're wrong – and even Xbox knows it (No, it's BBQ and you know it – ed.). While it's no longer April Fool's Day, it appears the company is continuing the tradition into April, as it recently announced a limited edition Xbox Series S console and controller adorned with Australia and New Zealand's favourite Arnott's biscuit.
It follows a similar collaboration with Arnott's which saw the company launch BBQ-flavoured Xbox Controller Shapes – only this time, the product is decidedly wilder. The unique Xbox console and paired controller features an orange and yellow design, with both devices covered in a Shapes decal that sports flying Chicken Crimpy biscuits.
All in all, it's a pretty fetching design! With bright colours and a pop art style, it would be a worthy art piece, or a practical, beloved gaming companion. For ten lucky winners, this could be a reality – as Xbox ANZ is hosting a giveaway for these rather special devices.
Read: Behold the glory of this ugly Sonic Frontiers controller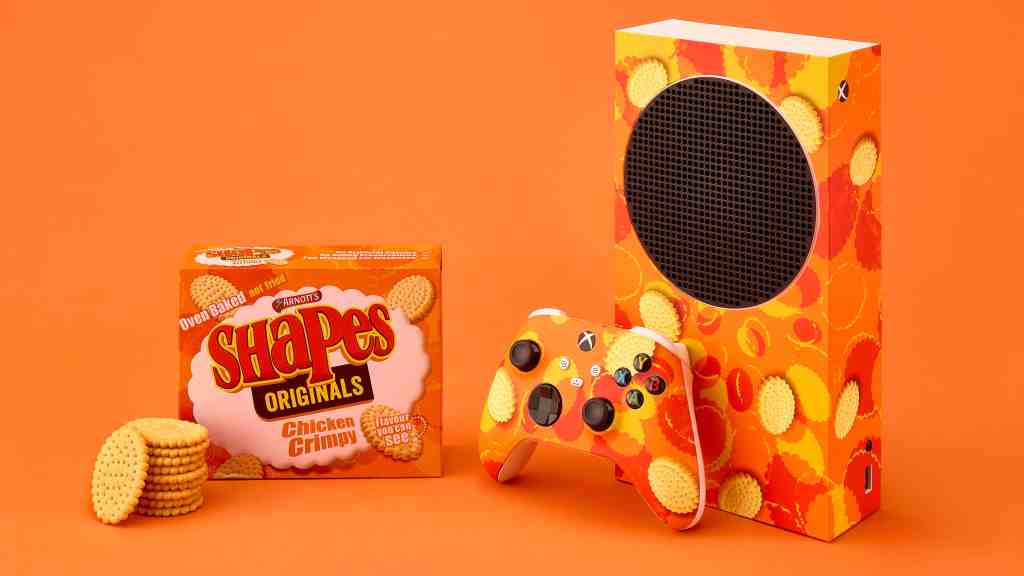 How to win the Arnott's Shapes Chicken Crimpy Xbox Series S
To enter for a chance to win the Arnott's Shapes Chicken Crimpy Xbox Series S console and controller, you'll need to head to the Arnott's Shapes Instagram page, and follow the instructions:
Follow Shapes on Instagram.
Follow Xbox on Instagram.
Tag a friend for a chance to win.
In addition, you can also buy any Arnott's Shapes boxes from Woolworths for extra chances to win one of the ten limited edition consoles. For the weirdest bragging rights in the world, throw your hat into the ring before the wild competition closes on 13 April 2023. You will need to be an Australian resident to enter.
Given the weirdness of this latest Xbox ANZ endeavour, we look forward to seeing what the company has planned for the rest of the year. Onwards and upwards!