Tiny Tina's Wonderlands is set to hit shelves on March 25, 2022 and as we head towards launch, Gearbox is trying to blow the hype train right off the tracks. In a fresh trailer, more has been revealed about the game's story, character classes, environments and gameplay, with everything from bards to 'Stabbomancers' getting their time in the sun.
If we weren't already sure, we now know the Borderlands spinoff will double down on the series' over-the-top tone, taking inspiration from the wild and wonderful Borderlands 2 expansion, Tiny Tina's Assault on Dragon Keep. Expect madness. Expect colours. Expect more Butt Stallion (it's a unicorn).
The newly revealed trailer is full of 'mystical, magic, spell-y stuff':
It shows off a bunch of intriguing worlds, including a skeleton-lined shore, a Jack and the Beanstalk town in the clouds (Tangledrift), a dense evil mushroom lair, and even Butt Stallion's castle in Brighthoof, which rises in shiny, pristine glory over a medieval townscape.
Beyond the environments of the game, which do look stunning, the trailer also details two newly revealed character classes, the Stabbomancer and Brr-Zerker.
Read: Racing against time to build worlds and create films with Unreal Engine
Stabbomancers are assassin types who summon magical blades and can use the shadows to their advantage. Stealth is their primary focus, and they'll have a range of cunning tactics to ensnare enemies and get the job done quickly and painlessly.
On the other hand, Brr-Zerkers are bruisers who use firepower and brutal melee attacks to carve paths through their enemies. According to the game's new Dev Diary, they hail from the frozen mountains and work on hardening their bodies to withstand even the bitterest colds. If you're somebody who likes getting up close and personal in battle, the Brr-Zerker class will likely be for you.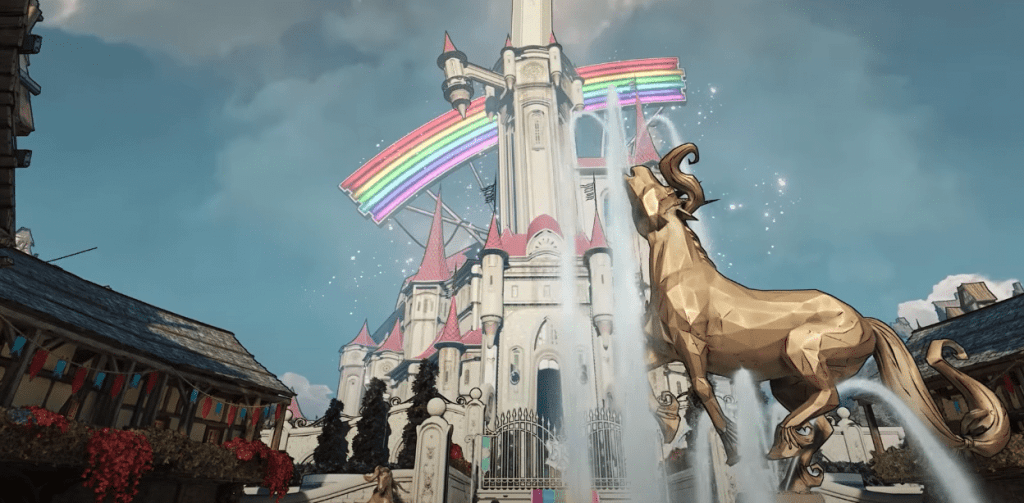 You'll be able to choose from six classes in Tiny Tina's Wonderlands, each having unique abilities like the Brr-Zerker and Stabbomancer. While these have yet to be revealed, we'll likely see more as we get closer to that March release date.
No matter which class you choose you'll be sent on a wild-looking adventure through various locales in the game, including deserts, cloud cities and lush oases. Along the way, you'll have to contend with an evil Dragon Lord, 'sharks with legs' and whole armies of skeleton people, mushroom fiends, and every strange beast in between.
Luckily, you'll be able to bring friends on your quest and unleash barrages of new attacks including spells that allow you to shoot fire, cast a mini-tornado, or give you protection in battle.
Stay tuned for more on Tiny Tina's Wonderlands as we get closer to launch.