Sonic the Hedgehog 2, the sequel to the surprising hit film of 2020, is set to arrive in local cinemas on 31 March. To celebrate, Xbox has announced something truly unhinged: fuzzy Xbox controllers. These 'unique' accessories have been commissioned alongside a themed Sonic the Hedgehog Xbox Series S, which features a gold ring around the console's air vent, and Sonic and Knuckles facing off below. Sadly, the console isn't fuzzy.
But in better news, you can win it!
The fuzzy red and blue controllers, as well as the custom Xbox Series S, are currently being given away by Xbox on social media – and while these competitions are usually region-locked, you can actually enter in Australia (or any other Xbox Live supported region).
To enter the competition, you need to be 18 or over, and head to Twitter. Here, you'll just need to follow the official Xbox Twitter account, and retweet the competition post with #XboxSonic2Sweepstakes for a chance to win.
Read: Sega has finally revealed what Sonic smells like with new cologne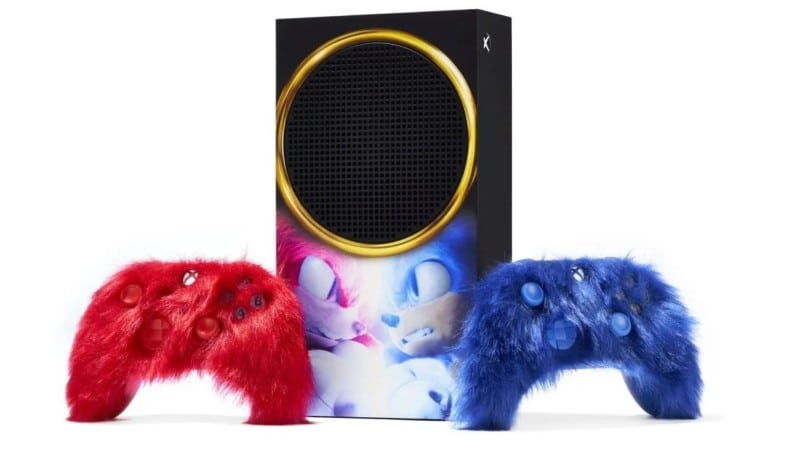 Should you choose to enter, you will have important things to consider. For example, do you sweat much? It's likely these incredible, shaggy beasts will retain heat – and if you use them too often, their fine hairs will quickly become wet, dirty, and likely smelly.
The texture also looks extremely strange, and may not be for the ticklish. While it could also be comfortable, the hairiness here may feel a bit too weird when compared to traditional Xbox controllers.
Still, if you're after the controllers to put them on display, they'll certain make for a surprising and odd inclusion in any home. It'll certainly spark a conversation with new guests.
To find out more about the horrifying Sonic the Hedgehog controllers, head to the Xbox Twitter account, or to the competition T&Cs hub here.
Sonic the Hedgehog 2 arrives in Australian cinemas on 31 March 2022. Stay tuned to GamesHub for a full review of the film ahead of launch.