Sonic Origins, Sega's upcoming collection of classic Sonic the Hedgehog games, has finally been dated for 23 June 2022, but not everyone is happy about the title's newly-announced launch. The games included – Sonic the Hedgehog, Sonic the Hedgehog 2, Sonic 3 & Knuckles, and Sonic CD – aren't the problem. Instead, it's the new modes and features Sega has promised to include, as long as players fork out for the premium Digital Deluxe Edition of the game.
With details of the collection now officially announced, Sega has released its plans for additional DLC and bonus content that'll change up regular gameplay – but it all seems a bit of a mess.
Should players choose to purchase the Standard Edition, they'll only receive the base game collection. If they want Mirror Mode, a new in-game background and 100 bonus coins to start, they'll need to have preordered the game to receive the unique Start Dash Pack.
In addition, they can purchase a Premium Fun Pack that includes Hard Missions, backgrounds, new character animation in the Main Menu, camera controls over the Main Menu islands, and character animations during Music Islands. If new animations don't seem all the appealing, there's also a Classic Music Pack that adds additional musical tracks to the game.
Read: Sega has finally revealed what Sonic smells like with new cologne
But if they want everything included in Sonic Origins, fans will have to grab the Digital Deluxe Edition, which comes with all of the content minus the Start Dash Pack, which appears to be locked for preorder customers only.
You can check out all the confusing editions below: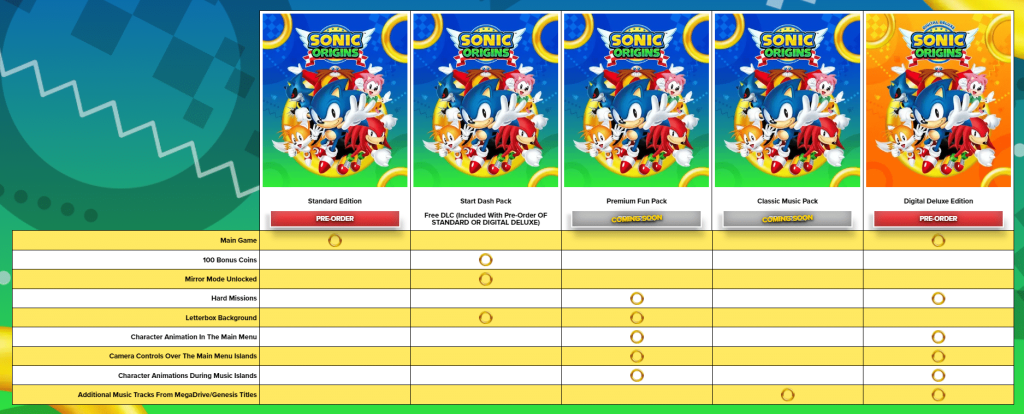 It's enough to make anyone nostalgic for simple, disc-based game releases.
Still, despite the confusion, Sonic Origins should be a wonderful collection for anyone who grew up with these classic 2D platformers. Since 1991, the franchise has grown exponentially – and has even spawned a number of blockbuster Hollywood films.
Sonic Origins is a great chance to look back on Sonic history and see just how far the speedy blue hedgehog has come since his early days blitzing through Green Hill Zone. While there are notable snubs here – Sonic 3D: Flickies' Island is an underrated 90s era gem – the included games are iconic pieces of Sonic's gaming legacy.
Sonic Origins launches for PlayStation 4, PlayStation 5, Xbox One, Xbox Series X/S, Windows PC and Nintendo Switch on 23 June 2022.