During a recent livestream, developers at Maxis confirmed custom pronouns are coming to The Sims 4, allowing players to select the preferred gender of their Sim. While players can already select 'masculine' or 'feminine' body types that don't adhere to a strict binary, this feature will finally introduce the option of creating a gender-neutral Sim.
When in Create-A-Sim mode, the overhaul will allow players to select which pronouns best apply to their character: she/her/hers, he/him/his or they/them/their. There will also be an option to input custom pronouns.
According to Maxis, this change is essential to creating a more inclusive and welcoming game for all Sims players.
'Our society needs to be built in a way that can adapt to this ever evolving realm of identities and the experiences that come along with that,' Rae Sweet, Education Coordinator at LGBTQIA+ nonprofit It Gets Better said of the upcoming feature.
'The Sims can work in a really beautiful way toward reflecting that evolution. It's a virtual world where you get to be who you want to be and I think that's such a unique position to be in to be a guiding light in how we can build that kind of world in real life.'
Read: The Sims 4: Modern Menswear could be the future of fashion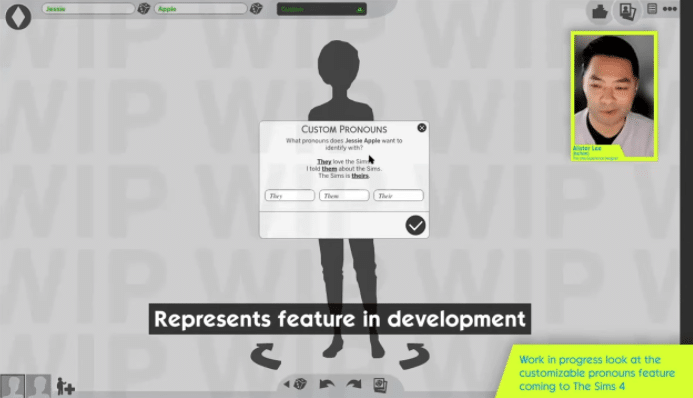 In a Sims Community post about the changes, SimGuruDuck, a producer on the game, acknowledged that pronouns were just a small step towards making The Sims 4 more inclusive – and that while it was a great change, it wasn't a perfect solution for reforming Create-A-Sim.
The Sims 4 was released nearly eight years ago, and its Sims have largely been determined by traditional notions of gender so far. But as the understanding of gender identity evolves, Maxis and EA have worked towards implementing new features to make the game more inclusive.
'We know that this feature will not make The Sims 4 100% gender neutral,' SimDuckGuru said. 'We still have the selection for male and female in CAS, even with this feature. As we've learned in our investigations with [It Gets Better] and working on this game over the years there are many complex systems involved in creating a Sim.'
While the next iteration of The Sims will likely be built from the ground up with these more inclusive values, for now, the team is doing what it can to evolve The Sims 4 in every way it can.
'I just think adding pronouns to the game are gonna make that game feel even more welcoming and kind and it's really validating to see your pronouns,' Rachel Gilbert, game designer on The Sims said. 'I really can't underscore that enough. It's reassuring and it's like a little checkbox – we're all good here, we know who we are.'
There's no current release date for the update – given it requires a lot of localisation, grammar checking and testing – but players can expect it at some point in future, alongside new tweaks and expansions.