It was announced in March 2022 that PlayStation 5 consoles would be getting support for TVs and monitors that have variable refresh rate (VRR) features. Sony also announced that the PS5 would now support VRR for 1440p screens. But what is VRR, and what does that all mean?
What is VRR (Variable Refresh Rate)?
Certain high-end monitors and televisions have the ability to adapt their refresh rate (ie. how quickly it can draw a new image) to the framerate of the content it is currently displaying (ie. how often the content is able to draw a new image) – a feature called variable refresh rate.
Most displays have standardised refresh rates, because the majority of film and TV content typically also has set, standardised, and consistent framerates. However, when it comes to video games and some PC software, the framerate of what's being shown can vary greatly.
Video games typically aim to have either a steady 30 or 60-frames-per-second motion output, but can fluctuate anywhere below, in-between, and above those ranges, depending on the optimisation of the software and the capabilities of the devices running them.
Some newer games available now, particularly first-person multiplayer games, have the ability to reach 120 frames per second in order to prioritise smooth and precise motion.
Having a display that is correctly in sync with the framerate of the source content greatly improves how the content looks, resulting in greater visual clarity, fewer image artefacts, reduced screen 'tearing' effects, and improved input latency.
How do I use VRR (Variable Refresh Rate) on the PS5?
To turn on variable refresh rate on the PS5, simply navigate to the Settings menu on your console, and head to the Screen and Video submenu. You'll find the option under Video Output and then VRR, which you can turn on or off, or set to automatic.
You also have the option to apply variable refresh rates to games that don't support it, but Sony notes that this can cause problems, so be sure to turn it off if you see anything weird.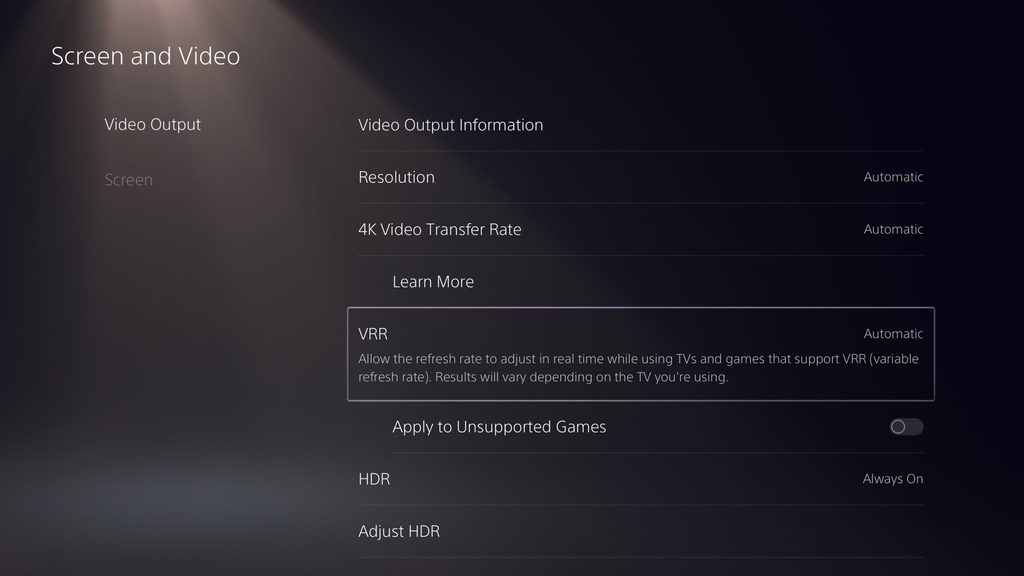 What PS5 games support VRR Variable Refresh Rate?
Here is the list of PS5 games that currently support variable refresh rates:
Astro's Playroom
Call of Duty: Vanguard
Call of Duty: Black Ops Cold War
Deathloop
Destiny 2
Devil May Cry 5 Special Edition
DIRT 5
Godfall
Marvel's Spider-Man Remastered
Marvel's Spider-Man: Miles Morales
Ratchet & Clank: Rift Apart
Resident Evil Village
Tiny Tina's Wonderlands
Tom Clancy's Rainbow Six Siege
Tribes of Midgard
This list is accurate as of 28 April 2022, and was sourced via the PlayStation Blog.