The PlayStation Plus (PS Plus) game catalogue for August 2023 has been revealed, with confirmation of two day-one launches for upcoming, highly-anticipated indie games. The first is Sea of Stars, a retro-inspired RPG set in a gorgeous pixel world filled with fantastical danger. The second is the Australian-made Moving Out 2, the sequel to the chaotic multiplayer moving simulator, Moving Out.
Both games will be available at launch for subscribers on the PS Plus Extra, Premium, and Deluxe tiers. They're joined by an array of other PS4 and PS5 games in August 2023, with plenty to keep subscribers on board.
Beyond Sea of Stars and Moving Out, you'll be able to play through Destiny 2: The Witch Queen, Dreams, Lost Judgment, Destroy All Humans! 2, and the beloved indie hit, Cursed to Golf.
Those on the Premium and Deluxe tiers are also in for a treat, as PSP games MediEvil: Resurrection and Ape Escape: On the Loose are set to be available as part of the PS Classics range from August.
Read: Every PSP game that should be on all-new PS Plus
Here's everything coming to PS Plus in August 2023. All titles will be available for download from 15 August 2023 – although Sea of Stars will land later, on 29 August 2023.
---
PS Plus: Extra, Premium, and Deluxe games in August 2023
Sea of Stars (PS4, PS5) – 'Sea of Stars is a turn-based RPG inspired by the classics. It tells the story of two Children of the Solstice who combine the powers of the sun and moon to perform Eclipse Magic, the only force capable of fending off the monstrous creations of the evil alchemist known as The Fleshmancer.'
Moving Out 2 (PS4, PS5) – 'Moving Out 2 will take players back to the breakneck, breakback (and break-knee) world of Smooth Moves' Furniture Arrangement and Relocation Technicians (F.A.R.Ts), as they pack furniture, technology, and everything including the kitchen sink across increasingly bizarre locales, with increasingly deadly challenges.'
Destiny 2: The Witch Queen (PS4, PS5) – 'Delve into Savathûn's Throne World to uncover the mystery of how she and her Lucent Hive stole the Light. Learn the secrets to crafting new weapons, the new Glaive, and survive the truth within her web of lies.'
Lost Judgment (PS4, PS5) – 'Lost Judgment once again puts players in the sneakers of lawyer turned street-fighting detective Takayuki Yagami. Joined by his partner, ex-yakuza Masaharu Kaito, the crime-fighting duo is called on to investigate a seemingly perfect crime whose lead suspect has an airtight alibi.'
Destroy All Humans! 2: Reprobed (PS4, PS5) – 'The alien invader Crypto returns, groovier than ever. Experience the swinging '60s in all its psychedelic glory and take revenge on agents for blowing up your mothership.'
Two Point Hospital: Jumbo Edition (PS4) – 'Put your management skills to the test! Start with nothing and design a bustling, efficient hospital as you improve the lives of Two Point County's unfortunate residents.'
Source of Madness (PS4, PS5) – 'Source of Madness is a side-scrolling dark action roguelite set in the Loam Lands, a twisted Lovecraftian inspired world powered by procedural generation and AI machine learning.'
Cursed to Golf (PS4, PS5) – 'Cursed to Golf offers a fresh take on the golfing and roguelike subgenres. Make your way through a hole within the PAR Count or your curse will take you back to the beginning of the course!'
Dreams (PS4) – 'Dreams is an extraordinary, ever-expanding game universe from the award-winning Media Molecule, creators of LittleBigPlanet and Tearaway, where you can discover community-made games from around the world… and learn to make your own.'
PJ Masks: Heroes of the Night (PS4, PS5) – 'Who goes into the night to save the day? You do! Get your PJs on and become Catboy, Owlette, and Gekko. Set off from Mission Control HQ on a platforming adventure for little heroes.'
Hotel Transylvania: Scary-Tale Adventures (PS4, PS5) – 'Take control of Drac and Mavis and play through unique worlds with their own spooky spin, including Little Red Riding Hood, The Emperor's New Clothes and Ali Baba and the Forty Thieves.'
Lawn Moving Simulator: Landmark Edition (PS4, PS5) – 'Build your own lawncare business from the ground up. Purchase and upgrade your headquarters, hire employees, purchase advertising and balance the books as you grow and expand your business.'
Spellforce 3: Reforced (PS4) – 'SpellForce III Reforced is a unique mix of an epic RPG storyline blended with accessible real-time strategy elements, designed to offer a riveting console experience to fans and newcomers alike.'
Midnight Fight Express (PS4) – 'You're Babyface, a former member of the criminal underworld lured back into "the life" by a mysterious AI drone. Your mission against impossible odds: Fight your way across the city before sunrise, and prevent a citywide criminal takeover together.'
---
PS: Premium and Deluxe Classics in August 2023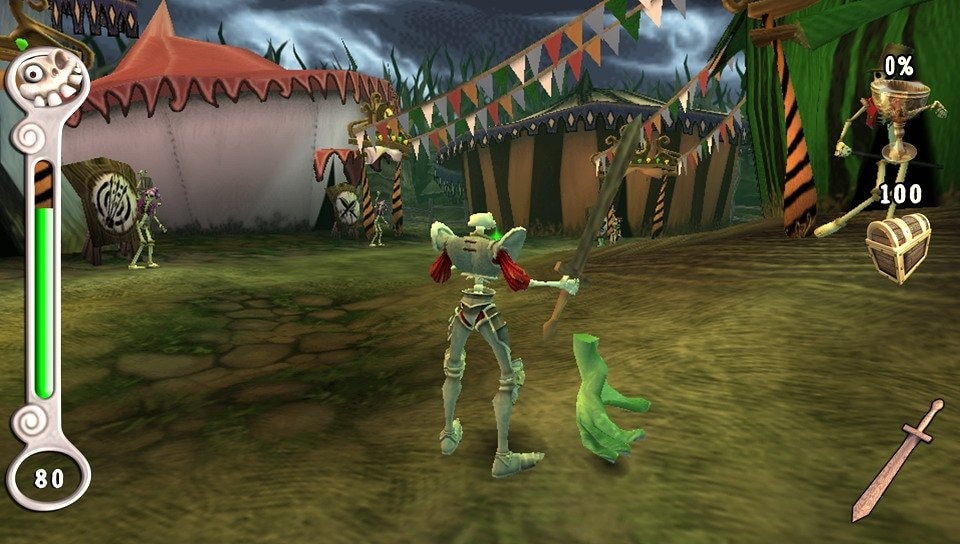 MediEvil: Resurrection (PS4, PS5) – 'Join Sir Dan's brave quest to thwart the evil sorcerer Zarok. Bludgeon your way through bucketloads of battlefields with masses of weapons and gazillions of combat moves in your journey ahead.'
Ape Escape: On the Loose (PS4, PS5) – 'A horde of crazy apes has stolen the Professor's time machine and travelled back through history to alter the past and ensure that monkeykind rules the world. It's up to Spike – and his collection of incredible gadgets – to save the day.'
Pursuit Force (PS4, PS5) – 'Capital City is plagued by crime. Vicious new gangs are on the rampage and the Chief of Police has had enough. There's only one solution to the mindless degeneracy on the streets… It's time to fight fire with fire and let the elite Pursuit Force unit unleash its own brand of Extreme Justice.'
---
You can find out more about PlayStation Plus and its subscription tiers on the PlayStation website.