Donut King and PlayStation have teamed up for a delicious Australian treat: donuts created in the shape of the iconic PlayStation controller icons. The four pack, which features a green triangle, red circle, blue cross and pink square, is available in Donut King stores now, and even comes with a nifty bonus: Everyone who purchases a pack will get the chance to nab one of five elusive PlayStation 5 console via a prize draw.
In addition to the consoles, there's around 50,000 other prizes to be won, from a draw that includes controllers, PlayStation Plus subscriptions, games, and plenty of cinnamon donuts. As we head towards the launch of the 'all-new' PlayStation Plus, those subscriptions will certainly come in handy.
The promotion is set to last six weeks, so if you've got a local Donut King and you've always wondered what a PlayStation tastes like, you'll want to get down to a store near you soon.
'After the last two years, we wanted to come up with a playful concept that we knew our community would love – one that celebrates both food and gaming, and makes everyone feel like a winner,' Tom Elliott, Donut King General Manager said of the wild collaboration.
Elliott is right – after two years of absolute weirdness, why shouldn't we have PlayStation-shaped donuts? We all deserve a little treat, and these donuts are the perfect way to brighten these strange times.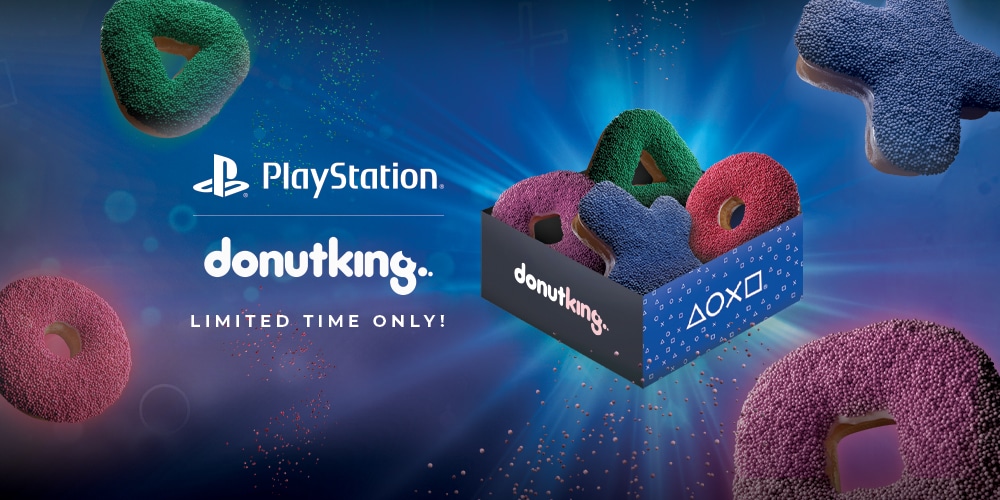 As for the shapes chosen, Patrick Lagana, Sony Interactive Entertainment Australia Director of Marketing Patrick, said that the decision was clear – because these four shapes are the root of PlayStation's DNA.
'They represent not only our identity, but collectively they are a powerful, universal symbol to generations of players, of the joy and escapism that play provides. Through this partnership with Donut King, we are delighted to bring our shapes to life and give Australians a little taste of the PlayStation universe,' he said in a press release.
The initiative follows similarly flavourful endeavours from the company, which recently launched the 'PlayStation to Plate' tasting experience in Australia in late 2021.
For your very own taste of PlayStation, you can head down to your local Donut King store from Tuesday, 19 April 2022. These donuts will be available for the next six weeks, with the prize draw concluding in early June.