Creative Victoria has announced the launch of the Big Games Night Out, an all-ages gaming celebration set to take place during Melbourne International Games Week (MIGW) 2023. The event will take place on 5 October 2023, and will feature an array of activities including open-air games (retro and new), game swaps, and a cosplay parade and runway for those keen to participate.
In addition, the show will feature live music and performances from Eurovision veteran Montagine, the band Tripod, as well as a special Stray Gods Fashion Show, and a mysterious Cult of the Lamb performance known only as 'The Ritual'.
This will reportedly feature "large-scale puppets and performers, a DJ performance by River Boy and giant animated projections featuring your favourite characters from the game created by Massive Monster, and featuring Goldens Scissors Puppets and Jean Poole Projection Mapping."
Meanwhile, the special Cosplay Parade and Runway Experience will provide a red-carpet experience, with the show hosted by presenter Myf Warhurst and Montaigne. Sign ups are now open, and everyone – of all experience levels – is encouraged to join in.
Read: Stray Gods Review – Bittersweet Symphony
Following the Cosplay Parade, the Stray Gods Fashion Showcase will arrive, with eight Melbourne-based fashion designers showing off their creations, all inspired by the glamour of Summerfall's game.
Other events and showcases are yet to be announced for the inaugural Big Games Night Out, but given what's already here, there's plenty to get excited for – including that tantalising Cult of the Lamb Ritual. Creative Victoria has promised more announcements in future, so stay tuned for fresh details.
Big Games Night Out takes place in Fed Square in Melbourne, Australia from 5:00pm on 5 October 2023 until late. To find out more about this event, head to the Big Games Night Out hub on the MIGW 2023 website.
[Update: 20 September 2023 – Creative Victoria has now released the full timetable and map for the Big Games Night Out]
Big Games Night Out MIGW 2023 – Schedule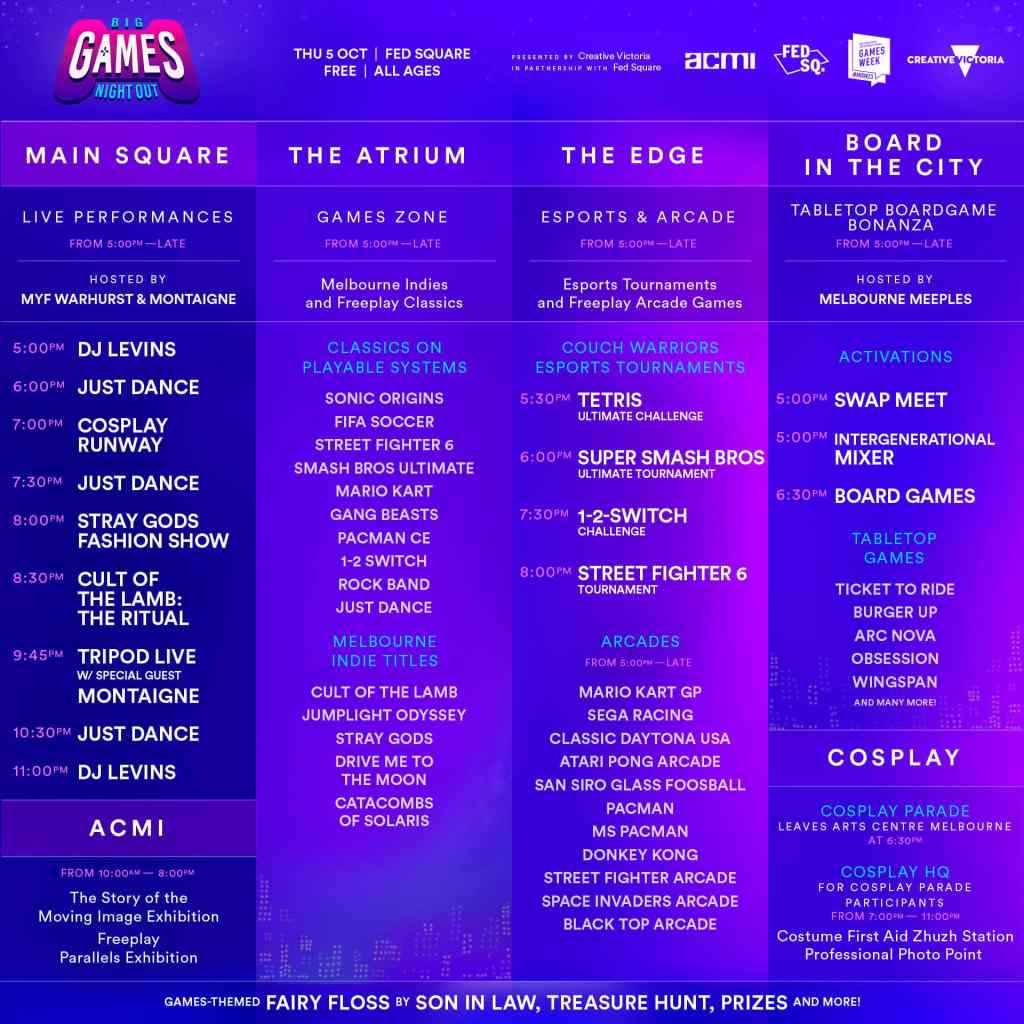 Big Games Night Out MIGW 2023 – Map