Seven years on from release, Mario Kart 8 continues to be an absolute winner for Nintendo, with a recent 2021/2022 financial report identifying the game as a consistent top-seller. In the second quarter of Nintendo's financial year, Mario Kart 8 Deluxe, the Switch port of the Wii U game, sold 3.34 million units.
This means Mario Kart Deluxe 8 has now become the best-selling title of the entire Mario Kart franchise with 38.74 million units sold — and that's despite the fact that Mario Kart Wii was frequently bundled with the Wii console around launch.
While 18 Nintendo Switch games hit the key 'million-sold' number in the Q2 report, it was The Legend of Zelda: Skyward Sword HD (3.60 million), Mario Kart 8 Deluxe (3.34 million), Animal Crossing: New Horizons (2.22 million) and New Pokémon Snap (2.19 million) that were the top sellers for the period ending on September 30, 2021.
Read: Why you should be excited for Animal Crossing: Happy Home Paradise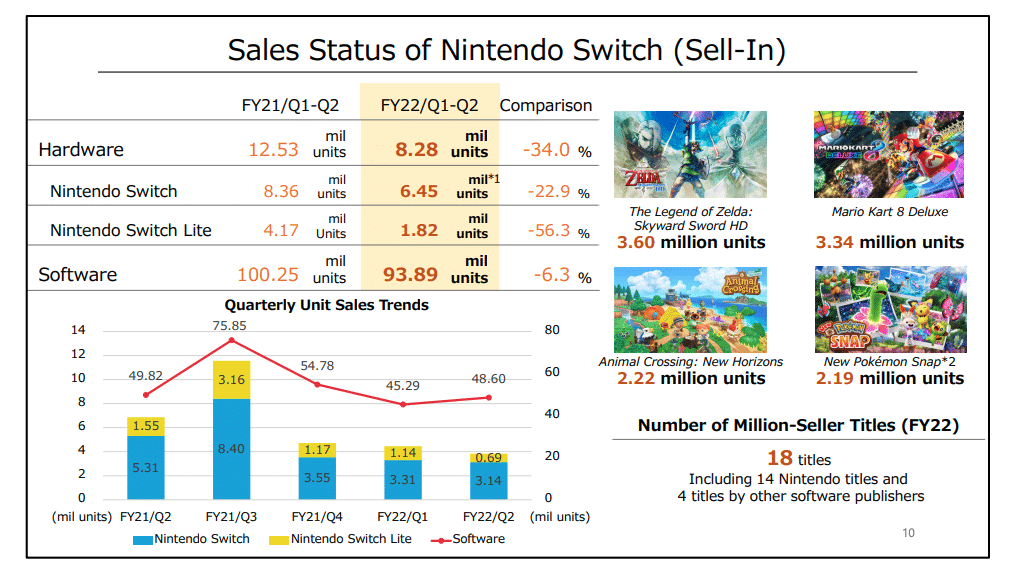 Interestingly, the report revealed overall sales for the Nintendo Switch are significantly down year-on-year, with a 22.9 per cent drop for regular Nintendo Switch consoles, and a 56.3 per cent drop for Nintendo Switch lite consoles. While the reasons for this drop are unclear, it may be to do with supply shortages caused by the current bottleneck in semiconductor chip production.
As reported by Nikkei, Nintendo has apparently been forced to revise its production numbers for the Switch by 20 per cent to contend with these bottlenecks, which are still impacting the global production schedule.
While we've yet to see the impact of these changes in Australia, keep an eye on the market as we head towards the Christmas period. If you're planning on purchasing a Switch this year, be wary of potential shortages.
While the financial reports revealed Nintendo's profits are down year-on-year — net sales are reported to be 18.9 per cent less than the last financial year, at 624.2 billion Yen (AU $7.4 billion) — Nintendo still considers the profits 'at a high level'.
Given the 2021/2022 FY period was marked by coronavirus-induced challenges and sparse new game releases, the numbers aren't too surprising. Last year's Nintendo financials were dominated by the global success of Animal Crossing: New Horizons, and there hasn't yet been any major blockbuster title to fill the void this financial year.
Read: Nintendo and 'Animal Crossing' Lead Surge Of Australian Videogame Market In 2020
Heading into the next quarter, Nintendo does have a few aces up its sleeve, though. Pokémon Brilliant Diamond and Shining Pearl are likely to be big hits, and titles like Grand Theft Auto: The Trilogy may make an impact on sales, too.
The artificial boost of the 2020 pandemic hit Animal Crossing: New Horizons means this quarter's Nintendo financial report pales in comparison — but the company is certainly capable of matching this success as we head into a new sales period.
Regardless of the results, Nintendo is in a very solid position and will likely make up the distance as Switch production and games development regains stability.