Stardew Valley developer Eric Barone (aka ConcernedApe) has set the internet aflame with a brand new screenshot from his upcoming game, Haunted Chocolatier. While previously, Barone has claimed this project is "quite a bit different" from Stardew Valley, with a fresh locale, mechanics, and gameplay, it appears these games may still share a narrative link.
In the image, an old man is seen waking in an oak bed, eyes half-shut as he says, "…I was just having the most terrible dream." While the context for this statement is unclear, the appearance of the character is notable – as he strongly resembles Grandpa, from Stardew Valley.
Grandpa kicks off the action of this popular farming sim, gifting his grandchild (you, the player) a farm plot in the titular valley, via a letter. He's also infamous for his sleeping habits, as when Stardew Valley launched, the rickety appearance of his bed quickly became a meme.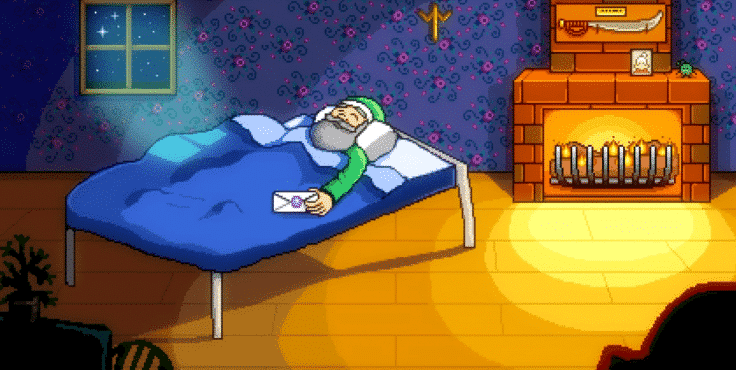 Read: Stardew Valley: 8 Strangest Unsolved Myths and Mysteries
While the new character in Haunted Chocolatier – known only as ??? – is depicted in a more complex art style, he does strongly resemble Grandpa, with a similar white curly moustache and beard.
The potential connection between these characters is now the subject of rampant speculation online, with keen Stardew Valley players penning a number of theories about what his appearance could mean. Some have speculated that Grandpa has a twin, or a brother, and that the towns of Haunted Chocolatier and Stardew Valley are home to one of each family member.
Some have speculated that Stardew Valley could be the dream this version of Grandpa is referring to. Then again, others have speculated that their resemblance is purely thematic, and that players will simply share origin stories and 'guiding' characters between Chocolatier and Stardew.
Whatever the case, the new screenshot is packed with fresh details that provide a tantalising glimpse at the future of Haunted Chocolatier, a game that's accompanied by high expectations, following the long-term success of Stardew Valley. So far, Barone has been fairly tight-lipped about what's to come, only revealing that Chocolatier will be a different story and adventure from its predecessor.
Read: Stardew Valley follow-up 'Haunted Chocolatier' revealed
We'll likely learn more about the game in the coming months and years, as solo development work continues.
Stardew Valley (Nintendo Switch)
Buy Now
GamesHub has affiliate partnerships. These do not influence editorial content. GamesHub may earn a small percentage of commission for products purchased via affiliate links.
09/24/2023 04:13 am GMT