The Forspoken demo for PS5 has been updated overnight, with Square Enix detailing changes in a recent livestream. According to the publisher, fan feedback was essential in making these changes, and allowed the team to improve the overall experience – just in time for the game's launch.
When players hop into the demo now, they'll discover larger text sizes for better comprehension, button mapping functionality, improvements to the lock-on system, and other various technical fixes. These tweaks should make for a smoother hands-on experience – although they're unlikely to change the various, divided opinions from audiences who've already jumped in.
Regardless, it's a clear sign Square Enix and developer Luminous Productions are taking feedback directly on board, and looking to launch Forspoken with the experiences of players in mind.
Read: New Forspoken PS5 demo divides audiences
In addition to announcing demo fixes, Square Enix has also now detailed the PC requirements for Forspoken. As expected, they're fairly meaty – with even the minimum recommendation suggesting a fairly modern PC is needed to run the game.
Here's what you'll need to run Forspoken on PC:
Minimum PC specs
AMD Ryzen 5 1600 or Intel Core i7-3770 @3.7GHz+ (CPU)
AMD Radeon RX 5500 XT 8GB or NVIDIA GeForce GTX 1060 6GB VRAM (GPU)
16GB RAM
150 GB HDD drive space
Recommended PC specs
AMD Ryzen 5 3600 or Intel Coore i7-8700K @ 3.7 GHz+ (CPU)
AMD Radeon RX 6700 XT 12GB or NVIDIA GeForce RTX 3070 8GB (GPU)
24GB RAM
150GB SSD drive space
Ultra PC specs
AMD Ryzen 5 5800X or Intel Core i7-12700K @ 3.8 GHz+ (CPU)
AMD Radeon RX 6800 XT 16GB or NVIDIA GeForce RTX 4080 16GB VRAM (GPU)
32GB RAM
150GB NvMe SSD drive space
Square Enix has also prepared a handy table to consult as you plan your next steps: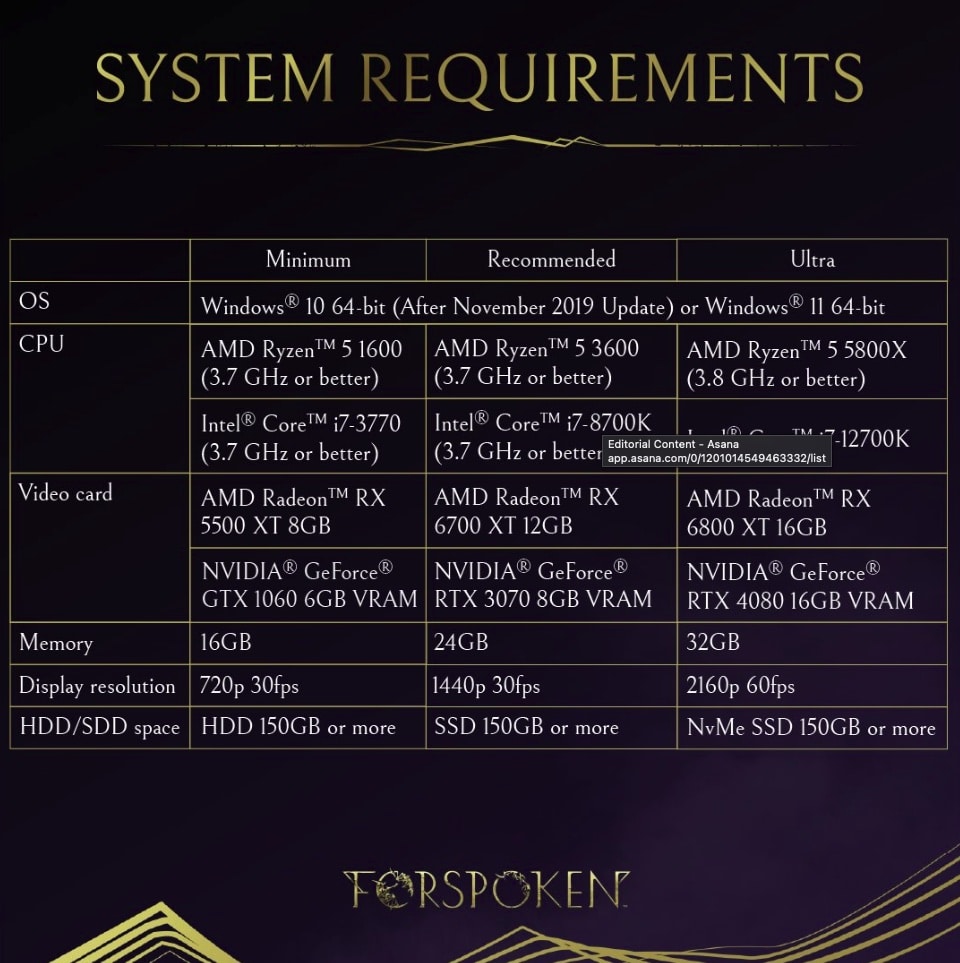 Should these specifications be any indication for the future of games in 2023, there's likely to be plenty of PC players in want of a new gaming rig soon. As games grow in size and scope, so do their hefty requirements. While Forspoken's minimum specs are relatively generous, those looking for the best experience will need a heartier machine.
Forspoken is set to launch for PlayStation 5 and Windows PC on 24 January 2023.