The world of The Elder Scrolls Online has spread so far it's nearly touched every corner of Tamriel, and beyond. Recent expansions have seen players journey to the lands of Elsweyr and Morrowind – and even to the western edges of Skyrim, remade from the ground up. In its latest chapter, The Elder Scrolls Online is taking players somewhere they've never been before: the mysterious High Isle, home to the Bretons and their many conflicts.
Here, players will be able to explore the Systres Archipelago, a locale filled with cliffs, waterfalls and medieval-inspired castles, and the cloistered city of High Isle itself, which values 'open markets and economic collaboration' despite a deep, dark history led by a High King whispered about for his hypocrisy and tyranny.
In High Isle, the Three Banners War is blooming, and it'll be up to players to tackle this conflict head-on as political battles rage, and the strange Ascendant Order begin to make their move.
This fresh chapter marks the first time players will be able to explore High Isle, which is just one of the excitements around the new content. According to Rich Lambert, Creative Director on The Elder Scrolls Online, exploring a whole new map means the development team finally has the chance to illuminate all the hidden corners of Elder Scrolls history.
The Bretons take centre stage in the new Elder Scrolls Online expansion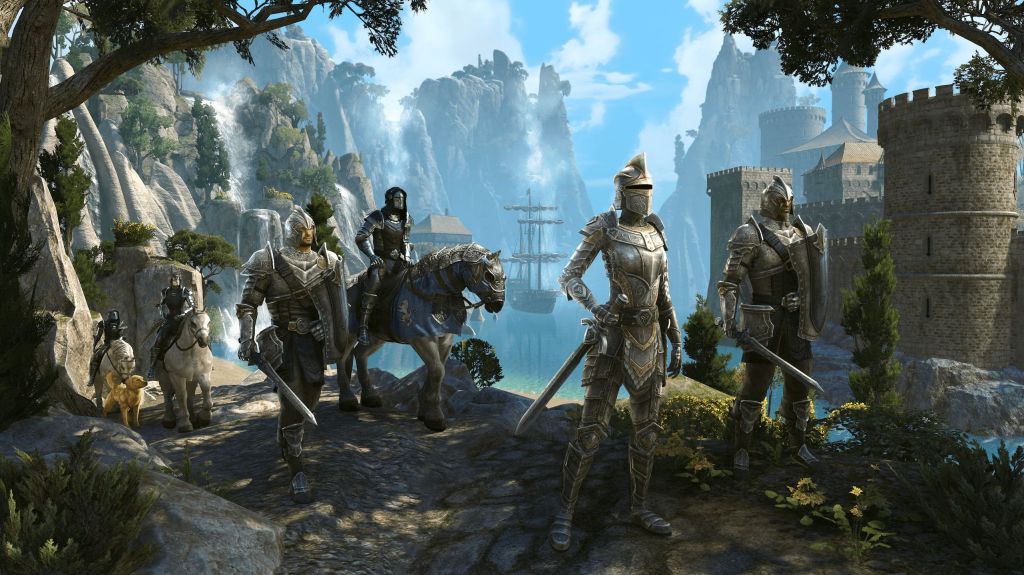 'The Bretons have never had a deep dive done of them in any Elder Scrolls game,' Lambert told GamesHub. 'They've always been left out, and they're cool. They have a really interesting background and we wanted to make sure everybody knew and understood that.'
Read: The Elder Scrolls Online asks nothing of you, and that's perfect
To create the city of High Isle from scratch, using only dialogue clues and disparate pieces of lore as a base, the team was inspired by everything that's come before, and by a need to make an Elder Scrolls chapter that felt 'lighter', while remaining grounded in its narrative.
'You look at the last few chapters that we've done – they've been a little bit more on the dark side … the gritty side of things,' Lambert explained.
'When we're looking at this year's story, one of the things we wanted to do was make it feel like it was bright, it was airy, but also more grounded. So as we started talking about story, and we started sitting down with the art team. One of the things that we wanted to make sure that came across with High Isle especially is that this is … the pinnacle of Breton high society.'
Lambert described High Isle as a 'resort town' where the affluent go on vacation – an upper class city filled with pomp and grandeur, inspired by medieval architecture and sensibilities. To create this illusion, game designers turned to real life places like the beaches of the Mediterranean for inspiration.
'The artists always start with real world concepts,' Lambert said. 'With the Breton architecture, obviously we had all of the influence from the base game, because we [already] had Glenumbra and Stormhaven … So we knew a lot about what the architecture was, but we wanted to take that to the next step.'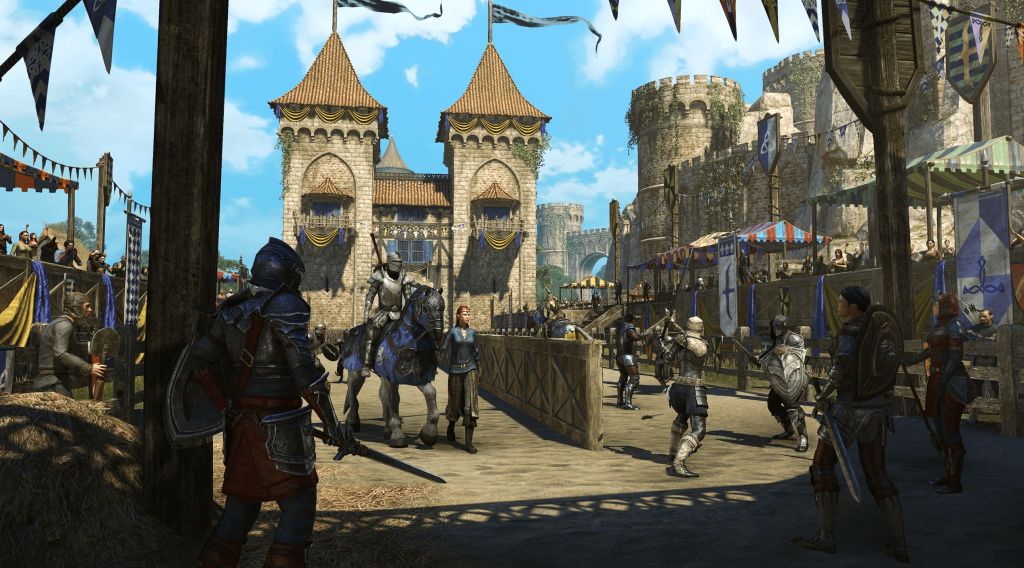 That 'next step' involved building out an entire cityscape, complete with lore-aligned characters, stories that spoke to dialogue clues laid out in nearly 30 years of Elder Scrolls lore, and a complex narrative process that required the team to continuously check in with Bethesda Game Studios.
'It's definitely a challenge to go through and take those threads, those nuggets, from the last 25 years of Elder Scrolls lore and weave them into the game,' Lambert said. 'Being able to create something from whole cloth is definitely a breath of fresh air and it's something different, but it comes with its own set of challenges as well … you still have to make it interesting, and ideally, something that doesn't break the lore that's already established.'
With titles like The Elder Scrolls 6 currently in development, work on The Elder Scrolls Online has naturally become a collaborative process as teams work to establish canon lore and maintain separation between projects.
'We consult with BGS [Bethesda Game Studios] on a regular basis. That's one of the things that we have always done and we will continue to do,' Lambert said. 'Whenever we're coming up with new stories or want to go to new locations, we sit down with the team and we talk to them about it. We talk about the pros and cons, and the lore "gotchas" have to worry about and work through there. It's a really collaborative process."
The Elder Scrolls Online is perfect for newbie players
The Elder Scrolls Online team hopes that High Isle will provide a fresh stomping ground for new and returning players looking for learn more about the world of Tamriel and its many inhabitants. As a curiosity in Elder Scrolls lore, it's one of the few cities players have yet to get the chance to explore, and that's just one of the reasons why now is the perfect time to explore the game.
With a mature game design that doesn't encourage grind or levelling, the world of The Elder Scrolls Online is more about sitting back and letting nature wash over you. There's dense dungeons to travel through, difficult enemies to tackle, and plenty of odd characters to meet along the way – but if you just want to spend your time wandering, you're welcome to do that as well.
From a new companion named Ember, a Khajiit who's had a rough life, to magical, waterfall oases, there'll be plenty to discover when The Elder Scrolls Online: High Isle launches in June.
'One of the beauties of the Elder Scrolls Online is that you can just jump right in,' Lambert said, on advice to new players. 'You can play anything in any order … Take your time. Explore the world. Don't worry about how quick you level, or what the "proper build" is … Just experiment, play the game, wander around, learn about the world, and learn what's there for you to play with.'
---
The Elder Scrolls Online: High Isle releases on 6 June 2022 for players on PC and Mac, and on 21 June 2022 for those on Xbox and PlayStation consoles. It'll arrive alongside new features, like a playable card game called Tales of Tribute, and a new Spanish-language text translation.