Sun is dawning over the waters of Solitude. The way the light hits each wave creates a crystal rippling that spreads across the lake and sends eddies around your feet. You bask in the splendour, and glance up at a city in the rocks above. There are people waiting there with quests for you to complete. Let them wait. This moment is perfect, and there's a warm glow in your chest that's growing by the minute.
This is real peace.
In The Elder Scrolls Online, peace is not only attainable, it's encouraged.
For the modern adult, the idea of getting into a large-scale, online multiplayer game is daunting. There are years worth of lore to learn. There are other players to befriend or overcome. Typically, there's a horror concept known as 'the grind'.
In your standard Massively Multiplayer Online Role-Playing Game (MMORPG), constant engagement is expected. With each passing week, your fellow players level up and pass you by. Without spending hours building up your characters, and taking on new quests and challenges, you run the risk of falling behind and not being 'ready' for new content as it comes.
Life is busy. It gets busier the older you get. To the eyes of a younger child, more lore, quests and story is wonderful. It provides an opportunity for deeper engagement, and to learn the intricacies of a creative and imaginative world.
Read: Elder Scrolls Online: The Burden of Building Someone Else's Fantasy World
As an adult, that imagination fades. Time fades quicker. You want satisfaction in smaller bites, and the opportunity to choose what you engage with, and for how long. The pressure to 'keep up' means little as your responsibilities catch up to your everyday life. There's only so long you can spend in a chair, or sit behind a screen.
Typically, that means adults avoid MMORPGs. They're too much to absorb, with not enough time to absorb them.
The Elder Scrolls Online is the exception to the rules.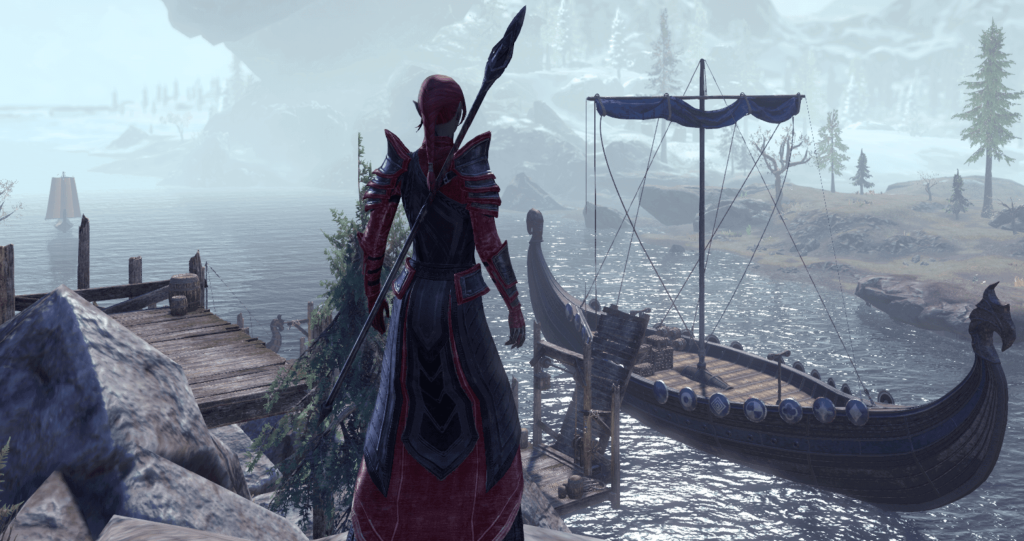 While the structure of the game hues close to traditional MMORPGs — you create your own character, and set off on quests in a wide open world — the major difference here is time pressure. While you get daily bonuses for logging in, there's no real, compelling imperative to log on every day.
There are daily quests, but none are essential. Timed challenges are also very rare, with the focus of the game being more on the quests you accumulate as you wander the plains, fields and marshes of Tamriel.
Quests never time out. You can gather as many as you like at a time. You can wander through towns, talk to people, and collect items. You can solve and puzzles and challenges. Then, you can leave it all behind and go explore somewhere new. There are no consequences for taking time to explore, and no real need to invoke 'the grind'.
You can leave quests by the wayside and just dip your feet in the ocean.
You can join an expedition with other players and go on a grand adventure through caverns and forests.
You can go hunt for ice giants, or take a soiree with a harpy.
There's no pressure to do anything, really — and that's why The Elder Scrolls Online is such a fantastic MMORPG for stressed, time-poor adults. You have the power to choose, and walking away has no consequences.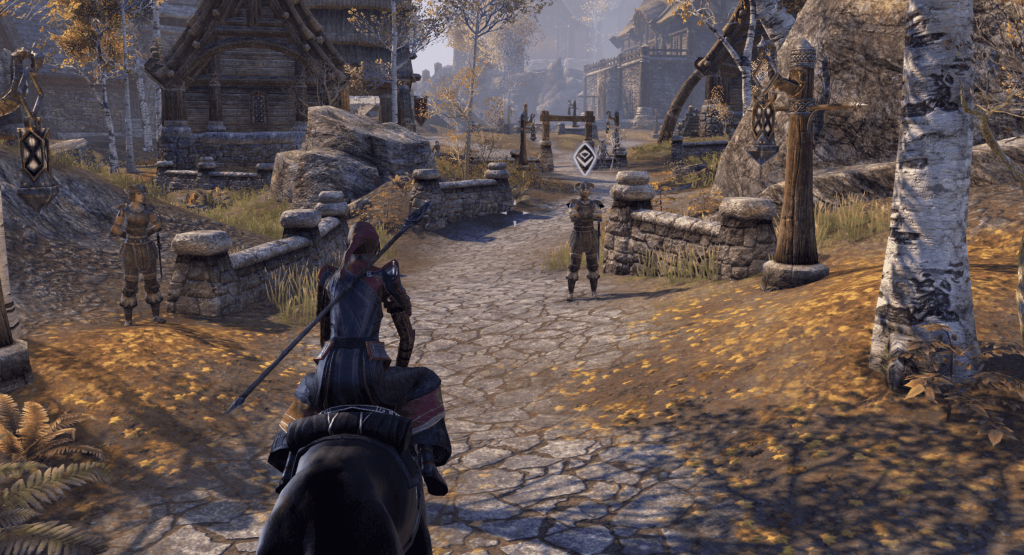 Levelling is important, but not essential. You can go it alone, or you take your friends.
I started playing the game several years ago, with the launch of the game's Summerset expansion in 2018. After three years, my character is still on level 12. Why? Because The Elder Scrolls Online genuinely makes running around and doing nothing so appealing.
Every new locale in the game is different. It's gorgeous. There are dense, foliage-covered forests and haunted cities coated in fog. There are great oceans, and tiny towns, and everything in between. It's all absolutely gorgeous — by far the prettiest locations you'll find in modern MMORPGs.
There's so much detail packed in, and it makes the game world feel alive, even when you wander for ages and find no other players along the way.
The nature of my day job means I'm generally time poor, like most other adults. The hours I have for personal gaming are limited, and I tend to play games more driven by story and goals. MMORPGs aren't typically on the menu.
But every time I feel like reaching for inner peace, The Elder Scrolls Online is the game I turn to.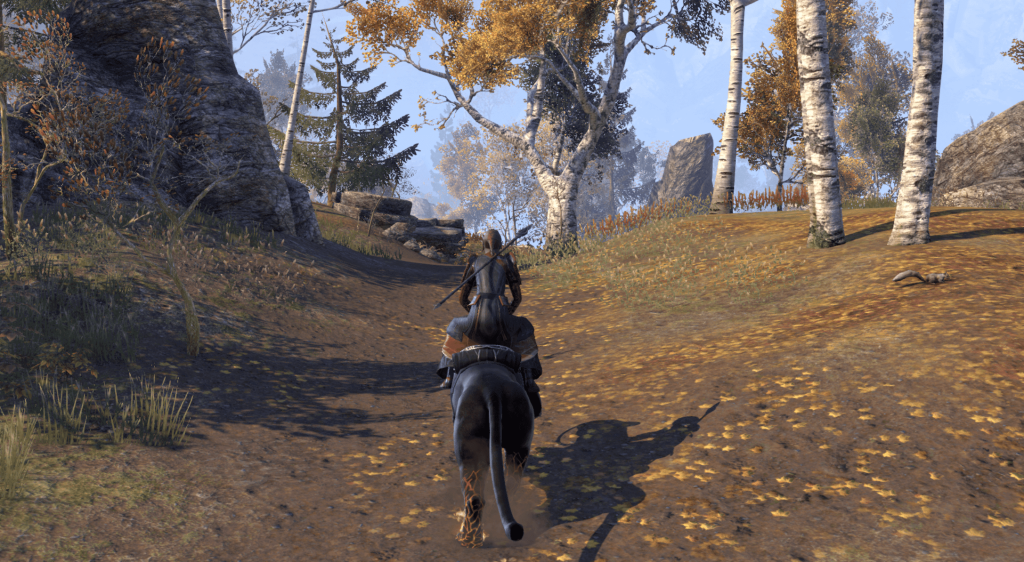 Now, that's not to say the game's quests aren't good. In fact, they're great. As solid and entertaining as Skyrim's own quests, and there's plenty more of them.
But the freedom of choice is far sweeter.
In my Elder Scrolls Online adventures, I'm not the all-conquering hero. I'm not the Dragonborn, or part of any ancient prophecies. There's no pressure to beat back evil, or to make a name for myself in a hideous and hostile world. In my Elder Scrolls Online adventures, I'm just an NPC, wandering a lonely and beautiful path.
The end of the world can wait for when I'm ready.
There are trees to see, and mushroom homes to furnish, and cute pets to collect.
Sure, there are also families waiting for reunions, and ship keepers in need of protection. There are kings needing your aid, and guards looking to deal with ruffians. But they can all wait.
The world of The Elder Scrolls Online moves slowly. It revolves around you. While you can go on epic quests with other players, liberate worlds, or discover Dwarven treasures, you can also just do nothing — and that's a perfectly valid choice.
The sun dawns over Tamriel, and you can watch it rise. Leaves fall from the trees, and the seasons change. For however long you want to spend on the sidelines, watching the landscapes shift, the game will wait.
You are the most important thing in The Elder Scrolls Online. It's a perfect little world that revolves solely around you, as it should.