In a surprising turn of events, Blizzard Entertainment and Danish fashion house Han Kjøbenhavn have showcased their new global collaboration at Milan Fashion Week; a high fashion, 'ready-to-wear' line inspired by the upcoming game, Diablo 4. The 'Chthonic Penumbra' fall/winter 2023 collection incorporates sculptural shapes, shiny vegan leather, and ripped fabrics to evoke the feel of the game through high-end garments.
The mostly monochromatic line features touches of chrome, as well as a handful of striking blood-red pieces, in accordance with the combined vision for the collection: make Hell 'a beautiful place.' One particular red dress with the signature sculptural elements of the fashion house incorporated into a nearly all-encompassing statement neckline seems to be directly inspired by Diablo 4's mother of Demons, Lilith.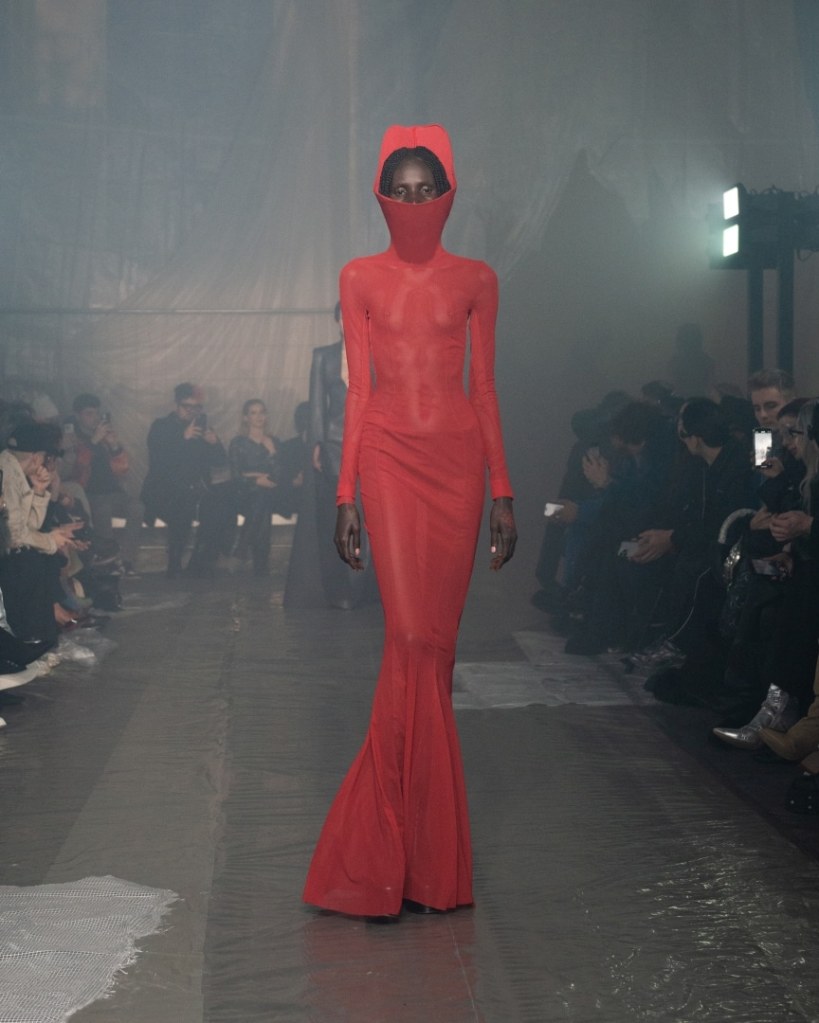 Other pieces feature tight-fitted bodysuits, sharp shoulder pieces, and long, sweeping dresses to create something otherworldly to fit the gothic world of Sanctuary.
Founder & Artistic Director for Han Kjøbenhavn, Jannik Wikkelsø Davidsen says that working with Blizzard Entertainment for the collection is 'one of the most natural collaborations' he has ever done. 'The visual expression in [Diablo 4] and how I work have a lot of similarities, and that has given me the opportunity to really combine the two worlds and the emotions attached.'
The runway show itself, held at Milan Fashion Week, was held in a dystopian-looking venue accentuated by brutal audio to evoke the feeling of Diablo 4 during the event. The game's Art Director, John Mueller, called the collaboration a 'highly exciting move' for the company. 'To be able to connect with the fashion world in such an authentic and original way has been a joy to be a part of.'
Read: Burberry teams up with Minecraft for high fashion line
While there's been a number of recent crossovers between the world of high-end fashion and gaming recently, the majority have remained mostly digital as opposed to manifesting as physical fashion lines. Over the last two years, Fortnite has collaborated with brands like Balenciaga and Moncler on skins for players wanting to sport designer fashion in-game. Final Fantasy XIII protagonist Lightning was also featured as a model for Louis Vuitton in their Spring-Summer 2016 collection advertising campaign, even taking part in an interview for The Telegraph about the collaboration.
Gaming and fashion crossovers have moved beyond the typical graphic tees (although those continue to be a mainstay for fans wanting to show off their favourite franchises), and it looks like Blizzard Entertainment is pushing the boundary further with this partnership. The ready-to-wear line will be available to purchase later in 2023. However, if you're not sold on purchasing a rubber bodysuit embroidered with the game's logo, Diablo 4 itself is set to release on June 6, 2023, with early access available in March 2023.