Suicide Squad: Kill the Justice League is one of a massive new wave of superhero video games landing on PC and consoles over the next few years – and while we don't have a firm release date yet, early trailers have shown off a fresh new take on the DC universe that's well worth a look. Between villain Brainiac, the 'evil' Justice League, and the game's misfit cast of main characters, there's sure to be some absolute madness in store.
Here's everything we know about the game, including how it ties into the Batman Arkham universe.
Suicide Squad: Kill the Justice League Release Date
Currently, Suicide Squad: Kill the Justice League is set to launch at some point in 2023 – after some rumours of a delay from its original release date of 2022, it was officially confirmed by Rocksteady Studios developers.
What's the story in Suicide Squad: Kill the Justice League?
Suicide Squad: Kill the Justice League is a third person action-adventure game where up to four players can run through a wide, open world as Harley Quinn, Deadshot, King Shark or Captain Boomerang as they attempt to save the world from a Justice League that's been brainwashed by villain Brainiac.
With no heroes left to save the world, it comes down to the so-called Suicide Squad to defeat parasitic aliens, put down the 'evil' Justice League, and save the world from descending into total chaos. As with most other depictions of the Suicide Squad, the team will be working with Amanda Waller's A.R.G.U.S. crew, likely against their will.
The game can be played solo, or in co-op multiplayer mode with other characters controlled by an AI.
Who is the Suicide Squad?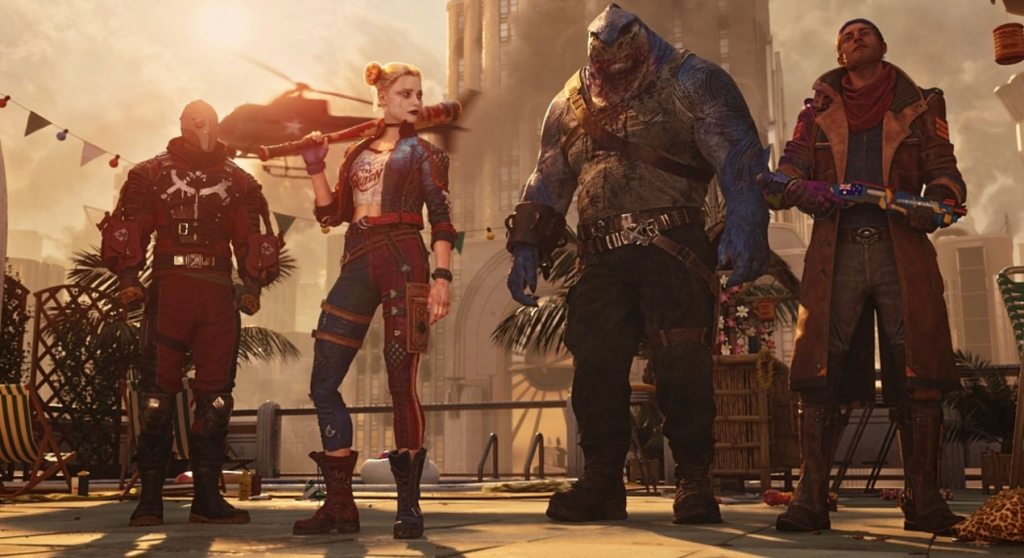 This is the third iteration of the Suicide Squad we've seen outside the comics so far, with 2016's Suicide Squad and 2021's The Suicide Squad both presenting new team lineups. The version in the game consists of Harley Quinn, King Shark, Deadshot and Captain Boomerang.
Harley Quinn (Harleen Quinzel) is the most-known character of the four. She began as a romantic partner for the Joker, and has since evolved to become a loud-mouthed, shit-talking heavy-hitter with wild acrobatic skills and weapons prowess. While she has no superpowers to speak of, she's extremely wily and quick on her feet.
Deadshot (Floyd Lawton) is a marksman with such accurate precision he's known as the deadliest assassin in the DC Universe. He features in the Suicide Squad often as he's expressed a frequent desire to die in spectacular fashion. Given the earth-shattering events of the game, he may just get his wish.
King Shark (Nanaue) is a humanoid shark, who's believed to be the son of a Shark God. With superhuman strength and invulnerability, all the powers of a giant shark, a healing factor and enhanced senses, he's a force to be reckoned with. While he doesn't boast a high level of intelligence, his status as an absolute wrecking ball makes up for it.
Captain Boomerang (George 'Digger' Harkness) is an Australian mercenary who grew up poor in Victoria's Korumburra. So his backstory goes, he made a living selling boomerangs during this time, eventually becoming so good at them, he utilised the weapon to kick off a criminal career. As with many comic creations of the 1960s, his character was informed by stereotypes and a lack of cultural understanding.
Read: Representation in video games starts offscreen
What members of the Justice League are in the game?
Wonder Woman, The Flash (Barry Allen), Green Lantern (John Stewart) and Superman have all been confirmed to appear in the game, with all but Wonder Woman depicted as falling to Brainiac's control.
So far, it's unknown whether any additional heroes will appear, but as with most comic video games, you can expect some cameos and surprises along the way.
Is Suicide Squad set in the Arkhamverse?
Strangely enough, Suicide Squad: Kill the Justice League is set in the same universe as the Batman Arkham games, meaning the Harley Quinn you see here is the same Harley from Arkham Asylum, City, Origins and Knight. But – and there is a big but here – several changes to the cast mean that Suicide Squad is quite inconsistent with the rest of the Arkhamverse.
Deadshot, who stars as one of the primary characters, is depicted as a Black man in the game. In the Arkham series and its tie-in film, Assault on Arkham, he's white. It could be that this version of Deadshot is a new character, and not Floyd Lawton, but so far this has not been made clear.
In addition, King Shark is wildly different from his Assault on Arkham counterpart. In the tie-in film, which is supposedly 'canon' to the original Arkham games, King Shark appears to be a cyborg metahuman with sharp, mechanical teeth and a long fin-like mohawk. The King Shark in Suicide Squad better resembles an actual shark and is not human at all.
Whether these inconsistencies will be explained or ignored remains to be seen, but either way it's very odd that the game is technically part of the Arkhamverse when there's so many significant character changes.
Does Suicide Squad connect with Gotham Knights?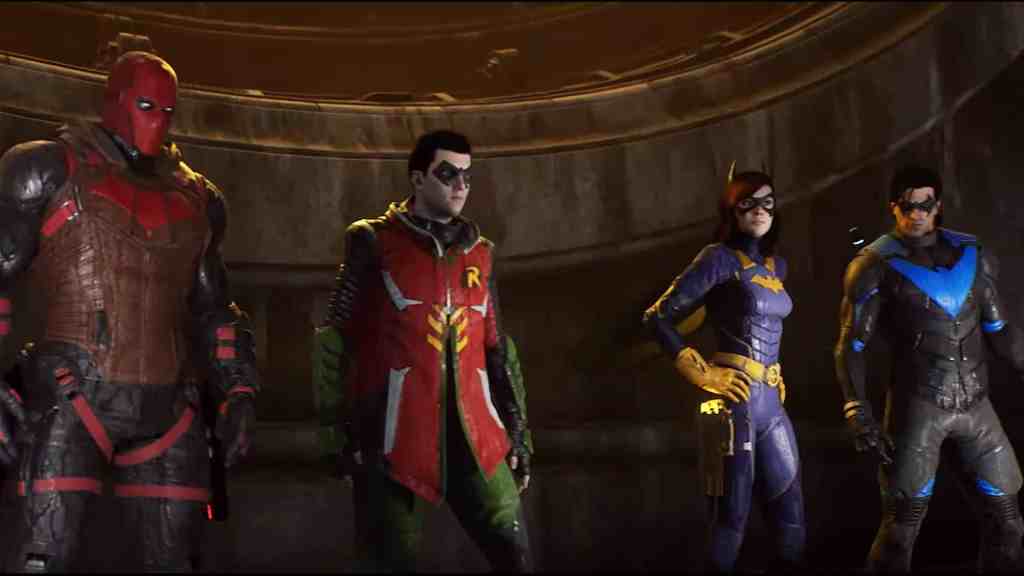 For now, Suicide Squad appears to be disconnected from fellow DC video game Gotham Knights, which is set to launch in 2022. This game is not set in the Arkhamverse and represents a different continuity, meaning it's unlikely either title will clash or crossover.
Read: Everything we know about Gotham Knights
At this stage, both are telling self-contained stories that don't tie into a wider, shared universe, or into the film and TV DC Extended Universe (DCEU). Given there's little crossover between the titles – Batman is dead in both versions of their universes, so the Knights have few ties to the Justice League – this could change in future.
---
In the years ahead, there'll be plenty of comic book video games to look forward to, from DC's Gotham Knights and Suicide Squad: Kill the Justice League to titles like Marvel's Spider-Man 2, Wolverine and Midnight Suns. After conquering the movie box office, it looks like it's high time for the comic video game to thrive.