The history of queer art, particularly queer video games, is poorly documented – thanks to decades of neglect, and selective curation with often purposeful ignorance. But queer stories can tell us so much about life, culture, and creativity. Each tale reflects the values of its times, and represents progress in its many forms. Pride at Play, a new games-focused exhibit showing at the University of Sydney during Sydney WorldPride 2023, aims to correct this imbalance, with a public showcase of queer games and history open to everyone.
With the opening of Pride at Play, the Macleay Building (A12) at USYD has become a thriving hub of activity. On walls littered with screenshots and interviews with queer game developers from Australia, New Zealand, Japan, the Philippines, and Malaysia, the dense history of queer games is celebrated enthusiastically.
Unpacking's tale of self-discovery and queer love is spelled out, with its path to award-winning success explained as part of a wider movement towards acceptance of mainstream queer stories. 'I feel that queer games can be just as commercially viable as any other game,' Wren Brier, developer at studio Witch Beam shared with Pride at Play. 'There are publishers and investors out there who are interested in bringing different stories and experiences to players, and queer stories are a good fit for that.'
Read: Unpacking's developers discuss homes as reflective and human places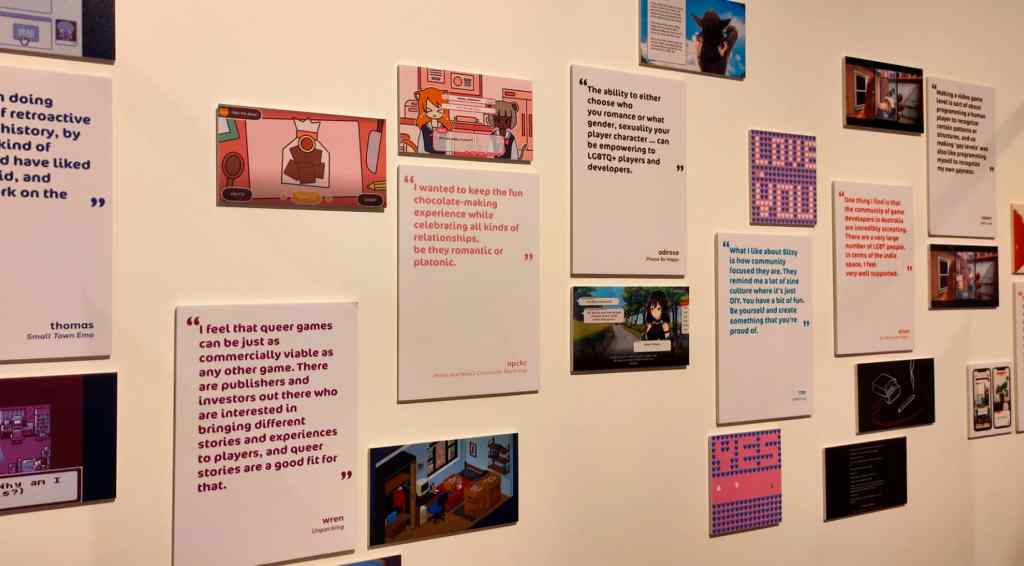 Adirosa, one of the developers of Please Be Happy, a romantic adventure about a young Korean fox spirit who finds a place in a magical version of Wellington, New Zealand, shared their journey of empowerment in the Pride at Play showcase. 'The ability to either choose who you romance or what gender, sexuality, your player character … can be empowering to LGBTQ+ players and developers,' Adirosa said.
Likewise, Thomas of Fnife Games described how Small Town Emo, a Game Boy-style adventure game about working through an awkward crush, allowed them to explore their own identity, and embrace a sense of belonging that was previously hard to grasp. 'I feel like I'm doing some kind of retroactive rewriting of history, by making the kind of game I would have liked to see as a kid, and having it work on the hardware,' Thomas said.
Elsewhere in the Pride at Play showcase, other queer stories were on full display, painted on walls and shared on monitors inviting keen viewers to engage with winding explorations of gender, sexuality, and the human (and occasionally not-so human) need to connect.
Via a projector, a group of attendees sat around playing Lilypad Days, an adorable pixel adventure about a young frog stuck in lockdown in the animal kingdom, looking for love in the world of online dating. The 'queer-positive' game had an entire group in the Pride at Play media session enraptured, as each dialogue choice played out.
It wasn't the only game to attract an audience, with plenty of folks gathered around computer screens – and the awaiting tabletop. There was plenty on show, including a number of standouts:
Each of the queer games shared in Pride at Play spotlight aspects of lived experiences – deep, emotional connections, the impact of heartbreak, the intricacies of the human body, and the importance of belonging. Taken as a whole, the exhibit presents a wonderful insight into the modern queer experience, while also enlightening visitors to a history that's often been forgotten.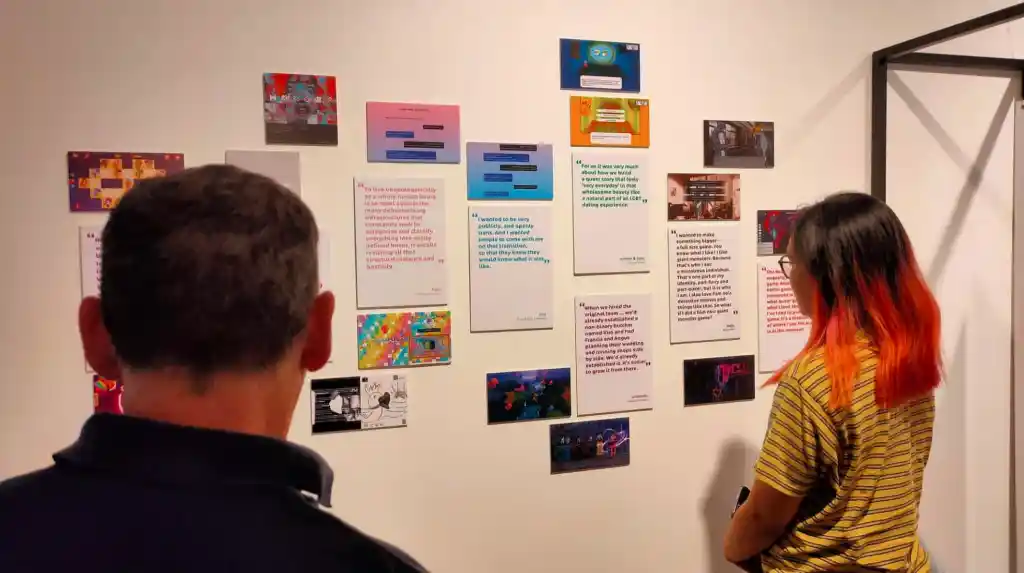 As detailed on scrolls decorating the Pride at Play venue, Australia's queer games history is complex. According to intensive research conducted by the Pride at Play curation team, led by Xavier Ho, Australia's earliest notable queer-focused game was My Ex-Boyfriend the Space Tyrant, a point-and-click adventure developed by Luke Miller in 2012.
While queer games have long been distributed in Australia, prior to the 2010s there appears to be very few recorded instances of Australian-made games focussing on the queer experience. Thankfully, this soon changed – and did so rapidly.
In 2014, 2K Australia developed Borderlands: The Pre-Sequel, which featured a gay woman (Athena) as a playable character. Her partner, Janey Springs, also appears in the game.
Blockbusters were later followed by many independently-developed projects, with teams for these game typically featuring one to four developers with minimal budget, using easy-to-access game development tools like Bitsy, Twine, and Ren'Py to share their individual stories.
'As self-publishing games online has become easier over the past decade, Australian developers have had much greater access to international markets – allowing them to create niche titles with the confidence they'll reach audiences overseas,' the Pride at Play team shared, in a banner display. 'This led to a massive increase in the number of queer games produced here, and helped connect local queer developers with their global counterparts through events like GaymerX Australia (2017).'
As the Pride at Play team points out, this ease of access, and the growth in new technologies, has allowed queer games to thrive, with some garnering critical and international acclaim in recent times. These stories don't exist within a vacuum, and being able to share them with the world allows queer people to connect, and to see their experiences reflected in the eyes of other queer people around the world.
It's why exhibits like Pride at Play are so important. They're a chance to learn more about hidden history, but also to understand the importance of humans creating art. Through sharing creativity, and stories which have long been sidelined, the Pride at Play exhibit enables a deeper understanding of queer lives, and how individual stories can connect us all together, despite distance.
---
Pride at Play is on showcase at the Macleay Building (A12) in the University of Sydney, Camperdown NSW in Australia until 4 March 2023. If you get the chance, you should certainly visit the exhibit before it closes.