The latest DLC Kits for The Sims 4 have seemingly leaked, with cover artwork for the Poolside Splash and Modern Luxe Kits discovered by Twitter user @RavenAngel888. While the legitimacy of the images is yet to be confirmed, the artwork and theming certainly aligns with past Kit releases, sharing a similar cartoonish style and design.
Update 7/9: EA and Maxis have now confirmed details about the upcoming kits. Read about these new additions on GamesHub.
Details for these Kits remain scarce – but there's a lot we can learn from analysing their cover artwork.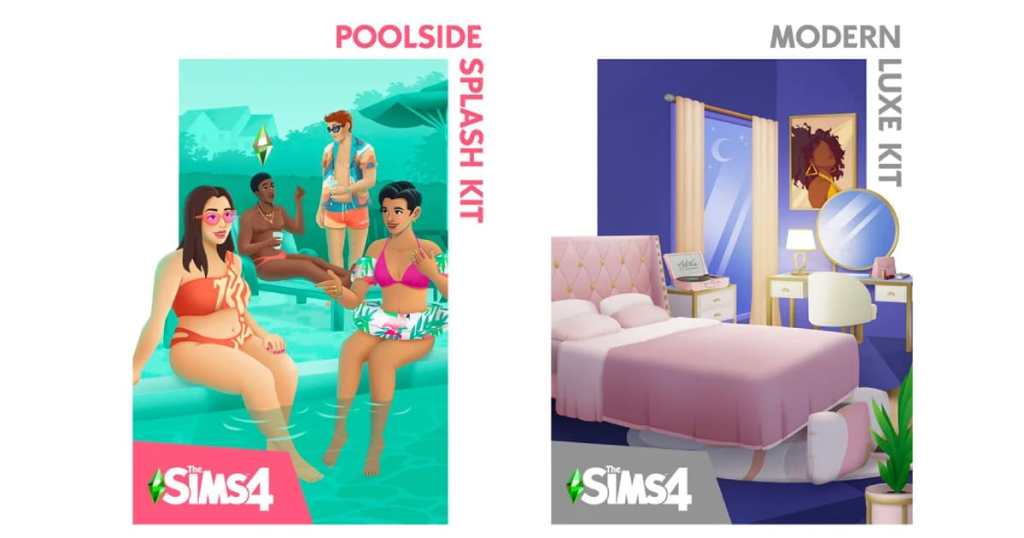 The Poolside Splash Kit is clearly themed around pool parties – with the artwork suggesting the Kit will contain new swimwear and accessories, including tropical floaties, and a pool ring. These may be purely cosmetic, or they could be interactable items. Alongside the floaties, the Kit will introduce new tropical shirts, sunglasses, and board shorts.
Meanwhile, the Modern Luxe Kit appears to feature new bedroom items and accessories with a minimalist, fashion-forward aesthetic. The Kit includes a new bed with a plush headboard, a cute record player, a desk-bound lamp, a new pot plant, and a range of other accessories for a fresh bedroom makeover.
Read: The Sims 4 Horse Ranch: Every major new feature
As with other Kits, it's expected that both the Poolside Splash and Modern Luxe Kits will include a handful of fresh accessories for Create-A-Sim and Buy Mode respectively, freshening up the game. Of the newly-leaked Kits, neither feels particularly essential – although Poolside Splash will likely add in some much-needed variety in the swimwear department. Those looking for a snazzier bedroom setup will likely also find the Modern Luxe Kit fairly handy.
At this stage, a firm release date for The Sims 4: Poolside Splash and Modern Luxe is yet to be confirmed, however, given these leaks have now been spotted, we expect official news will be just around the corner. Stay tuned for more news about the latest Kits, Game Packs, and Expansions coming to The Sims 4.