EA and Maxis are on the cusp of making every horse lover's dream come true, with the launch of The Sims 4 Horse Ranch expansion now imminent. This 'cowboy' themed pack will invite players to live on a home ranch, raising horses and other new animals, like baby goats and sheep, while preparing for equestrian competitions, saloon socials, and other daily hangouts.
With a fresh and novel theme, there's a lot to love about Horse Ranch, which looks to completely transform the everyday lives of your Sims with plenty of new and returning activities, and a whole bunch of cool aesthetic changes.
Read: The Sims 4 Horse Ranch gets official trailer, new details
Ahead of the expansion's launch, EA and Maxis gave media a deep dive look into what's to come. Here's every major Horse Ranch feature revealed during the showcase, and what to expect when the pack releases on 20 July 2023.
---
The Sims 4 Horse Ranch: Features
---
Ranches are fully customisable
Sims will be able to establish themselves in a new location, Chestnut Ridge, when Horse Ranch launches. Here, they'll be able to set up their own ranch-style home, with a variety of customisation options available. For example, Sims will be able to live in a log cabin, a modern farmhouse, or a sunset-hued mansion.
You'll design every part of your ranch, and decide where to put your horse and animal stalls (indoor or outdoor) and also decide how you'll live and make money. Horse Ranch re-introduces the ability to create Nectar (aka wine or juice) using a Press – and you can either sell this or enjoy it for yourself. If storing the Nectar, you can place a special rack to display your creations.
You can also make space for sheep and goats with this expansion, which each provide Sims with goods to sell or use (wool, milk). On goats – you'll be able to 'scare' your goat to make them faint, if you're feeling particularly mean. They, along with sheep, will also be able to help with your gardening.
Animals in this pack will have unique interactions with pets from other expansions.
---
Ceilings are now paintable
As an aside, The Sims 4 team confirmed paintable ceilings will be available in a free upcoming game update. This feature will not be tied to Horse Ranch, but will arrive on a similar timeframe.
---
Horses will be complex to raise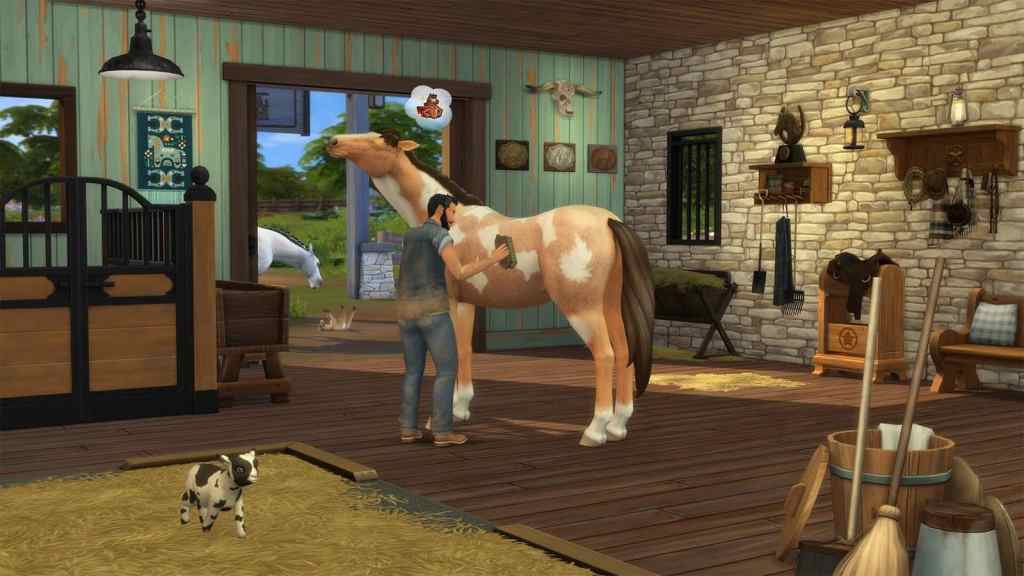 Horses are the most complex animal included in the Horse Ranch expansion, and will require great care and attention from players. Those keen to have a horse companion without the fuss will be able to hire a 'Ranch Hand' to help out with horse-raising chores.
Notably, you'll be able to get your own horse by purchasing one, breeding existing horses, or rescuing them from the wild. Foals delivered by breeding will have special traits based on the prowess of their parents.
When your horse is sturdy and strong, you'll be able to train them in a range of skills (Temperament, Agility, Endurance, and Jumping), which can then be tested in official equestrian competitions in Chestnut Ridge. Sims will also need to work on their horse-riding skills to ensure success.
You'll be able to earn Simoleons from horse competitions, and with enough wins, you'll also be able to enter the Ultimate Horse Championship.
When you're not training horses, you'll be able to team them to play with items like bouncy balls.
---
Horses will be highly customisable
A brief look at customisation in The Sims 4 Horse Ranch revealed horses will be extremely customisable in Create-A-Sim, with plenty of colour palettes, breeds, and accessories available. You can have a brown horse, a white horse with dappled spots, a black horse – basically any horse you could ever want.
As for details you can customise, you'll be able to set breed, pelt style, mane and braiding style, tail style, horse stature and size, overall colour palette (and yes, you can have fantasy colours), and wearable accessories. Paint Mode lets you get deeper with customisation, with freely-paintable horses.
Available accessories include: saddles, buckles, bridles, hats, blankets, flower leis and headdresses, ribbons, and leg warmers. You can also attach a unicorn horn which glows with 'sparkle magic' and comes in multiple colours. The horn doesn't appear to have non-cosmetic gameplay impacts, but it looks very fun, regardless.
Each horse will have three main traits to choose from, including: Independent, Brave, Aggressive, Defiant, Free-Spirited. These are set in Create-A-Sim or inherited from parents, and there are also extra 'secret' traits that can be discovered in gameplay.
---
The Sims 4 Horse Ranch spotlights cowboy fashion
As with other expansion packs, The Sims 4 Horse Ranch will feature new clothing and accessories for your Sims, too. So far, we've seen a range of cowboy-themed outfits included in the pack, like a floral cowboy shirt, pants with chaps, new cowboy hats, stained denim jackets, lots of flannel and vests, thick wooly jumpers, flannel crop tops, overalls, and outfits with multi-coloured bandanas.
Many of the new outfits are for warm weather, and give the impression that your Sims have been hard at work on their home ranches.
---
Sims can now host 'Ranch Gatherings'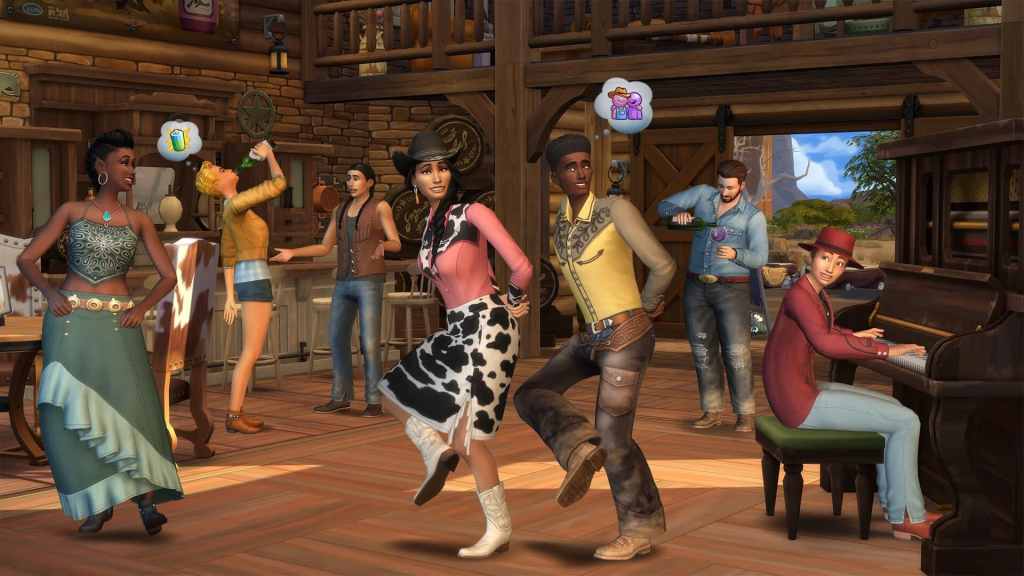 Introduced in The Sims 4 Horse Ranch is a new special event, known as the Ranch Gathering. This involves dancing and partying with your friends and neighbours. There's also a new celebration event on the calendar: Ranch Animals Day, where Sims can celebrate their animal pals.
Beyond these events, Sims will be able to meet new people and hang out by travelling to the Chestnut Ridge bar, or by exploring the Chestnut Ridge Equestrian Park.
Sims can also make a mysterious new friend in Galloping Gulch, a region with a secret cave.
---
New Barbecue: Fire Box
The Sims 4 Horse Ranch will introduce a new 'fire box' barbeque type which allows Sims to cook a range of new meals on a grill stovetop. This is an outdoor cooker with an open top, more akin to a camping stove.
Sims will be able to cook meals including Pinchos, Pan de Campo, Hot Dogs, Grilled Plantains, Salmon, Grilled Chicken, Pollo a la Brasa, Wild Nut Soup, Veggie Burger, Tofu Dogs, Steak, Three Sisters Chilli, Elote, Churrasco, Choripán, Chimi, Chicken Chimichurri Skewers, Bison Stew, BBQ Ribs Plate, and Asado.
It appears this selection of new foods is the largest ever introduced in an expansion pack – and with some mouth-watering options, digital foodies now have much to look forward to. As noted by the Sims team, many of the new recipes are inspired by Native American culture.
---
Chestnut Ridge is a grassy desert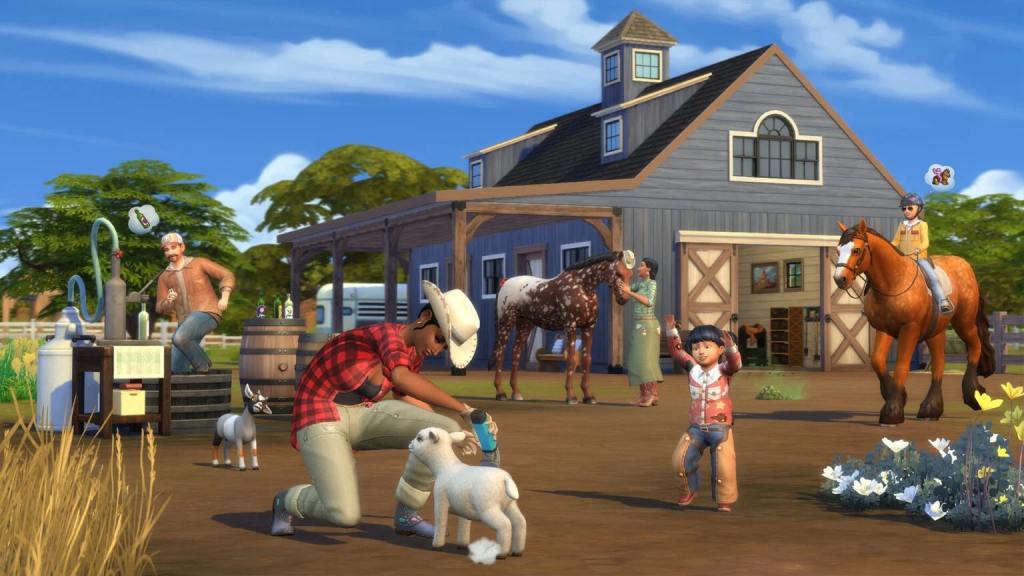 Chestnut Ridge, the new neighbourhood introduced in The Sims 4 Horse Ranch, is inspired by cowboy Westerns and the idyllic image of the American prairie. Its terrain combines desert landscapes with grassy knolls, with plenty of wildflowers, trees, and cactuses. You'll also find prairie grass along the way, and this can be harvested for horse feed.
In the neighbourhood, you'll find a handful of mansion-style houses, as well as smaller caravan-like homes, and the aforementioned Equestrian Park, Equestrian Competition Centre, a thriving town square, a woody bar, and a saloon-style General Store. You'll be able to travel this world on your horse, gaining horse-riding skill as you roam (if you have a poor relationship with your horse, it will buck you until you're properly friends).
A brief world map overview revealed Chestnut Ridge contains three main regions – a lower valley, the main valley where the Equestrian Centre and local entertainment spots are located, and an upper mountainous valley (inspired by Utah and Arizona) where secrets hide. There are plenty of winding trails between these regions.
---
You'll be able to jump in with these new game features when The Sims 4 Horse Ranch launches for PC and consoles on 20 July 2023.