After years of preparation, South Australian game development studio Mighty Kingdom has launched on the Australian Stock Exchange. The company went public on Wednesday 21 April; on their second day of trading, Mighty Kingdom is sitting at a share price of $0.295, which puts its current market capitalisation at $26.9 million. The decision to go public has been a long-term plan for Mighty Kingdom, who raised $18 million in IPO funding over the last year. 
Mighty Kingdom is the second Australian games company to go public in as many years, following Melbourne-based PlaySide Studios' launch on the ASX towards the end of 2020. PlaySide studios boasts a market cap of $119.12 million at the time of writing.
READ: Mighty Kingdom Turns Ten: An interview with CEO Philip Mayes
In an interview with CEO and managing director Philip Mayes earlier this year, Mayes told Screenhub that the decision to go public would accelerate the ambitious independent studio's trajectory of growth, which has already seen it grow from three employees to a 103 in the last decade. 
'We have pretty ambitious plans about what we want to do over the next 10 years,' he said, continuing: '[going public] will be the catalyst for another wave of growth for Mighty Kingdom, and the products that growth generates will then fuel the next wave. This is a very, very exciting time for us.'
'[Going public] will be the catalyst for another wave of growth for Mighty Kingdom, and the products that growth generates will then fuel the next wave.'
CEO Philip Mayes
Since its formation in 2010, Mighty Kingdom has released over 50 games that have been downloaded more than 50 million times. Their games are a mix of original IP like Wild Life and Ava's Manor, and licenses from popular brands, like LEGO, Disney, Mattel, and Sony.
The studio is currently working on Conan Chop Chop, a roguelite set in the world of Conan the Barbarian, which will be published by Funcom later this year. They are also in the early stages of developing an original IP for console titled Young Witch, the beta release of which is scheduled for 2022.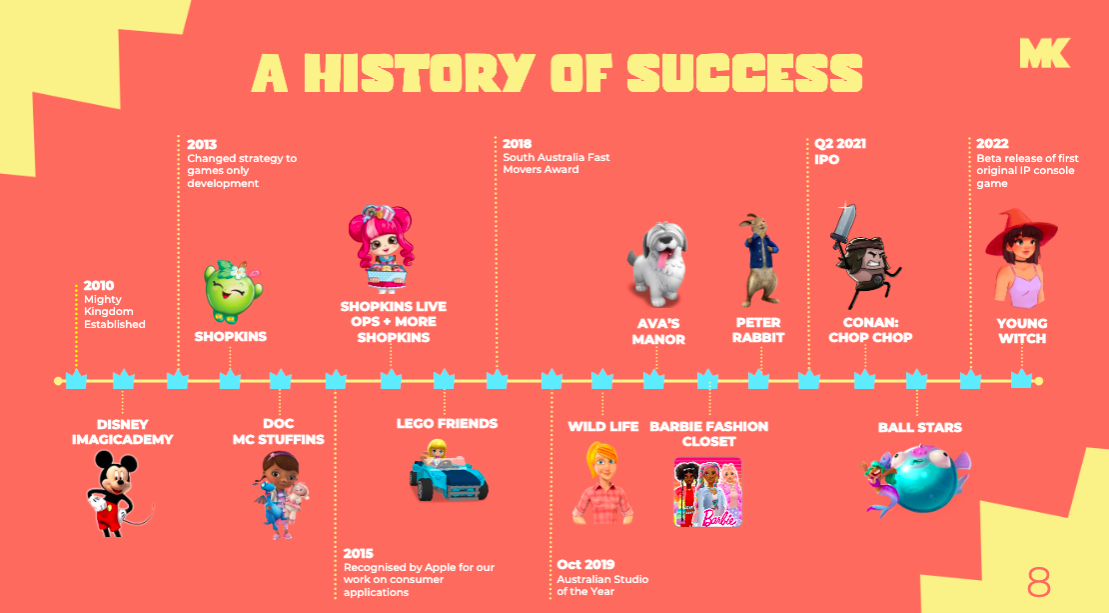 Mayes told Screenhub that this scalable approach has always been core to the company's values of high growth and low risk, despite the games industry's reputation for volatility:
'There's a lot of space here to play and grow very successful and sustainable businesses where you don't have to rely on having The Hit every time. And so for me, I thought the way to manage risk in this space is to do multiple products, and to do it with scale.
'In other words, the larger you are, the more products you're creating, the less reliant you are on a single product being successful.'
READ: IGEA survey shows promising games industry growth, but gender gap remains 
Mighty Kingdom have also revealed that the studio has entered into a multi-year partnership and publishing arrangement with East Side Games, a subsidiary of mobile game development group LEAF Mobile Inc. East Side Games have previously made mobile games for franchises like Archer and It's Always Sunny in Philadelphia. The first collaboration between studios centres on a single mobile game for a well-known science fiction franchise, the details of which are yet to be announced.
Mayes said that on behalf of the studio, he was 'thrilled to be partnering with a company that has been so successful in recent years developing engaging mobile games in the North American market.'
He continued: 'We're excited about the potential this sci-fi franchise offers and can't wait to share more details about this project!'