Pokemon GO developer Niantic has soft-launched its next free-to-play augmented reality game, Marvel World of Heroes in Australia. Based on the Marvel comic book universe, it casts players as an accidental hero that must team up with famous Marvel heroes, clean up crime in their neighbourhoods, and fight supervillains in the process. It's now available on the Australian iOS App Store, and Google Play Store.
The Australian soft-launch of Marvel World of Heroes comes shortly after the global launch of Niantic's Tamagotchi-inspired game, Peridot.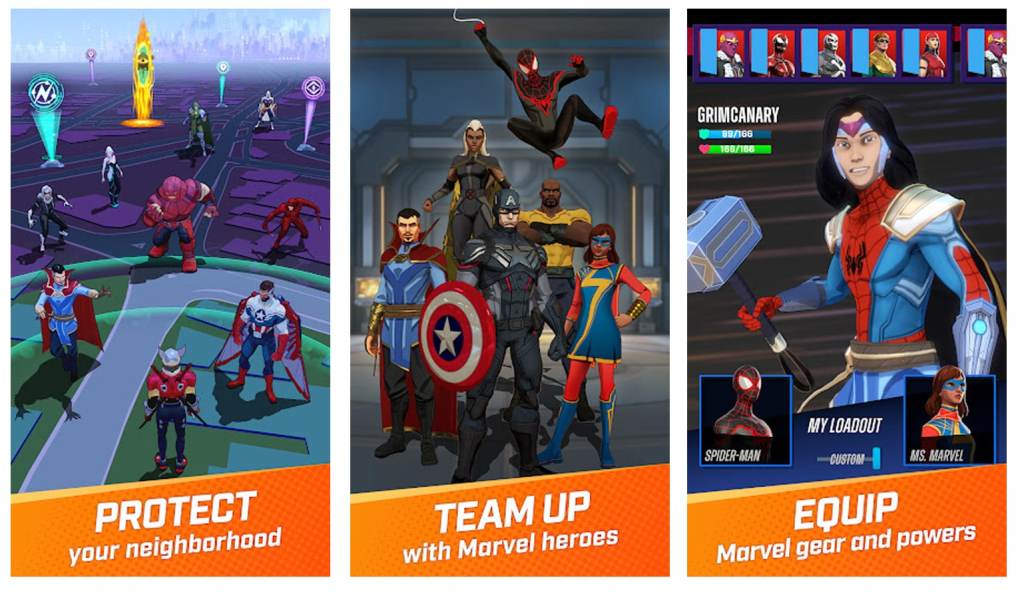 Like Peridot and Pokemon GO, Marvel World of Heroes encourages you to go out into the real world (the 'Real-World Metaverse,' as Niantic puts it).
Patrolling your neighbourhood will reveal packs of bad guys to fight in cinematic, turn-based battles with flashy animations.
The combat system is relatively simple – each character has an armour meter and a health meter, and players will need to use a mix of ranged and melee attacks to strategically whittle away the assailants. Players can bring two teammates into battle – the game prominently features newer Marvel heroes such as Spider-Man (Miles Morales), Ms. Marvel (Kamala Khan), and America Chavez, though much-beloved characters like Wolverine, Iron Man, Venom, and several of their associates are also available to eventually unlock.
The game's progression revolves around a gacha/loot box system, which randomly provides you with currency, weapons, costume parts, and health replenishment – which allows you to keep taking on battles. Loot boxes can be found after various battles, though they will need keys to unlock – keys which are gradually granted over time, or can be purchased from the store.
From initial impressions, Marvel World of Heroes looks like a far more involved and action-packed twist on Niantic's augmented reality game concepts. Given the strong appeal of Marvel properties, it's likely the company has high expectations for its success when it eventually sees a global release.
However, it's worth noting the company's foray into Harry Potter, Wizards Unite, was shut down after just three years in operation.
On the opposite spectrum, Pokemon GO remains a force to be reckoned with, years after its initial boom.
A recent report from Mobilegamer suggested Niantic's monthly revenue from the title had dropped to its lowest point – reportedly US $34.7 million in April – though Niantic disputed this claim. 'Our revenue so far in 2023 is up on last year,' the company told Eurogamer.