Wizards of the Coast has announced yet another major Magic: The Gathering crossover, with The Lord of the Rings set to take centre stage in the new Universes Beyond: Tales of Middle-earth expansion. The first set launches in June 2023, and it's absolutely jam-packed.
Unlike other MTG pop culture crossovers, this is the complete kit and caboodle, with new Draft, Set, Collector, and Jumpstart boosters set for release alongside constructed Commander decks, and a Starter Kit for newbie players, as well as Gift Bundles, Scene Boxes, and a special Secret Lair drop.
It appears these cards will be compatible with the base Magic: The Gathering game and other decks in the Universes Beyond series – which means that yes, you should be able to helm your own crossover stories with The Walking Dead, Godzilla, and Street Fighter, when Tales of Middle-earth hits the market.
The set is expected to include a range of iconic characters from The Lord of the Rings, and dive deep with this franchise's mythos.
Read: First impressions of Phyrexia: All Will Be One, the latest Magic: The Gathering set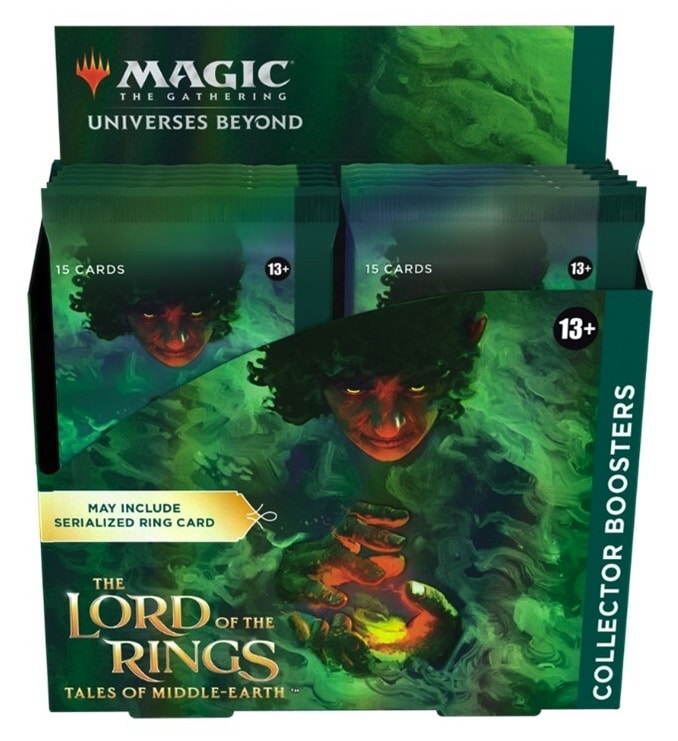 The June 2023 releases for Tales of Middle-earth include:
Starter Kit – A card box containing two themed decks.
Jumpstart Boosters – Individual card packets featuring 'unique themes'. Two of these packets can purchased and played together for a complete experience.
Prerelease Pack – A box set available only at local game stores.
Draft Boosters – Individual card packs with a variety of cards included.
Set Boosters – Individual card packs with an adventure focus.
Collector Boosters – Individual card packs with a higher drop rate of rare cards, shiny foil cards, and special alternate-art and alternate-frame cards.
Bundle & Gift Bundle – Two separate fan kits including boosters and other surprises.
These releases will reportedly be followed by additional Tales of Middle-earth content in November 2023. The 'Secret Lair' special drop, and new Commander decks will likely be included in this late-year drop.
Until then, keen players can look forward to seeing more from this hearty Lord of the Rings crossover, which should introduce familiar faces and scenarios to the beloved Magic: The Gathering series.
Given the fandom backing the long-running LOTR franchise, this expansion release will hopefully be a strong introduction to Magic for beginners, or those who may have fallen off the game in recent times.
MTG's The Lord of the Rings: Tales of Middle-earth crossover set launches in June 2023. Stay tuned for more details about this upcoming release, and what to expect.