After three years in development, Australian-made space adventure Heavenly Bodies will finally launch for PlayStation 4 and PlayStation 5 on 7 December 2021. The news was announced on the PlayStation Twitter account, with developer 2pt Interactive celebrating the news in a new blog.
Heavenly Bodies is a game that's been a frequent guest at past PAX Australia conventions, with early looks showing off the fun and silliness of its wacky physics.
In the game, you'll guide astronauts through the bounds of space while attempting to keep them from the void. With each limb and movement needing careful consideration and placement, Heavenly Bodies looks like a weird and wonderful journey.
You can check out the new trailer below:
Read: Heavenly Bodies showcases neat PS5 controller features
In a new blog celebrating the release date announcement, 2pt Interactive shared more about the game's development and the inspirations behind its minimalist visual style.
It turns out its unique visuals are particularly inspired by mid-century technical illustrations and 'archival imagery of early space flight exploration', according to Joshua Tatangelo, designer and lead artist at 2pt Interactive.
'Our goal has been to create something that appears more like an artist's interpretation of space rather than striving for realism,' Tatangelo said in the blog. 'The work of Soviet architect and designer Galina Balashova and NASA collaborator illustrator Russ Arasmith has been vital in informing our visual language.'
To integrate this aesthetic, the 2pt team broke down these illustrations into the key features they wanted to replicate: high contrasts, detailed illustrative techniques, the ability to control the roughness of an object, and hand-painted details.
This ethos results in several experimental images, which went on to form the basis of Heavenly Bodies' art design.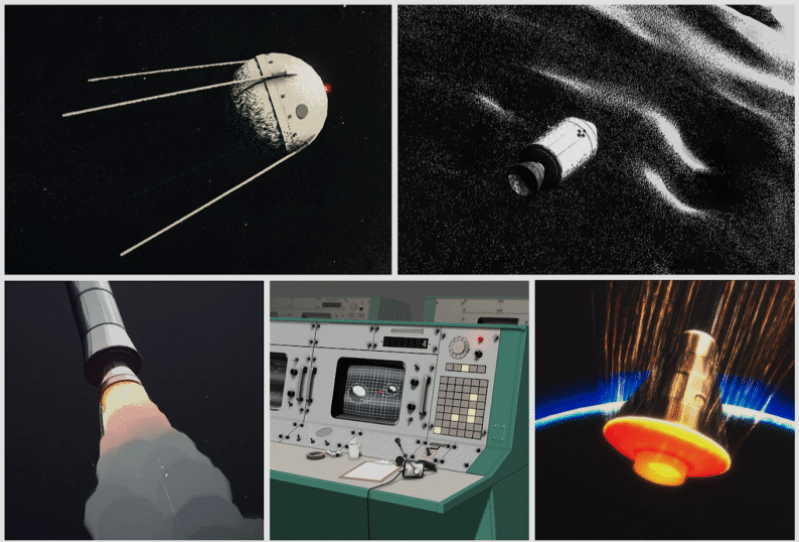 Once an aesthetic was chosen, the team designed the game to prioritise 'playable space' and interactivity, and used brighter colours to highlight essential gameplay mechanics and items.
It all contributes to the unique, sci-fi aesthetic of the game.
You can read more about the development of Heavenly Bodies on the PlayStation Blog, and look forward to diving into the game when it launches on 7 December 2021.
If games with physical hijinks like Moving Out, Overcooked! or Octodad are your jam, it looks like Heavenly Bodies will have something for you.