In 2021, Square Enix began releasing what it called 'Pixel Remaster' versions of the classic, Nintendo-era Final Fantasy games, from Final Fantasy 1 all the way through to Final Fantasy 6. Initially only available for PC and mobile platforms, the company has announced that all six Final Fantasy Pixel Remaster games will arrive on PS4 and Nintendo Switch on 19 April 2023.
But what's more, the company is finally implementing some much requested changes.
The Pixel Remaster games attempted to refresh the original titles by modernising some of the archaic user interface designs, and adding quality-of-life features, such as the ability to let battles play out automatically. They also ironed out bugs from the original games, and improved some of the pixel art in the older titles, in order to bring a more cohesive look and feel to the collection.
However, many took issue with one key change in particular: the use of modern, rounded fonts, which severely clashed with the pixel style. It's an approach that Square Enix has frequently taken in its previous forays in bringing its 8- and 16-bit era games to modern devices, and somewhat of a necessity, in order to easily adjust the text in the game for modern translation adjustments and localisation into different languages. But that doesn't stop it from being downright ugly.
With the release of the Final Fantasy Pixel Remaster games on 19 April, each title will be updated to provide the option to switch fonts to what Square Enix calls, 'a new pixel-based font that recreates the feel of the original games.' It's certainly an improvement.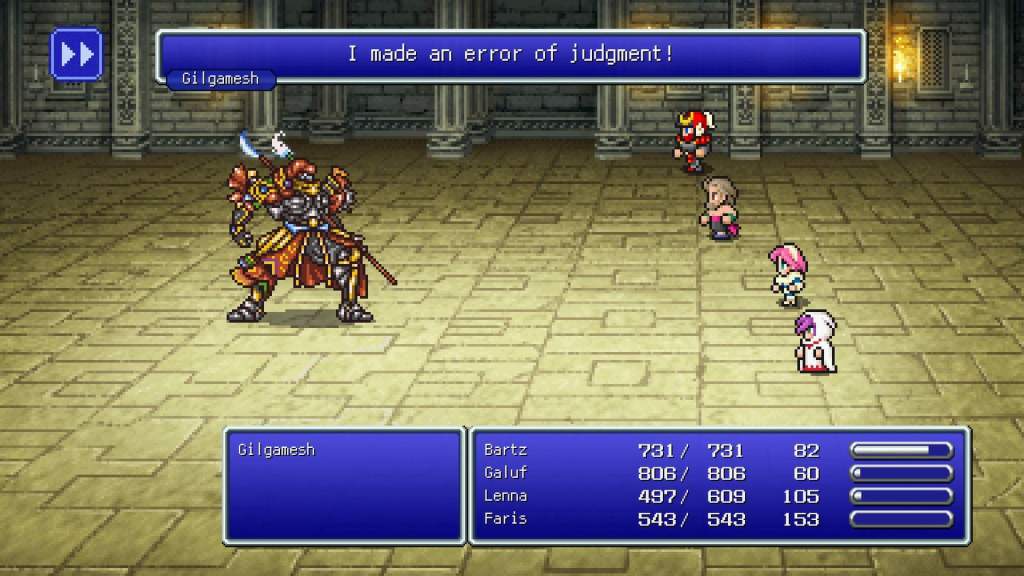 Additional changes include the very welcome option to swap to the original soundtrack arrangements, as composed by Nobuo Uematsu. The ability to turn off random encounters completely, as well as adjust the experience gained from battles, will also be included. The company has also restored the credits to the opening sequence of Final Fantasy 6, which was originally omitted, in a strange movie.
These are all very welcome changes that should bring these games closer to the 'definitive' versions that Square had hoped to put out to market, and make them far easier to recommend. Final Fantasy 5 and Final Fantasy 6 in particular still stand the test of time with their strong character work and ambitious, compelling narratives.
A physical collection of all six Pixel Remaster games is planned for 2023.
Elsewhere in the series, the latest mainline game, Final Fantasy 16, is slated for release on 22 June 2023. In our preview of FF16, we were impressed with the game's return to Western medieval high fantasy themes, and its real-time combat system.
GamesHub has affiliate partnerships. These do not influence editorial content. GamesHub may earn a small percentage of commission for products purchased via affiliate links.