Disney Dreamlight Valley is set to expand in early 2023, with fresh faces and major features arriving in the game over the next few months. As detailed by Gameloft, the 2023 roadmap for the highly-celebrated sandbox adventure game will chart a new course for players, via fresh Star Paths, Disney characters, quests, collectibles, and realms.
'From a host of beloved characters eager to visit Dreamlight Valley, to Disney magic galore that will help you tap into – among other things – your love for Disney Parks, 2023 is shaping up to be a HUGE year for Disney Dreamlight Valley!' the developer confirmed.
'Mysteries abound as you will get to delve deeper into the secrets that surround The Forgetting. This is just the tip of the iceberg, though.'
Here's the full Disney Dreamlight Valley content roadmap for early 2023: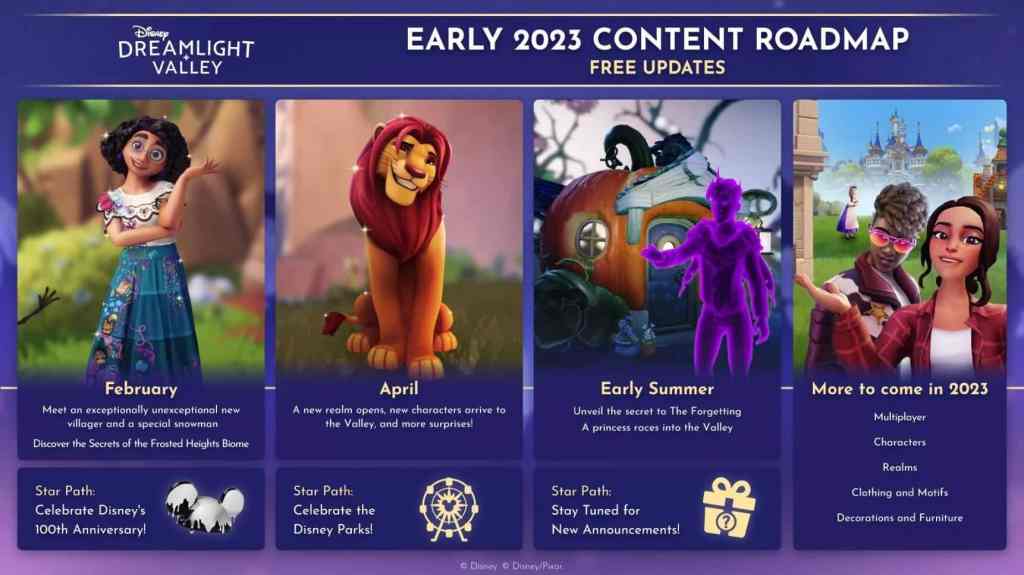 February 2023 will play host to the first major Dreamlight Valley update of the year. It will introduce Mirabel Madrigal from Encanto as a character to quest with and befriend, with Encanto goodies unlocking as your friendship increases.
This update will also introduce Olaf from Frozen (the aforementioned 'special snowman'), and you'll also gain a new quest that will help unlock the secrets of the Frosted Heights region, where Elsa resides.
The Star Path for the month will be focussed on the 100th anniversary of Disney, and will likely include items and cosmetics paying homage to this historic milestone.
Read: Disney Dreamlight Valley awards players a mystery golden potato
April 2023 will mark the next major update for the game. This will introduce Simba as a character to quest with and befriend, as well as new Lion King-themed cosmetics and items. Gameloft has teased a brand new realm opening for the month, as well as other new characters and surprises – although these have not been detailed. The Star Path for the month will include items and cosmetics related to Disney Parks and rides.
In Early Summer [Northern Hemisphere] yet another update will unlock. This will invite players to uncover the secret of the mystical Forgetting, and will also introduce Vanellope von Schweetz from Wreck-It Ralph (the princess who 'races into the Valley').
A teaser image indicates the Pumpkin House in the Forgotten Lands could play a part in this update – potentially revealing Nightmare Before Christmas characters will arrive in the game. The Star Path for this update is yet to be revealed.
The future of Disney Dreamlight Valley in 2023
As for future updates, Gameloft is promising big things for Disney Dreamlight Valley in 2023 – including a multiplayer mode which will allow players to visit other towns, and potentially take part in co-op missions or adventures.
Gameloft has also promised plenty of new characters, realms, clothing, motifs, decorations, and furniture in future – all of which will help you spice up your life in Dreamlight Valley, and create your very own Disney haven.
Stay tuned for more details about these updates as Gameloft continues to tease future content.