Zombie-slaying action game Dead Island 2 is finally releasing, after being in development for at least nine years. Despite this lengthy production period, it seems the technical performance of the game is well and truly aiming to sit alongside modern standards, with the system requirements for the PC version of the game demanding hardware that's no more than three years old, at most.
In a new technical FAQ posted on the official Dead Island 2 website, developer Dambuster Studios and publisher Deep Silver outlined the minimum and recommended PC components for the game to run at certain levels. They are hefty, and we assume that's because there's a lot of intricate rendering going on with the game's swarms of zombies. The studio has said that each zombie has its own layers of flesh, sinew, and bone that can get damaged and torn apart, depending on how you hit them.
Read: Dead Island 2 preview: The first 5 hours are a guilty, gory pleasure
Dead Island 2 – PC System Requirements
The recommended system requirements for the game to run at a 1080p resolution at 60 frames-per-second (fps) – roughly equalling the performance of the last-generation, base model PS4 and Xbox One consoles – asks for:
A GeForce RTX 2070 Super or an AMD Radeon RX 660 XT graphics card
An Intel Core i9 9900K or AMD Ryzen 5 5600X CPU.
These components were roughly introduced in 2018-2019.
For your PC to mimic the performance of the current generation of PS5 and Xbox Series X/S consoles however – either at 1440p or 2160p (4K) resolution, at 60 fps, you'll need a GeForce RTX 30-series graphics card, introduced in 2020, or its AMD equivalent.
The 'High' system requirements (1440p/60fps) ask for:
A GeForce RTX 3070 or AMD Radeon RX 6750 XT graphics card
An Intel Core i5-12600KF or AMD Ryzen 7 7700X CPU
The 'Ultra' system requirements (2160p/60fps) ask for:
A GeForce RTX 3090 or AMD Radeon RX 6950 XT
An Intel Core i7-13700K or AMD Ryzen 9 7900 X
While the 30-series are no longer top-of-the-line graphics cards, they do still come with a hefty price tag if you were to invest in a system capable of this performance today.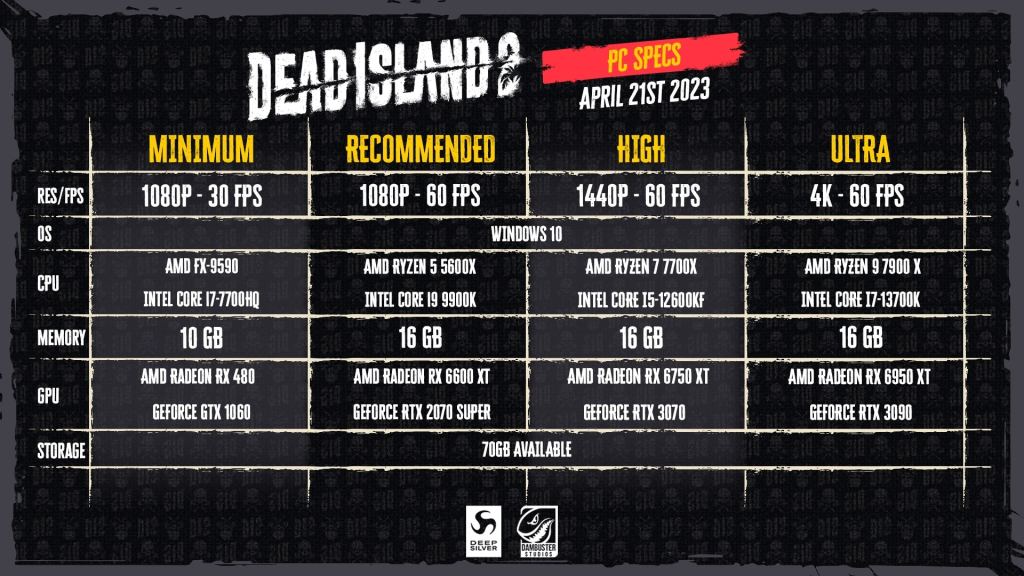 ---
Elsewhere in the Dead Island 2 technical FAQ, Dambuster and Deep Silver confirmed the PS5 and Xbox Series X/S versions of the game will target a 60 FPS motion performance. The PS4 and Xbox One versions of the game will target a 30 FPS performance. No resolution targets were stated for any platform.
Finally, despite having the ability for three-player co-op multiplayer, Dead Island 2 will not support cross-play between different platforms.
Dead Island 2 will be released on PC, PS5, PS4, Xbox Series X/S on 21 April 2023.
12/01/2023 04:55 am GMT
GamesHub has affiliate partnerships. These do not influence editorial content. GamesHub may earn a small percentage of commission for products purchased via affiliate links.